In 2010, ISS ESG's head of Climate Solutions Max Horster started one of the first companies to measure the climate impact on investments. From investment carbon footprinting to climate scenario analysis, from climate-linked proxy voting to climate neutral investments via offsets: Over the years, the team pioneered a wide range of today's leading methodologies and approaches across all asset classes. In 2017, Max and his team joined ISS ESG to form the first climate specialist unit of a global ESG service provider. Today, they cover over 25,000 issuers on up to 600 individual climate-linked data points and have screened over $4 trillion of AUM on their climate risks and impact. On the occasion of its 10th anniversary, the ISS ESG Climate Team shares 10 lessons from 10 years of helping investors to tackle climate change.
Lesson 3. Everyone's Frenemy: Carbon Footprinting
Carbon footprinting is loved and hated by investors, but that is because it is often misunderstood. Once investors embrace when to run it and what to use it for, carbon footprinting is irreplaceable. 
Lots has been said about investment carbon footprinting since we first expanded it in 2010 from a prototype to high-volume, automatic and scalable analysis. Carbon footprinting first found a market, and then even regulatory uptake, with the French Energy Transition Law in January 2016, which made carbon reporting mandatory for investors. From unreasonably high expectations to nonsensical bashing, carbon footprinting has seen it all. Most judgements have one aspect in common: What footprint analysis can or can't achieve was misunderstood or taken out of context.
Back in 2010, carbon footprinting was seen as the breakthrough metric to understand future investment climate risk. That was correct and incorrect at the same time.
Correct was that the metric was a breakthrough: CO2 equivalents per money invested or per investment revenues allowed investors for the first time to quantify the currency of climate change – tonnes of greenhouse gas emissions – for their portfolios in a language they understood. By using market or shadow pricing, they could even convert it into the investor's own language of monetary impact.
Incorrect, however, was the assumption that a carbon footprint would measure future climate risks. Greenhouse gas emissions are inherently backward-looking as they assign last year's emissions to a portfolio and provide a snapshot, rather than a view into the future.
This led to the other extreme of judgement: Because a carbon footprint is static, a common argument claims it to be worthless. Again, that is true and not true, depending on what it is an investor wants to achieve.
Indeed, a carbon footprint is not an appropriate metric to steer a portfolio, due to its snapshot nature. It is like measuring the fever of an ill person once and, based on that outcome, making a prediction on whether they will be healthy or ill in a week's time. A carbon footprint is, however, an excellent control mechanism on whether a portfolio is going in the right or wrong direction vis-à-vis climate change. Just like measuring a fever, it should be used to establish a baseline and, by checking it at regular intervals, it should allow for monitoring of a portfolio's emissions. Investment carbon footprinting is taking the temperature of a portfolio at any given point in time.
It is obvious that measuring fever does not bring it down. For that, investors should use forward-looking indicators that go beyond carbon footprinting. The ISS climate team started in 2010 with just three quantitative indicators: Scope 1,2 and 3 greenhouse gas emissions. Today, we have up to 800+ climate-linked indicators for our 25,000+ covered companies, many of them based on bottom-up research.
If a qualitative and forward-looking indicator such as climate targets, strategies or climate-linked management systems is available to the investor, it can be used to steer a portfolio toward a likelihood of less emissions in the future.
In our metaphor, that is equivalent to taking paracetamol in order to bring the fever down. The regular footprint is then the thermometer to check on progress. It provides a litmus test of the strategy's success, verifying that portfolio greenhouse gas emissions are, indeed, decreasing over time.
If done right, investment carbon footprinting should remain the starting point of any portfolio climate analysis to establish a baseline. Investors are embracing this practice more than ever: over the past twelve months, the carbon dataset on the ISS platform Datadesk was used about 17,000 times, 17 times more than in the year before.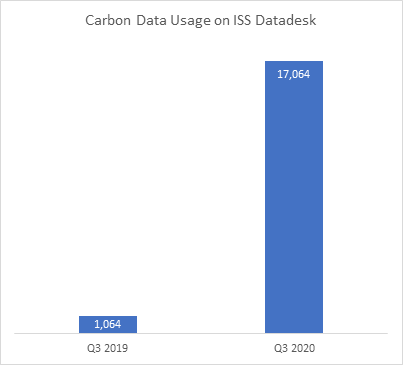 While an investment footprint should not be used to steer a portfolio, it can be used to demonstrate that a portfolio's emissions are being steered downward over time. Investment carbon footprinting is not the medicine against investment climate risk, it is the thermometer to regularly check that the medication is working.
---
By Dr. Maximilian Horster, Head of Climate Solutions, ISS ESG