In 2010, ISS ESG's head of Climate Solutions Max Horster started one of the first companies to measure the climate impact on investments. From investment carbon footprinting to climate scenario analysis, from climate-linked proxy voting to climate neutral investments via offsets: Over the years, the team pioneered a wide range of today's leading methodologies and approaches across all asset classes. In 2017, Max and his team joined ISS ESG to form the first climate specialist unit of a global ESG service provider. Today, they cover over 25,000 issuers on up to 600 individual climate-linked data points and have screened over $4 trillion of AUM on their climate risks and impact. On the occasion of its 10th anniversary, the ISS ESG Climate Team shares 10 lessons from 10 years of helping investors to tackle climate change. 
Lesson 1: It's the Regulator, Stupid 
Voluntary climate disclosure of companies only gets you so far. It is the regulator that will enable the transparency that investors need. 
The term "Carbon Bubble" typically describes the potential economic bubble based on an underestimation of climate risks unfolding in the economy. There is, however, another Carbon Bubble: It is the bubble that climate change and ESG experts sometimes find themselves in when they talk about transparency and climate disclosure day in and day out. In this bubble, the excitement around the Task Force on Climate-related Financial Disclosures (TCFD) and other reporting regimes seems to imply that the economy has reached a point where climate non-transparent companies are in a minority. The numbers, however, tell a different story.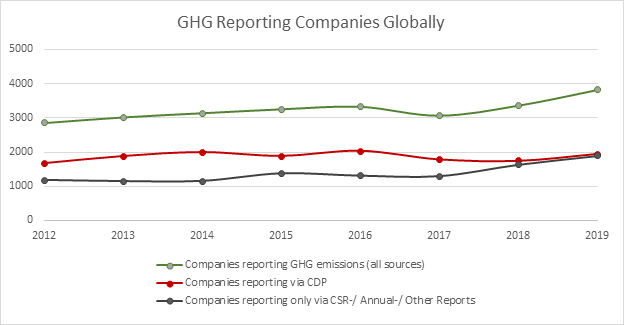 The number of companies reporting their greenhouse gas emissions, i.e. the very first step of a climate strategy, is still at less than 4,000 globally. To set this in context, for the universe of over 25,000 issuers that ISS covers for their greenhouse gas emissions, less than 15 percent report their emissions, which typically means that they don't have a climate strategy.
What's more, the number of companies reporting their emissions has not substantially increased over the past years. In comparison to the 3,850 companies reporting today, there were always around 3,000 companies reporting between 2012 and 2017. While there is progress in climate transparency, it is much slower than the noise in the Carbon Bubble over the years would imply. Only in the last two years, we can observe a slight increase of about 400 additionally reporting companies globally per year – not a massive increase in face of the colossal challenge that climate change poses.
The initial self-reporting of greenhouse gas data was catalyzed by the CDP, an NGO that some 20 years ago managed to create a "coalition of the willing" of companies that pioneered greenhouse gas and wider climate reporting. Within the last 10 years, however, the number of reporting companies started to plateau. Also, an increasing number of companies stopped reporting through the CDP or decided to report outside the CDP structure. The first wave of consistent voluntary reporting had reached its limit.
Today, there are roughly as many companies reporting through the CDP as those who opt to report outside the CDP. In fact, the increase in greenhouse gas reporting companies overall for the reporting years 2018 and 2019 comes exclusively from those reporting outside the voluntary structure of the CDP – which might be a first indicator that this is driven by more mandatory regimes.
Around 2017, the first effect of regulators stepping up to force wider climate transparency could be felt. Not only in Europe: suddenly, one could observe a surge in reporting in geographies such as China, Hong Kong and South Korea – where regulators and stock exchanges announced to make reporting mandatory.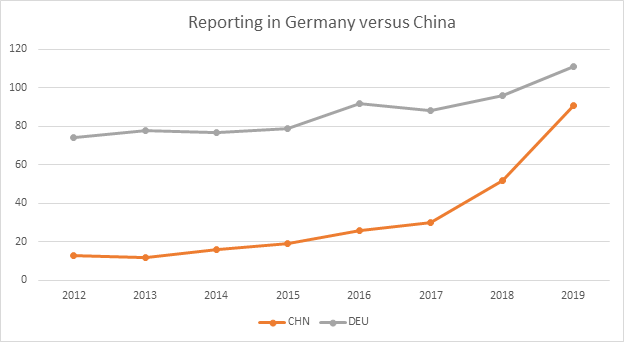 The lesson learned here is twofold. Climate noise often gets confused with climate action. We are by no means at transparency levels that the momentum of the public debate would imply.
Secondly, voluntary reporting is a great start, but only gets the transparency level so far. Frameworks such as the TCFD can help to structure the thinking about climate disclosure. However, only the regulator seems to be able to really achieve a transparency level wide and deep enough for companies to sincerely embrace the topic and for investors to act.
---
By Dr. Maximilian Horster, Head of Climate Solutions, ISS ESG