As we get closer to the U.S. proxy season, we turn to ISS's compensation experts for insights on key compensation topics to watch in 2019.
ISS U.S. Senior Compensation Analysts Liz Williams and Rachel Hedrick share their perspectives on pay in an uncertain market, the impact of the repeal of 162(m) on equity compensation plans proposals, performance-metric selections, CEO pay ratio disclosures, new shareholder proposal types, and the ISS policy on director compensation.
Governance Insights: For the first time since the financial crisis, U.S. stocks had negative annual returns in 2018. Going forward, how do we expect companies to handle greater market uncertainty, from a compensation perspective?
Liz Williams: Many companies have incorporated TSR into long-term incentive programs in some fashion, and, accordingly, poor stock price performance may have a pronounced impact on realized pay. However, as an increasing number of companies use relative TSR as a key performance metric, investors may be concerned that executive pay is somewhat insulated from negative returns. Looking forward to 2019 awards, it's too early to tell how boards will handle compensation programs in an uncertain market. Some compensation committees may use their discretion to lower awards, in recognition of shareholder losses over the performance period. Others might rely on retention awards and discretionary bonuses to make up for forfeited performance pay for executives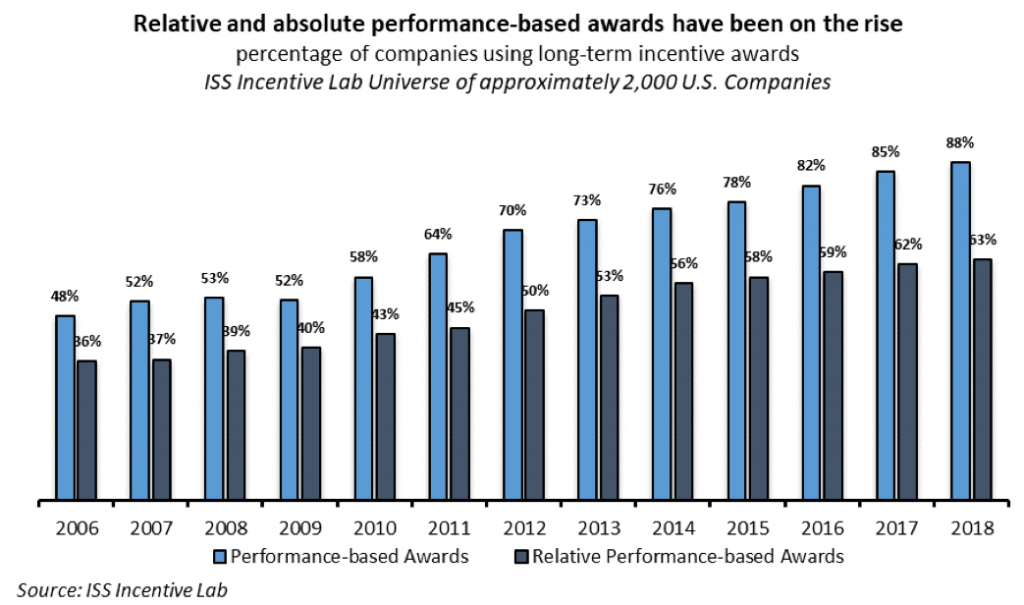 Governance Insights: While we are on the subject of performance pay, how do you expect to see the elimination of the Section 162(m) performance-based pay tax deduction affecting compensation programs this year?
Rachel Hedrick: The repeal of 162(m) at the end of 2017 has affected compensation programs in two major ways. First, as there is no longer a tax incentive for performance-based pay above $1 million, it is possible investors may see subtle shifts towards increased discretionary or fixed pay elements, like larger base salaries for example. However, most shareholders have repeatedly expressed a strong preference in favor of performance-based compensation programs, and such preferences were not driven by the prior tax benefits. While we have not seen a wholesale shift away from performance-based pay at this time, this is an issue we expect shareholders will be watching closely.
Second, we saw a significant drop in the number of equity plans on ballots last year, as companies are no longer required to seek periodic shareholder approval of incentive metrics to qualify under 162(m). We anticipate that the downward trend in the number of equity plans on ballots will continue or stabilize as companies need to come to shareholders less frequently.
Governance Insights: Does this mean that expected durations of equity plans are now longer?
Rachel Hedrick: Likely yes. Of course, when we talk about expected duration, there are two ways to look at it: how long a shareholder might expect the plan reserve to last given historical equity consumption rates; and secondly, what the interval will be between equity compensation plan shareholder approvals. Under the previous 162(m) construct, regardless of how many shares were reserved under a plan, if a company planned to take advantage of tax deductibility for performance-based equity compensation, they had to seek reapproval from shareholders every five years – specifically, shareholders had to reapprove performance conditions contained within the plan. But as part of this reapproval process, companies often also addressed hot-button investor issues, such as single triggers, unapproved cash buyouts, and more.
The sharp drop in equity plan submittals last year was driven by companies that had shares remaining at the five-year mark and, absent the need to seek reapproval for 162(m) purposes, waited to go back to shareholders until their plan reserves ran closer to exhaustion. In addition, we see companies making requests for share reserves that will last longer than ever. Between 2015 and 2018, the median duration of requested shares ranged from a low of 4.4 to a high of 4.7 years. In early 2019, among the 54 plans evaluated so far, median duration has climbed more than a year to 5.8 years. Clearly, some companies are taking advantage of the opportunity for longer share reserves – and that may be worrisome for investors.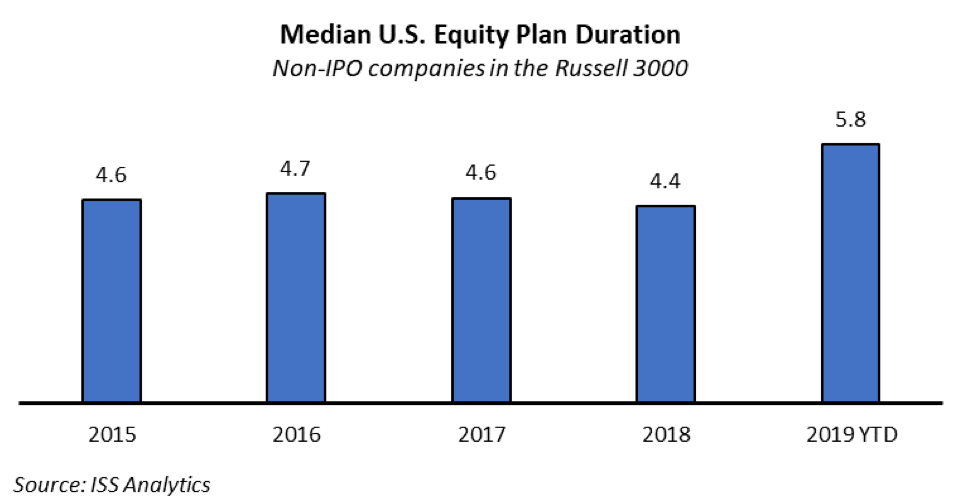 Governance Insights: In terms of performance metrics, do we expect to see any interesting changes in the types of metrics companies are using to measure executive performance in incentive programs in 2019?
Liz Williams: We may have seen the peak in the number of companies using market-based metrics, such as TSR, as the only metric in the long-term program. While we continue to see TSR added to programs, often as a modifier, most incentive plans are making use of other operational metrics as well. Additionally, based on conversations with companies and some early disclosure, we're seeing a small uptick in the adoption of environmental and social performance metrics. Shareholder proposals requesting these types of metrics have been included in proxy statements for many years, but this is the first time we have seen large companies proactively adding E&S metrics to programs. Some of the metrics we have seen thus far include emissions reduction goals and workforce diversity targets.
Governance Insights: This is the second year of CEO pay ratio disclosure. Some investors have requested additional disclosure from companies in order better evaluate these figures. Do you expect enhanced disclosure or that year-to-year comparisons may provide additional insights?
Liz Williams: We saw a wide range of disclosure in the first year of pay ratio disclosure in 2018. Some companies provided only the required information, while others gave additional details about the median employee. Given most companies will not be required to recalculate the median employee for 2019, it's not certain that we will see increased disclosure in this area – although many investors have asked for more detail. Regarding year-over-year comparison, while we plan to show both years of data in our reports this year, we continue to recognize that the flexibility in the rule somewhat limits the meaningfulness of company-to-company comparisons. That being said, we will continue to look at pay ratio disclosure and have discussions with investors and companies regarding the utility of the ratio in pay-for-performance analyses. However, the disclosure will have no impact on U.S. benchmark policy vote recommendations for the 2019 season.
Governance Insights: What types of shareholder proposals have you seen this year? Do we expect any new types of proposals?
Rachel Hedrick: In addition to proposals we see annually requesting enhanced clawback policies and pro-rated equity vesting upon a change in control, we also expect to see the recurrence of some more recent topics. These include requests for reports on the risks related to drug pricing and executive incentive programs at pharmaceutical companies, and proposals asking companies to exclude the impact of stock buybacks from incentive program results.
One interesting note to some investors may be the SEC's recent exclusion of proposals which requested companies exclude the cost of litigation and compliance costs when determining executive incentive payouts. While the SEC allowed this proposal to go to a vote at Johnson & Johnson last year (where it received about 18-percent support), the SEC approved the proposal's exclusion from the ballot this year when the same proposal was resubmitted. The proposal was also excluded at AbbVie but went to a vote at AmerisourceBergen in February, where it earned 11.6 percent shareholder support. While the SEC no-action letter indicates that the proposal "micromanages the company by seeking to impose specific methods for implementing complex policies," it did not specify what had changed from the prior year.
Governance Insights: This year, ISS updated the director compensation policy. What are the key changes? What should investors look for when reviewing director pay?
Rachel Hedrick: This policy, which was introduced last year, seeks to identify true outlier levels of non-employee director pay (the top 2-3 percent of non-executive director pay packages, as compared to other directors in the same index and sector) that is not reasonably explained in the proxy. Once these top-paid directors are identified, ISS reviews the rationale provided in the proxy statement to explain their high compensation levels. The key changes for the policy this year include: separation of thresholds for board leadership positions (i.e. non-executive chairs and lead independent directors), which command a pay premium, and clarification on what board pay arrangements might be viewed as compelling rationale under the policy. We've heard from investors that reasonable explanations for high pay include one-time onboarding grants for new directors, special payments related to transactions or special committee service, and payments made in consideration of necessary scientific expertise. Payments made to non-executive directors to reward general performance or service will likely not be viewed as compelling.