As we enter the peak of proxy season, we review executive compensation trends in the U.S. based on executive pay disclosures so far this year.
Excerpts from article published on April 12, 2019
Full report available here.
Our key findings include:
Compensation disclosures so far suggest continued increases in CEO pay across all market segments and almost all industries.
The proportion of stock-based compensation as a percentage of total pay continues to increase, crossing the threshold of 50 percent of total pay for large companies for the first time this year.
Performance-based equity compensation also continues to increase despite concerns of a potential reversal in the aftermath of the repeal of 162(m).
CEO pay ratios remain relatively unchanged on aggregate, despite some fluctuations observed at individual companies.
More than two-thirds of S&P 500 companies and approximately half of all Russell 3000 companies have filed proxy statements containing executive pay information for the previous fiscal year. Same-store CEO pay levels show a healthy increase, with a median change in same-store S&P 500 CEO pay of approximately 6 percent compared to the previous fiscal year. These are companies that had the same CEO for the most recent two fiscal years. Non-S&P 1500 companies in the Russell index demonstrate the highest increase in same-store CEO pay with a median increase of 7.4 percent compared to the previous year.
As of April 11, 2019
S&P 500
S&P 400
S&P 600
Russell 3000
(excl. S&p 1500)
Reporting Companies
# Companies Reporting FY 2018 pay*
346
260
325
604
Same-store companies**
288
212
267
491
Median CEO Pay $
(Total SCT Disclosed)
12,214,523
6,180,516
3,693,084
2,725,666
Average CEO Pay $
(Total SCT Disclosed)
14,222,113
7,706,890
4,180,288
4,407,771
Median Pay Change (Same-store)
6.0%
4.5%
5.9%
7.4%
* FY 2018 pay defined as pay for any complete fiscal year ending on/after July 1, 2018
** "Same-store" means companies with the same CEO for the most recent two fiscal years.
Quantum of Pay
During the past decade, CEO pay increased at a relatively fast pace. Median pay for S&P 500 CEOs rose to $ 12.2 million, showing an increase of 50 percent since 2009. The figure almost doubled for S&P 600 CEOs, with an increase of 95 percent since pay fiscal year 2009. For all our analyses in this article, we define "pay fiscal year" as any fiscal year ending in the period between July and June of each year. Therefore, companies with fiscal year ending from July 2017 to June 2018 fall within the 2017 pay fiscal year. The 2018 pay fiscal year covers companies with fiscal year ending on or after July 1, 2018.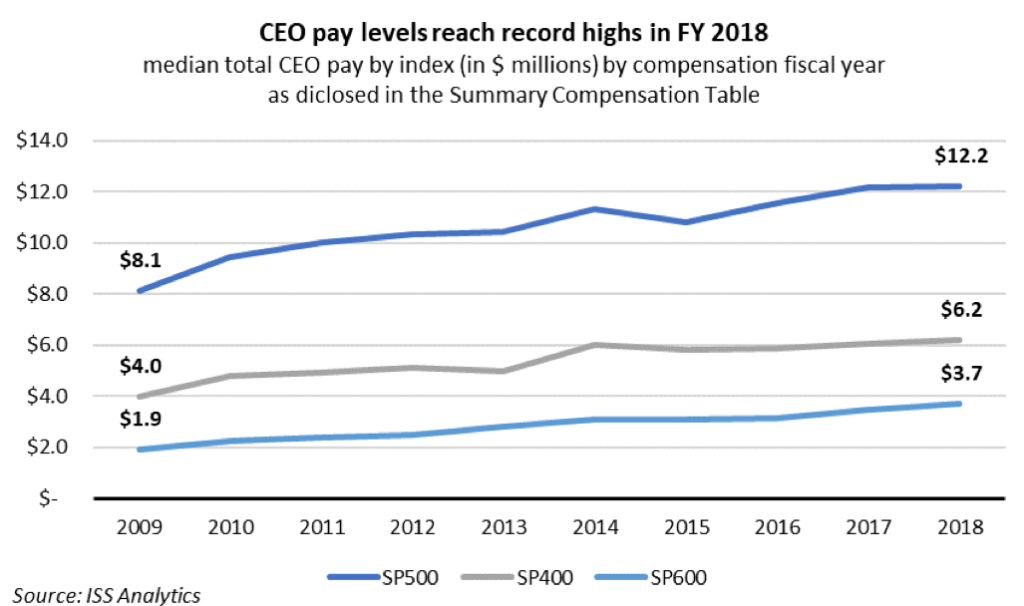 According to the Bureau of Labor Statistics, the cumulative consumer price index has increased by approximately 19 percent from January 2009 to December 2018, while median worker earnings increased by approximately 20 percent during the same period. The compound annual growth rate for median worker pay equals approximately 2 percent per year, compared to 4.6 percent for median S&P 500 CEO pay, 5 percent for median S&P 400 CEO pay, and 7.7 percent for median S&P 600 CEO pay. The chart below compares the cumulative increases in CEO pay and U.S. worker pay in the period since the financial crisis.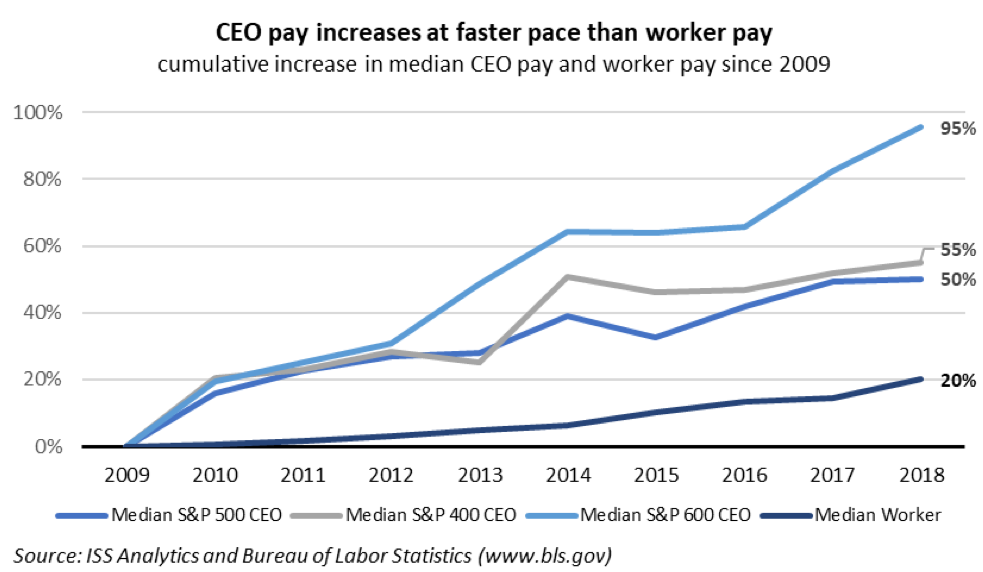 ​Components of Pay
Increases in compensation are primarily driven by greater portions of pay paid in stock. So far in pay fiscal year 2018, the average stock grant to S&P 500 CEOs amounts to $7.2 million, compared to $3 million in pay fiscal year 2009. Stock-based compensation continues to increase, while the aggregate of all other components of pay remains relatively unchanged.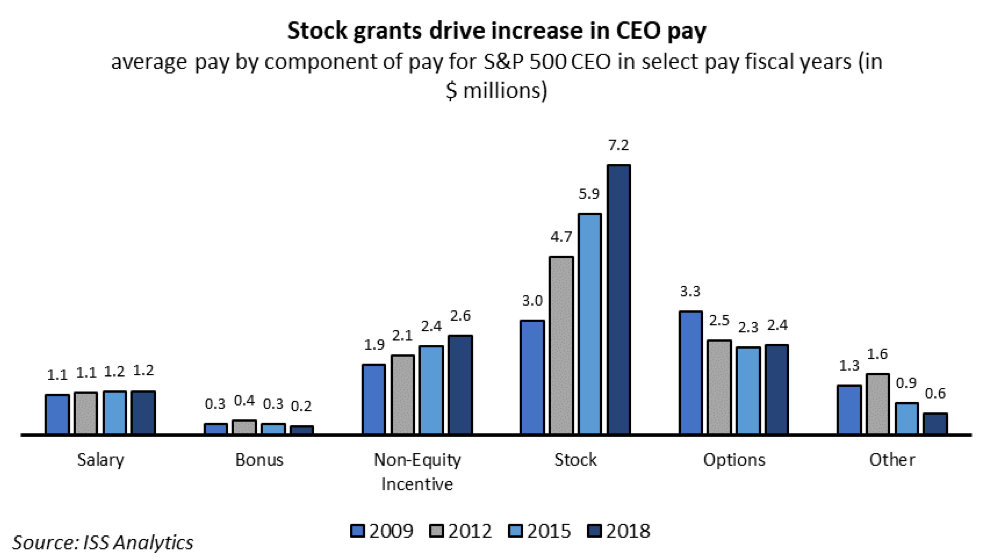 In fiscal year pay 2018, stock-based compensation comprises the majority of CEO pay at S&P 500 and S&P 400 companies for the first time. The trend is the same for smaller companies with stock-based compensation reaching 49 percent and 42 percent of total CEO pay for S&P 600 companies and Russell non-S&P 1500 companies, respectively.