Below are key takeaways from ISS' recently released 2020 Taiwan Proxy Season Preview covering governance and compensation issues. The full report is available to institutional subscribers by logging into ISS Link then selecting the Governance Exchange and its Report Center tab and to corporate subscribers by logging into Governance Analytics then selecting the Governance Exchange and the Report Center tab.
The Taiwan proxy season typically runs from May to the end of June and is highly concentrated. During the 2019 season, approximately 97 percent of listed companies under ISS coverage convened their annual general meetings (AGMs) during these two months. However, listed companies in Taiwan do not convene extraordinary shareholder meetings (EGMs) in a frequent manner.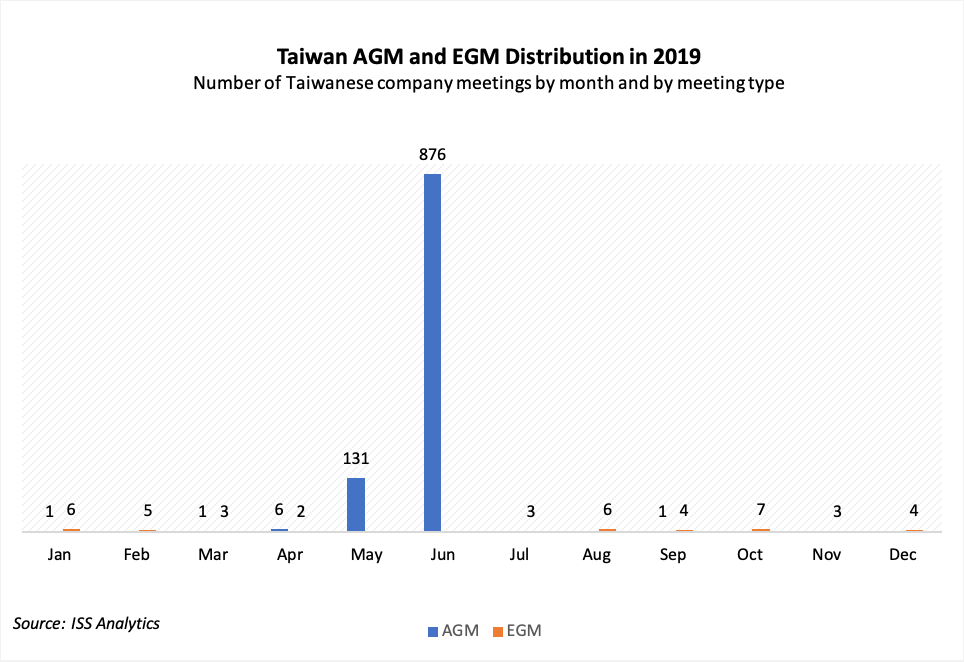 As stipulated by the Securities and Exchange Act, listed companies in Taiwan should hold their AGMs within six months following the close of each fiscal year and are not allowed to postpone the AGM date after this deadline. However, the outbreak of COVID-19 in Taiwan in early 2020 may lead to more listed companies scheduling their AGMs at later dates compared with prior years. Therefore, the meeting concentration for the 2020 season is expected to be even more concentrated this June than during the 2019 season.
Separately, all listed companies are required to adopt the nomination system for the election of directors and supervisors starting from Jan. 1, 2021. They are also required to appoint at least four independent directors when there is no role separation between the chairman and the CEO or other equivalent positions. Listed companies with paid-in capital of no less than TWD 2 billion or belong to the financial industry are required to appoint a chief corporate governance officer.
Meanwhile, listed companies are required to disclose more details on environmental, social, and governance considerations in their corporate social responsibility reports, as well as to improve transparency regarding remuneration for directors, supervisors, and senior executives in their annual reports and public offering and issuance prospectuses. English-language disclosure of material information will be implemented in four phases for select companies.