Overall, voting on shareholder proposals at U.S. companies in 2020 is roughly comparable to that evidenced last year, save for a few notable differences. In an analysis by ISS' Governance Research & Voting (GRV) arm of Russell 3,000 company vote results available for meetings through May 10, 2020, and compared with the same period in 2019, GRV finds that while fewer resolutions were voted thus far in 2020, a larger share are receiving majority support and more with such support levels are focused on environmental and social matters.
Fig. 1: Portion of Majority Supported Shareholder Proposals, 2019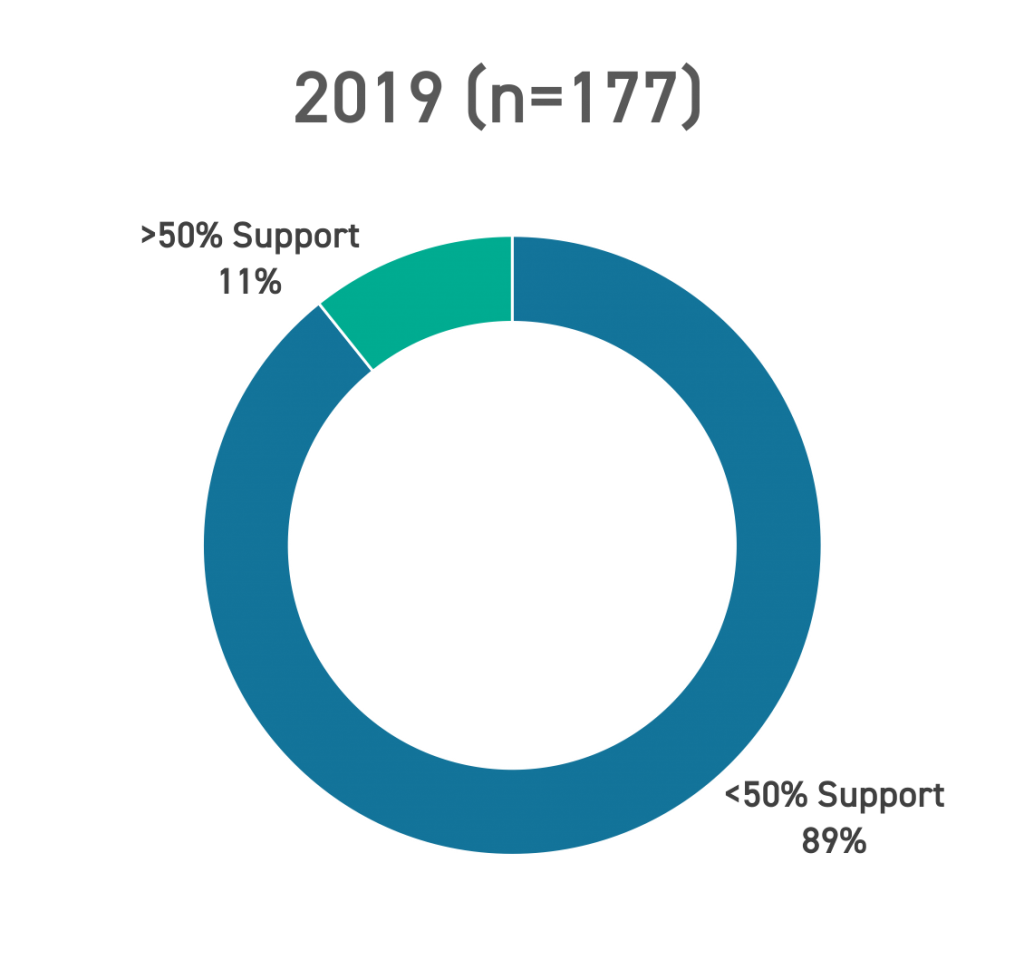 Fig. 2: Portion of Majority Supported Shareholder Proposals, 2020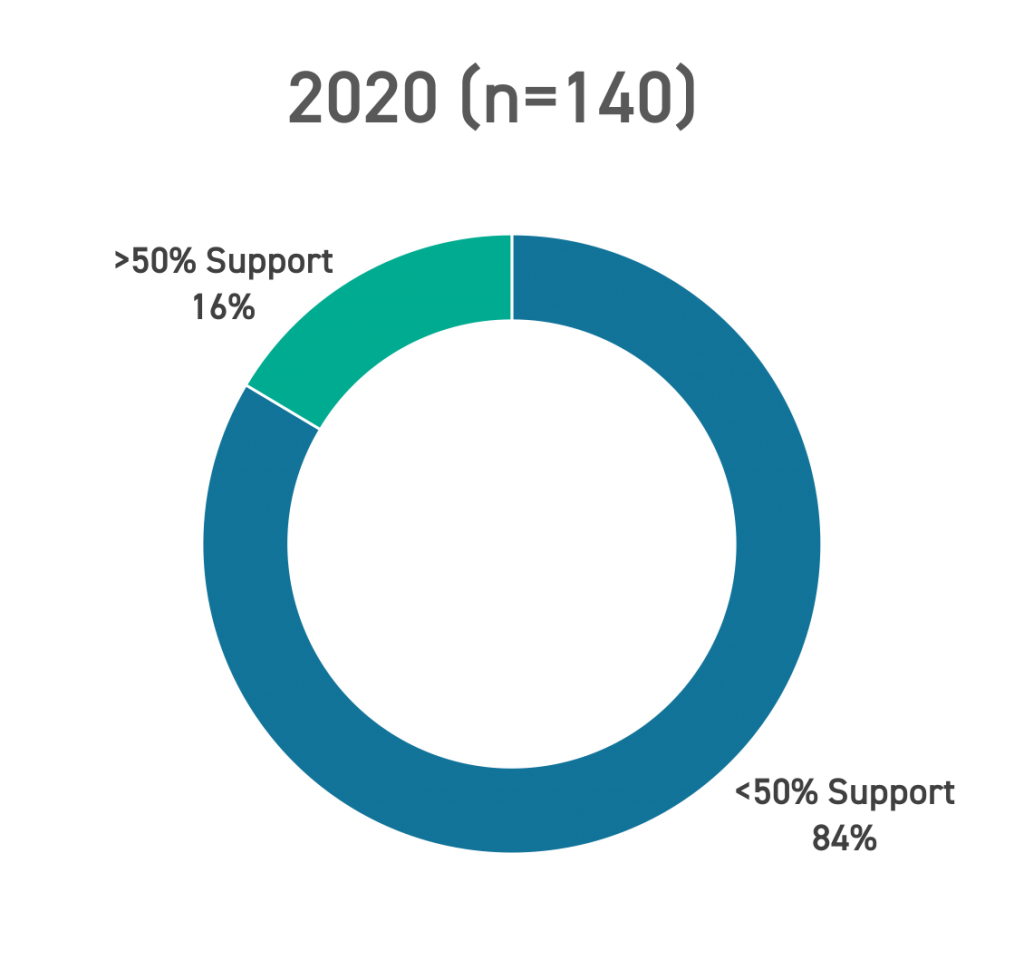 Albeit a small sample size, just three of 19 majority supported proposals were focused on social issues at meeting in just over the first five months of 2019 and none at all on environmental matters. Majority supported topics in 2019 included opioids, human rights reporting, and employment diversity disclosures. By contrast, those topics are again prevalent this year alongside proposals on climate change and political contribution disclosures tallying seven of the 23 majority supported resolutions thus far in 2020.
"When the COVID-19 pandemic sent global markets into a tailspin, some pundits were quick to question whether investors would take a few steps back from their growing commitment to ESG," said ISS Special Counsel Pat McGurn. "Based on the high rate of negotiated withdrawals of environmental and social proposals heading into the season and the record-setting pace of majority votes on climate risk and sustainability-related resolutions so far, it appears that investors aren't folding their hands. Instead, they appear to be doubling down on their bets that strong boards and best-in-class ESG practices will equate with resilient business strategies."
Table 1: Environmental and Social Shareholder Proposals with Majority Support Through May 10, 2019 and 2020
| Company | Meeting Date | Proposal | % Support* |
| --- | --- | --- | --- |
| Phillips 66 | 5/6/2020 | Report on Risks of Gulf Coast Petrochemical Investments | 54.7 |
| Centene Corporation | 4/28/2020 | Report on Political Contributions Disclosure | 51.4 |
| Genuine Parts Company | 4/27/2020 | Report on Equal Employment Opportunity | 79.1 |
| Fastenal Company | 4/25/2020 | Prepare Employment Diversity Report | 61.1 |
| J.B. Hunt Transport Services, Inc. | 4/23/2020 | Report on Political Contributions Disclosure | 53.2 |
| J.B. Hunt Transport Services, Inc. | 4/23/2020 | Report on Climate Change Initiatives | 54.5 |
| Johnson & Johnson | 4/23/2020 | Report on Governance Measures Implemented Related to Opioids | 60.9 |
| The GEO Group, Inc. | 5/7/2019 | Report on Human Rights Policy Implementation | 87.9 |
| Newell Brands, Inc. | 5/7/2019 | Prepare Employment Diversity Report | 56.6 |
| Walgreens Boots Alliance | 1/25/2019 | Report on Governance Measures Implemented Related to Opioids | 60.5 |
*Based on votes cast "for" and "against."
Source: ISS Governance Research & Voting, Russell 3,ooo
For more on ISS Governance Research & Voting solutions, write to us at sales@issgovernance.com
---
By ISS Governance Research & Voting Team