A recently announced Mexican Government Bond settlement for $20.7 million by JPMorgan and Barclays brings a portion of the class action initially filed on March 30, 2018 closer to resolution. Allegations relate to the manipulation and colluding of auctions for the prices of Mexican Government Bond transactions. JPMorgan is paying $15 million while Barclays is paying $5.7 million; it's important to note both banks denied wrongdoing as they agreed to settle this action. Investors were led by several pension funds as co-lead plaintiff. While a Federal judge in New York must officially approve the announced settlement with JPMorgan and Barclays, seven other large banks remain as defendants:
Banco Santander
Bank of America
BBVA
Citigroup
Deutsche Bank
HSBC
UBS
As investors await further developments related to the above litigation, there are a number of other antitrust actions that allow for investor recoveries.
Specifically, a $187 million LIBOR-Based Financial Instruments (Eurodollar) settlement with seven large banks (Bank of America, Barclays, Citibank, Deutsche Bank, HSBC, JPMorgan, Societe Generale) that occurred before Judge Naomi Buchwald in the Southern District of New York. This specific action, filed initially in April 2011, resolves allegations related to the manipulation of LIBOR and misreporting interest rates; investors have until December 1, 2020 to file a claim.
In total, more than $7 billion in antitrust settlements have occurred during the past five years where investors have the opportunity to participate and recover lost assets (see below table). Investors can learn more about the background and complexities of antitrust litigation from an ISS SCAS 2019 white paper, The Critical ABCs of Financial Antitrust Litigation & Recovery Opportunities.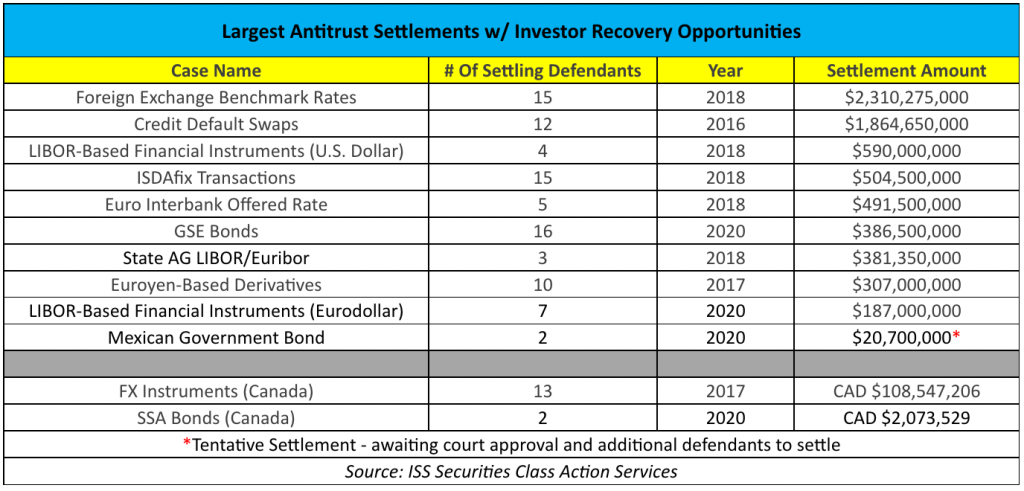 ---
By Jeff Lubitz, Executive Director, ISS Securities Class Action Services