The Australian regulator AUSTRAC captured the attention of the financial services industry in September 2020 when it issued the largest fine in Australian corporate history, AUD 1.3 billion, to Westpac Banking Corp. for breaches of Anti-Money Laundering and Counter-Terrorism Financing (AML/CTF) laws.
Weeks later, the International Consortium of Investigative Journalists leaked data linking at least USD 168 million (about AUD 236 million) of suspicious transactions sent from Australian financial institutions to U.S. banks, which filed suspicious activity reports with the Financial Crimes Enforcement Network. This leak echoed the 2016 leak of the Panama Papers from Mossack Fonseca, highlighting just how prevalent financial crime can be in Australia. Following the recent Royal Commission into Misconduct in the Banking, Superannuation and Financial Services Industry, Australian banks appear to lack the due diligence processes that would allow them to avoid reputational risks, leading to increased scrutiny.
While these events emphasise the risks that Australian banks face in terms of money laundering, they also point to the increased pressure financial regulators are facing to proactively police this area. AUSTRAC has only invoked its power to apply for civil penalty orders on three occasions for breaches of AML/CTF laws. Both the Commonwealth Bank of Australia and Westpac Banking Corp. have felt the bite of an AUSTRAC fine.
With so much attention devoted to banks' implementation of effective money laundering processes, it seemed that gaming and gambling companies were never going to get their time to shine as an industry arguably at higher risk of being used to launder money. It looks as though Crown Resorts Ltd. is in the line of fire, however, after AUSTRAC announced it had launched an enforcement investigation into Crown Melbourne Limited (a wholly-owned subsidiary of Crown) regarding potential non-compliance with AML/CTF laws. Now that the chairman of Crown has admitted to the NSW Independent Liquor and Gaming Authority (ILGA) inquiry that its casinos were used for money laundering, and that the inquiry has heard that Crown is unfit to hold a casino licence, AUSTRAC will likely have an easier time making the case for another civil penalty against Crown.
AUSTRAC has shown a willingness to take action against gambling companies before, having fined Tabcorp Holdings Ltd. AUD 45 million for non-compliance with AML/CTF regulations. In its 2017 media release, AUSTRAC cited concerns that Tabcorp had a corporate culture indifferent to meaningful AML/CTF compliance, a theme that the transcripts of Crown's ILGA inquiry have repeated as senior leadership figures took to the stand to agree that things, in hindsight, looked suspicious.
Investors should be wary of taking AML/CTF policies for granted. ISS ESG Norm-Based Research data identifies six companies with cases of money laundering in Australia, all of which have readily available AML/CTF policies for investors to peruse. With AUSTRAC looking into compliance culture, investors should be wary of misalignment between policy and practice.
Looking Beyond AML/CTF Policies
If policy is not enough, then investors must look to other indicators of a company that values compliance. Look for:
A publicly available code of business ethics
Strong compliance procedures
Any previous controversies in business malpractice and consumer protection (for example: anti-competitive behavior, bribery, accounting fraud, deceptive or fraudulent practices), and remediation measures
The ISS ESG Corporate Rating looks for the above indicators of good business ethics. In combining ISS ESG Norm-Based Research findings with the ISS ESG Corporate Rating business ethics data, it is possible to paint a better picture of a company's readiness to combat money laundering risk. The combination of data yields a letter grade on a twelve-point scale from A+ (excellent) to D- (poor).
The figure below covers those companies with an existing Norm-Based Research record in this area, and demonstrates that companies with publicly available AML/CTF policies do not necessarily operate with a culture that supports the implementation of that policy. Commonwealth Bank of Australia and Westpac Banking Corp. have poor grades for overall business ethics, and recent controversies relating to the human rights impact of its failure to conduct AML/CTF due diligence. Investors should carefully assess whether there is remaining business malpractice risk. In contrast, Australia & New Zealand Banking Group has the highest business ethics score and a money laundering case that is over five years old, giving investors lower cause for concern in this area.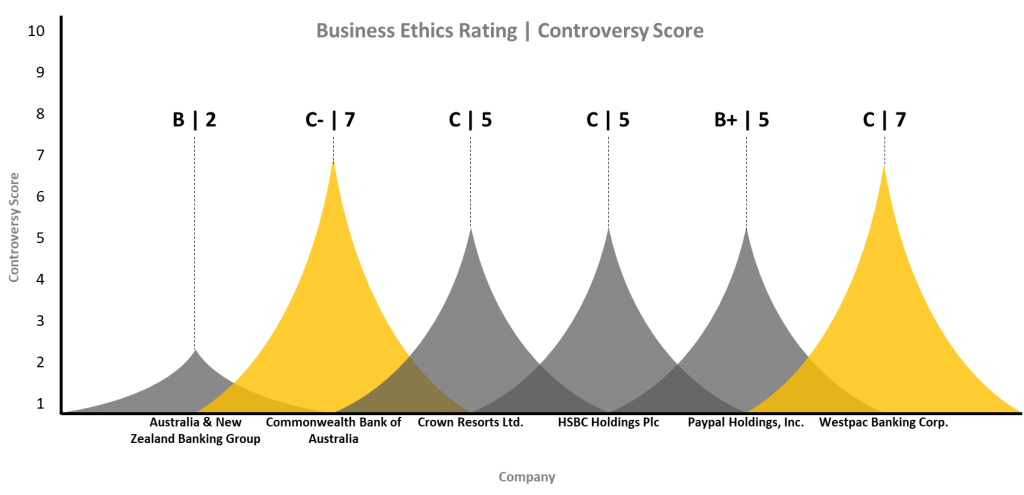 ---
By Kate Lawrence, Associate, Norm-Based Research, ISS ESG