Putting the discussion into context
Sir John Templeton once claimed the four most expensive words in the English language were "this time it's different". Our objective with this briefing note is to look back ten years and dare to look forward and assess whether, in fact, this crisis will be different, and if Canadian investors will follow Wayne's advice. This is a short story about deposits and financial shocks. It does not cover all aspects of the deposit business and should be read as initial commentary that will be followed by more fact-based analysis when the data becomes available.
Looking in the rear-view mirror
At the end of 2007, personal chequing and savings account balances totalled $359 billion. By the end of 2009, with signs of economic recovery boosting consumer confidence, balances had risen to $450 billion, a 25% increase from pre-recession levels. At the same time, fixed-term deposits, such as GICs, added $36 billion or a far lower rate of 8%. Despite the shift in the allocation of deposit dollars from pre-recession to post-recession periods, total retail deposit balances rose $127 billion over the two-year period.
Why would Canadian savers adopt a different attitude to the current crisis, a crisis that is considerably more enigmatic, one based on fear not greed, and a crisis potentially more damaging to the national economy?
What about the future?
Without reliable deposit and economic data for the first quarter of 2020 it is both difficult to reach any firm conclusions. Be that as it may, there is potential for another–socially distanced–line-up at the deposit exit door. Consumer confidence in the economy has fallen to the lowest level since early 2009 and individuals are cancelling or delaying expenditures. Furthermore, the cash flows of households and corporations, despite government income replacement and stimulus programs, will be sorely bruised.
A recently released Angus Reid poll indicated that 87% of Canadians believe that the situation will become worse. With that and the view of economists as a backdrop, it is hard to imagine that Canadians will stay calm and not touch their savings.
A possible outcome
A further analysis of fixed-term deposits maintained at Canadian banks, as opposed to all deposit-takers, during 2008 and 2009 may provide insight into the potential course of the next few months. At the end of June 2008 fixed-term deposits totalled $361 billion. By December 2008, with the stock market in freefall, the total reached $402 billion–an unprecedented six-month increase of $41 billion. By the end of March 2009 (the month when the market bottomed) the number had risen to $406 billion.
Savings and chequing accounts went in the same direction but lagged fixed-term deposits by a quarter. At the end of June 2008, total balances were $345 billion, an amount which increased to $403 billion by the end of March 2009, an annualized rate of 30% over the nine-month period. Where demand accounts diverged from fixed rate deposits was in the first recovery quarter of March 2009 to June 2009. Demand accounts added another $20 billion whereas fixed rate accounts shed $16 billion.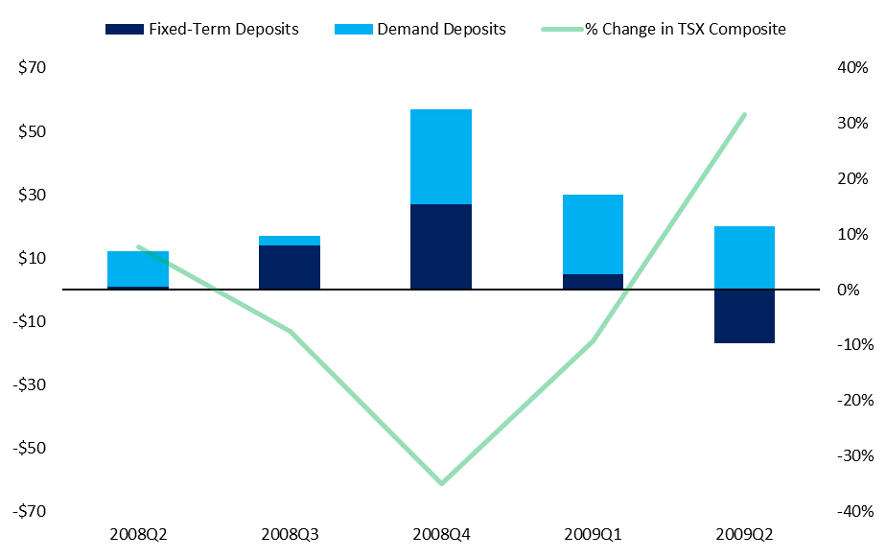 Liquid Deposits: Domestic Banks Absolute Change in Billions of Dollars
If the growth rates recorded in the worst twelve months of the financial crisis (June 2008 – June 2009) are applied to deposits at Canadian banks balances at year-end 2019, it suggests that $85 billion to $100 billion could be added to total deposits at Canadian banks by June 2020[i], much of which will be sourced from the conversion of risk assets, be they mutual funds or individual securities.
For banks, retail deposits are their lifeblood, and to some bankers and all regulators, depositors come ahead of shareholders in the pecking order. Banks of all sizes, despite operating through a branch network that, in some cases, has temporarily shrunk by almost 60%, are stepping up their deposit advertising and sharpening their rate pencils. Although there will be an inevitable move towards the deposit-exit door there is no assurance that it will offset the decline in deposits that will follow a sudden drop in payroll deposits and an increase in withdrawals from savings.

---
[i] These estimates do not include estimates for deposits held at credit unions, trust companies, other deposit-taking institutions or cash held at investment dealers or private investment counsel firms.