The recent scandal at Wirecard AG, once considered the darling of the TecDax, has left investors wondering how such massive fraud could be hidden. There were certainly warning signs stemming from investigations into market manipulation and other irregularities that contributed to the Aschheim, Germany-based company receiving a D+ ISS ESG corporate rating. But there were also several corporate governance indicators that were cause for investor concern and, in retrospect, a harbinger of trouble ahead. Using ISS ESG data, this article highlights red flags across two key areas of Wirecard's governance.
The 2018 market manipulation investigation in Singapore was an initial sign of trouble. While the company denied market manipulation allegations in 2018, enforcement action taken by regulators was an early warning sign as flagged by ISS Governance QualityScore (GQS). For context, of more than 6,500 global companies covered by the GQS, just 128 companies, or 1.96 percent, have had an enforcement action resulting in a material penalty within the last two years.
The board's action to address these concerns was clearly insufficient and, at the close of fiscal 2018, the board decided to create a formal audit committee. At that point, just 31 companies in the GQS universe lacked a formal audit committee. As of this writing, the company has yet to disclose if any of the committee members are financial experts.
Perhaps the most significant red flag, however, relates to the pledging of nearly 3.5 percent of the company's shares by ousted CEO Markus Braun. For context and drawing on ISS ESG Director Data, just 90 companies have more than 3.5 percent of market capitalization used as collateral by a single director or officer and just 307 companies in the Russell 3000 have a single director or officer pledging shares – down substantially from 2015 when there were 399 such companies.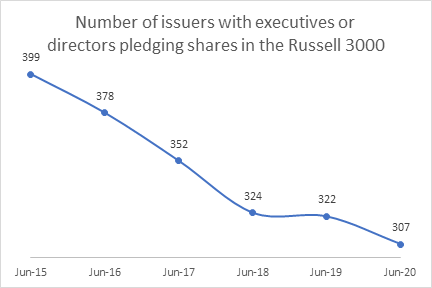 Just as concerning is the overemphasis on earnings and stock price in the executive compensation plan. While 2,134 of the 6,524 companies with incentive plans analyzed by ISS ESG use market-related incentives in their long-term incentive plans, just 198 use share price-related metrics in their short-term incentive plans. Considered one of the seven venial sins of executive compensation, just 103 companies use them in both their short- and long-term plans.
Investors may benefit from screening their portfolio for similar evidence of over-incentivizing on stock price combined with a lack of equity risk mitigation while ensuring sufficient disclosure. Visit us to learn more.
By Brett Miller, Head of Data Solutions, ISS ESG