On May 22, 2021, the international community will celebrate International Day for Biological Diversity under the slogan: "We're part of the solution." Over the past few years, biodiversity has become a trending topic in responsible investment and the broader financial sector, and investors have been asking questions about how to mitigate biodiversity risks in their portfolios.
This year's slogan is an important reminder that the financial sector plays a central role in conserving biodiversity and therefore in positively impacting broader sustainability challenges like climate, health issues, food and water security, and sustainable livelihoods. Investors can be part of the solution, and ISS ESG can help.
Biodiversity loss represents a tangible material risk to companies and their investors because most businesses directly or indirectly depend on ecosystem services underpinned by biodiversity. According to the World Economic Forum (WEF), more than half of the world's gross domestic product is moderately or highly dependent on nature and its services. Furthermore, in its Global Risks Report 2021, the WEF ranked biodiversity loss in the top five global risks in terms of likelihood and impact.
In January 2021, a Responsible Investor survey found that companies and investors have been hesitant to take action on biodiversity, often mentioning the lack of data and the absence of widely agreed metrics for measuring biodiversity. Some investors, however, are beginning to take measures to address the risk. ISS ESG has a range of solutions that investors can leverage to assess companies' management of biodiversity loss.
ISS ESG's Norm-Based Research (NBR) helps investors identify companies whose conduct is not aligned with international norms and guiding principles on a range of environmental topics – including biodiversity – as well as human rights, labour rights and business ethics. For example, the Convention on Biological Diversity, the multilateral treaty for the conservation of biodiversity, sets expectations that countries and companies sustainably use components of biodiversity. NBR has identified 74 publicly-held issuers involved in controversies where impacts to biodiversity are the main issue, and 20% of these have been assessed as severe or very severe. The majority of the severe controversies are linked to infrastructure projects, reflecting their exposure to biodiversity risks.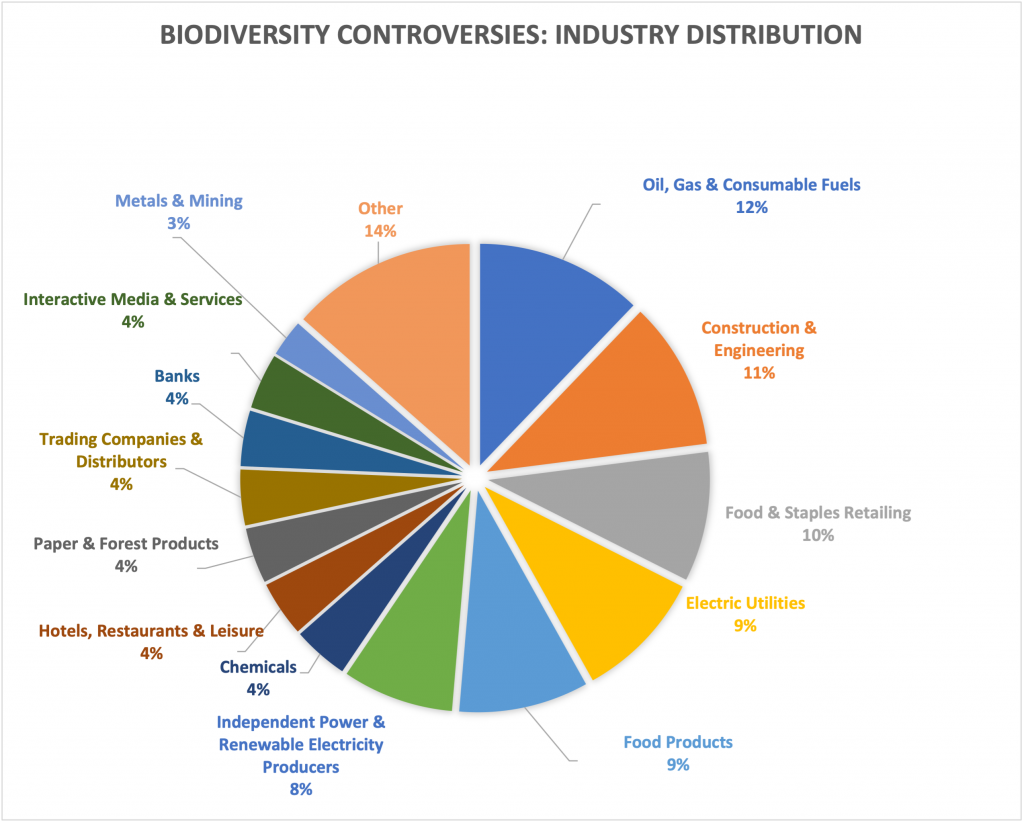 Source: ISS ESG NBR data – three of the top five industries are linked to a biodiversity related controversy through their involvement in infrastructure projects.
ISS ESG's Corporate Rating assesses companies' sustainability performance based on industry-specific ESG criteria, including quality of biodiversity policies. For example, an analysis of selected high-impact sectors such as Construction, Metals & Mining, Oil & Gas, and Real Estate found that about 90% of companies do not have robust procedures for managing biodiversity risk. Forward-looking indicators are also important, with ISS ESG's Sustainable Development Goals (SDGs) Impact Rating conducting a holistic assessment of a company's contribution to and impact on the United Nations-backed Goals, including SDG 14: Life Below Water and SDG 15: Life on Land. ISS ESG's Pooled Engagement service helps investors to exercise active ownership on a range of issues including those related to biodiversity.
Looking forward, there are a number of initiatives that are taking on the question of biodiversity and financial impacts. For example, the Task Force on Nature-related Financial Disclosures, which aims to enable financial institutions to better understand their risks, dependencies, and impacts on nature, is picking up steam. In October 2021, the UN Convention on Biological Diversity will hold a Conference of the Parties (COP15) to adopt a post-2020 global biodiversity framework. In April 2021 the Central Banks and Supervisors Network for Greening the Financial System and the International Network for Sustainable Financial Policy Insights, Research, and Exchange (INSPIRE) announced the launch of a joint study group on Biodiversity and Financial Stability.
Biodiversity is critical to the health and wellbeing of our ecosystems and the economies they support. By mitigating relevant risks in their portfolios, investors can play a huge role in conserving biodiversity. As a leading provider of responsible investment solutions, ISS ESG is well positioned to help its clients address the biodiversity risks and questions investors are facing.
---
By Dennis Tung, Associate, ISS ESG