Black History Month is a time of reflection, and a time to look to the future. In this 2-part series, ISS ESG sets out some of our recent work in this area and highlights the opportunities investors have to use the influence of their financial muscle to promote a truly inclusive society.
Black History Month is a time of the year for U.S. organizations to take stock of their own efforts to drive an inclusive society, and ISS ESG is no exception.
Institutional Shareholder Services ("ISS") is committed to fostering, cultivating and preserving a culture of diversity and inclusion. It is our policy to prohibit discrimination or harassment against any applicant or employee on the basis of age, color, disability, ethnicity, family or marital status, gender identity or expression, language, national origin, social origin, physical and mental ability, political affiliation, race, religion, sexual orientation, socio-economic status, veteran status or any other characteristic protected by law.
We recognize that having a policy in place is just the first step. This is why ISS has established the ISS CORE initiative, which works to develop and enhance our own corporate social responsibility profile. Diversity and Equal Opportunity are one of the key elements of the CORE process. We have established a range of regional Diversity Groups to develop recommendations promoting an inclusive diversity culture at ISS. These teams are composed of +40 employees, representing multiple offices across 15 countries.
While it is essential that ISS is able to walk the diversity talk, the reality is that the greatest impact we can have to promote an inclusion agenda is to build this into our service offering, and the last 12 months has seen us do just that.
ISS clients are able to access data on the assessed ethnic make-up of the boards of over 6,000 US companies. Now more than ever, the gender and ethnic diversity of company boards and executives is under scrutiny, and various stakeholders are urging companies to close the diversity gap. Rather than stopping at the point of offering this data as a service to clients, however, ISS has taken the next step and developed our own set of specialized investment indices.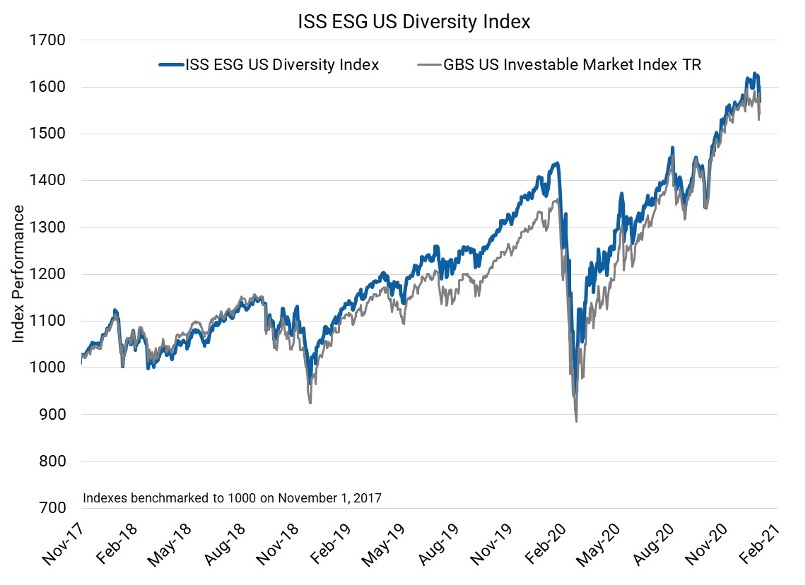 ---
ISS ESG US DIVERSITY INDEX vs US Investable Universe (11/01/2017 = 1000)
The ISS ESG U.S. Diversity Index is the first to select constituents exhibiting both broad ethnic and gender representation for board directors and named executive officers (NEOs). Minimum requirements include a combined minimum of three distinct ethnically diverse individuals and three distinct women among directors or NEOs, as well as a 35 percent combined minimum of women or ethnically diverse directors. Small-, middle-, and large-capitalization U.S. companies are selected from the ISS ESG Director & Executive Diversity dataset.
Analysis of data underlying the ISS ESG U.S. Diversity Index finds significant change over recent years, with 251 companies meeting these index requirements compared with only 147 three years ago. As the events of 2020 demonstrated, however, progress needs to be more rapid. As COVID-19 has increased the relevance of the 'S' element of ESG investing, the #blacklivesmatter movement has driven home the urgency of action on this topic.
In 2021, ISS is going beyond contemplating our own approach to diversity issues, by building the topic into some of our core offerings. Together with our clients we can leverage the power of the investment dollar and work to drive progress towards a fully inclusive society.