A Bill passed by lawmakers requiring racial and ethnic diversity on the boards of California corporations was delivered to governor Gavin Newsom for approval on Sunday.
AB 979, introduced by Democratic Assembly members Chris Holden, Cristina Garcia and David Chiu, follows a 2018 bill that requires a minimum number of women to sit on Golden State-incorporated company boards.
The requirements of the proposed legislation are twofold. By the end of 2021, California-incorporated corporations must include at least one board member who self-identifies as Black, African American, Hispanic, Latino, Asian, Pacific Islander, Native American, Native Hawaiian, or Alaska Native, or as gay, lesbian, bisexual or transgender, according to the Bill.
Thereafter, AB 979 would require corporate boards consisting of nine members or more to include at least three directors from underrepresented communities by the end of 2022. For corporate boards comprising between five and nine members, a minimum of two directors must hail from these communities. Companies incorporated in California include blue chips such as Apple Inc., Cisco Systems, and Sempra Energy.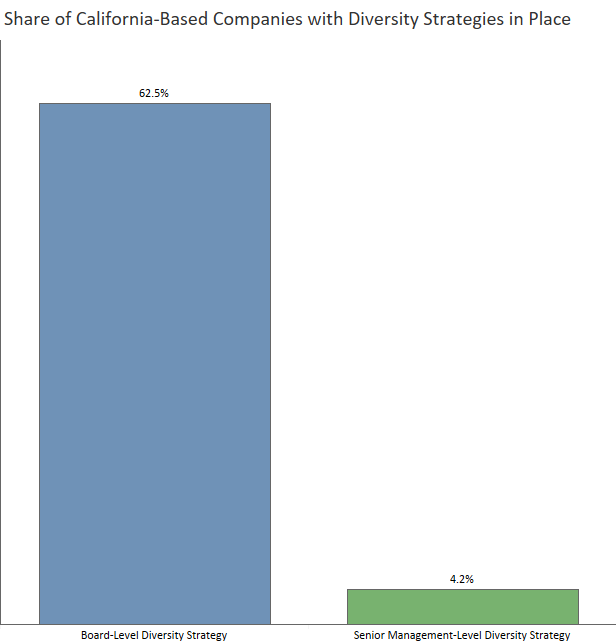 Of the 48 California incorporated companies covered by the ISS ESG Environmental and Social (E&S) Disclosure Quality Score, 30 (62.5 percent) have established policies on diversity beyond gender at the board level. Such policies are rarer at the senior management level, according to ISS ESG data: just two of 48 California corporations have such a policy in place. California-based Cisco Systems serves as an example of top to bottom diversity policy pronouncements. The company has established policies for diversity beyond gender spanning all levels of its business, including the general workforce, the board, and senior management.
For proponents of AB 979, ensuring greater opportunities for people of underrepresented communities does not end at giving them a seat at the board table. "By ensuring diversity on their boards, we know the corporations are more likely to both create opportunities for people of color and give them the support to thrive within that corporation," Garcia told the Los Angeles Times.
---
By: Maura Souders, Associate, ISS ESG