Below is an excerpt from ISS Corporate Solution's recently released paper "Characterized to Fail? Examining the Role of Board Demographics in Say on Pay Outcomes". The full paper is available for download from the ISS Corporate Solutions (ICS) online library.
Proxy season 2021 was quite a year for failed management Say on Pay votes, with many high-profile defeats. ISS Corporate Solutions (ICS) decided to look at several measures for board demographics to see if boards which performed poorly on Say on Pay votes had characteristics.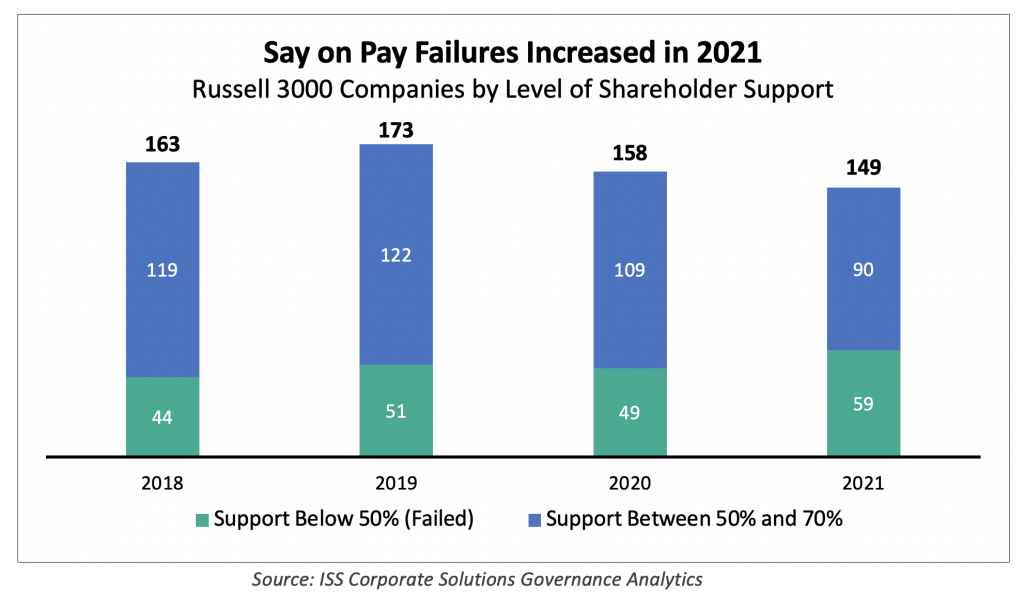 Key Takeaways:
It was not just high-profile, large companies that were the target of shareholder disapproval. Among the S&P 500, S&P 400, S&P 600, and Russell 3000 excluding the S&P 1500, the greatest number of companies that failed to receive a majority of support for their Say on Pay resolution in 2021 were in the S&P 500, at 18 companies, or 3.6 percent of the index, but the other failed votes were among much smaller companies.­­­­
Industries that were most severely impacted include software and services, real estate, and energy.
Companies that did have lower Say on Pay votes have whiter, more male, shorter tenured and slightly older directors than companies with higher votes, according to an analysis of voting data for the last four years.
---
By Paul Hodgson, Senior Editor, ISS Corporate Solutions