The United Nations Intergovernmental Panel on Climate Change (IPCC) recently estimated that if "annual CO2 emissions between 2020–2030 stayed, on average, at the same level as 2019, the resulting cumulative emissions would almost exhaust the remaining carbon budget for 1.5°C (50%), and deplete more than a third of the remaining carbon budget for 2°C (67%)." Further, the IPCC says that "Projected cumulative future CO2 emissions over the lifetime of existing and planned fossil fuel infrastructure, if historical operating patterns are maintained and without additional abatement, are approximately equal to the remaining carbon budget for limiting warming to 2°C with a likelihood of 83%."
Given the climate impacts of fossil fuel combustion and industrial processes, a fossil fuel-based or industrial project may receive increased scrutiny from regulatory authorities, civil society, and investors. Such scrutiny could apply to multiple companies that are either directly or indirectly involved in the project.
Some investors may prefer an overview of the types of risks that could occur across various stages of a project due to various forms of involvement (Figure 1). This piece provides an overview of how a variety of ISS ESG data and products can assist investors in managing the potential risks from such projects.
Figure 1: Risks Facing Fossil Fuel or Industrial Projects

Source: ISS ESG
Potential Risks and Available Products
Risk: Controversy
Environmental, social, and governance (ESG) controversies reported in media and stakeholder sources can signal stakeholder expectations, grievances, and approval. As new fossil fuel and industrial projects often face scrutiny from stakeholders, these projects and the companies operating them may generate controversy and pose reputational risks. In addition, company involvement in projects either alleged or found to be obstructing efforts to mitigate climate change may conflict with the company's public climate policy, strategies, and commitments.
Access to these reports can support investors and issuers in assessing exposure to reputational risks and other prospective risks. News data on these topics can also allow stakeholders to identify trends, track developments, and detect early warning signals on ESG controversies.
Service Offering: ESG Newsroom
The ESG Newsroom is ISS ESG's AI-supported news monitoring service that allows users to search, monitor, and filter large volumes of news articles related to the ESG controversies of more than 17,000 public issuers.
The data shows that climate controversies were the third-most-common type of ESG controversy, accounting for 2,916 controversies (Figure 2). Climate controversies include allegations of company failures to mitigate and address climate change impacts through their products and operations, active opposition to climate change regulations, and violations of greenhouse gas standards. However, the high number of climate controversies was not reflected in a commensurate volume of press exposure, with the total number of climate-related news articles being relatively low (5,188 articles) compared to articles on other ESG controversies.
Figure 2: Trending Controversy Themes
Comparison of number of articles to individual controversies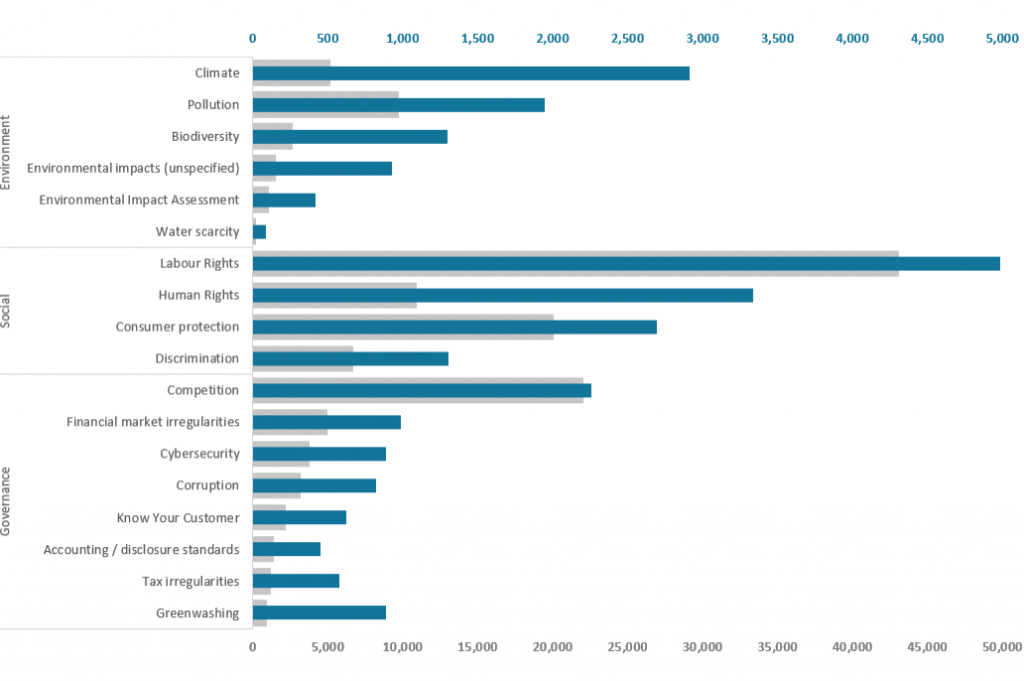 Source: ISS ESG Newsroom
Risk: Norms Violation
International norms on environmental protection, human rights, labor standards, and anti-corruption are other areas investors may choose to track. Norms violations may lead to reputational losses, monetary penalties for the companies, and impacts on stakeholders.
Service Offering: Norm-Based Research
Norm-Based Research (NBR) enables investors to identify ESG-related risks in their portfolios. NBR provides analysis of corporate involvement in controversies, including controversial projects that are reported to be in violation of international norms.
Currently, NBR has identified 280 companies involved in project-related climate controversies (Figure 3). Companies can be directly or indirectly involved in controversies. They may be complicit in the controversial activity as participants in a joint venture, holding or parent companies, service providers, or bespoke suppliers.
Figure 3. Number of Companies Involved in Project-Related Climate Controversies, Grouped by Controversy Severity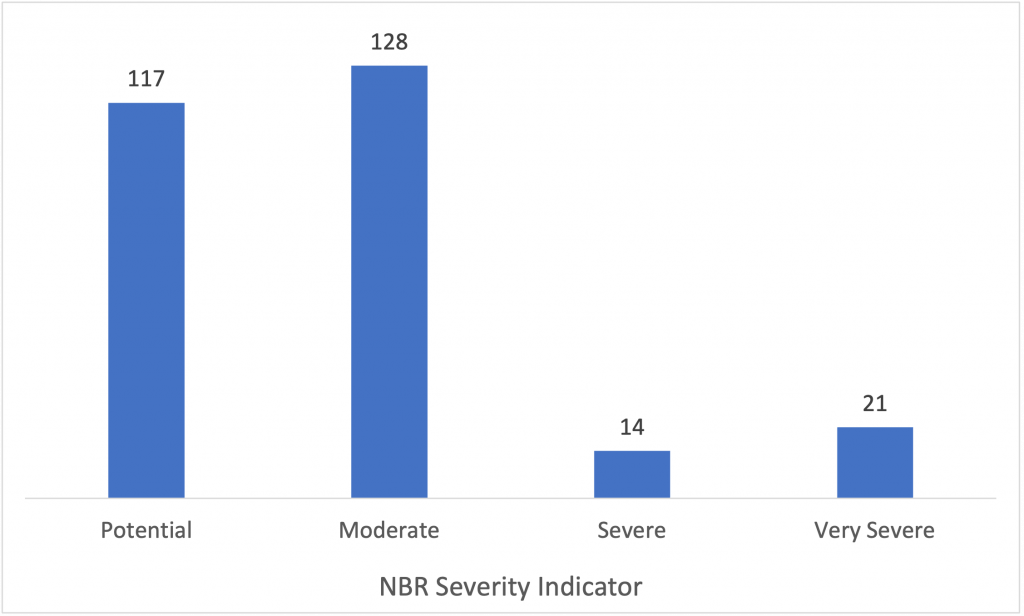 Source: ISS ESG
These projects can potentially carry operational and litigation risks, which can result in lengthy and costly delays to the operation of the project, if not lapsed approvals, cancelled projects, or divestments. NBR enables investors to evaluate these risks by assessing the efficacy of companies' measures to address grievances and remedy negative impacts.
Risk: Transition to a Low-Emission World
A crucial concern is a company's ability to manage and adapt to the internal and external pace of change in order to cut CO2 and other greenhouse gas (GHG) emissions and transition to a low-carbon economy. Transition risks can represent varied amounts of risk to organisations depending on the nature, speed, and focus of these changes.
Service Offerings: Climate (i.e., Emissions) Data; Transition Value at Risk (TVaR); Net Zero Solutions
ISS ESG Climate Solutions provides emissions data for approximately 37,500 issuers globally and gives investors a powerful analytical tool to measure the climate impact of their investment portfolios. Applications of this tool include reviewing company-reported emissions for their trustworthiness and modelling emissions for non-reporting companies using a robust methodology. This methodology was developed over three years with the Swiss Federal Institute of Technology and includes about 800 sector and sub-sector specific models.
ISS ESG researchers aim to calculate the GHG emissions of companies based on those criteria that are most relevant to their line of business. Carbon footprinting provides various insights such as the emissions intensity of a portfolio compared to a benchmark, the top 10 contributors to portfolio emissions, emission attribution analysis, etc.
The ISS ESG Climate Transition Value at Risk (TVaR) analysis can help investors assess their portfolio's exposure to climate-related transition risks and opportunities. It provides a forward-looking returns-based analysis that leverages financial data and modelling from the ISS Economic Value Added (EVA) solution, company-specific data, and scenario inputs.
The TVaR solution can enable investors to identify assets which may be most at risk from carbon pricing and demand changes, as well as those which may be better positioned to seize opportunities.
The TVaR data set includes detailed assessments of company and portfolio exposure to transition risks and opportunities related to carbon pricing and demand changes, impacts on operating costs and revenues, fossil fuel reserves, power generation, and controversial energy extraction practices. It also includes a forward-looking returns-based analysis that quantifies the potential financial impact of a Net Zero scenario.
Net Zero Solutions assesses companies' publicly disclosed Net Zero commitments, intermediate GHG reduction targets to be met before reaching Net Zero targets, and decarbonization plans. Analysts carefully examine coverage of a company's Scope 1, Scope 2, and Scope 3 emissions, including sector-specific relevant Scope 3 categories under the Net Zero target, as well as intermediate GHG reduction targets.
Risk: Physical and Other Environmental Risks
The risks associated with extreme or chronic weather events are usually classified under physical risks. Physical risks can have financial consequences for businesses due to direct effects on assets and indirect impacts due to supply chain disruptions. Acute physical risks are defined as increased severity of extreme weather events, such as tropical cyclones, hurricanes, and floods. Chronic physical risks are defined as longer-term shifts in climate patterns such as sea level rise and heat waves due to rising temperature. These risks will have an impact on a company's financial performance if appropriate risk mitigation measures are not adopted.
Other environmental risks are associated with the actual location of the project. A project may pose a threat to its surroundings if it is in an ecologically sensitive zone or close to a protected area such as a biodiversity hot zone or a defined cultural heritage risk zone.
Service Offering: Physical Risk Data
ISS ESG's Physical Risk Data provides estimates of the financial impact due to increasing hazard intensity for the most likely and worst-case scenarios by 2050 across the five most costly weather hazards: floods, heat stress, wildfires, tropical cyclones, and drought.
Conclusion
New fossil fuel or industrial projects and the companies involved in them can expose investors to a variety of risks: reputational, legal, transitional, and physical or other environmental risks. Given this, ISS ESG provides investors with an array of tools: ESG Newsroom, Norm-Based Research, ISS ESG Climate Solutions, ISS ESG Climate Transition Value at Risk (TVaR) Analysis, Net Zero Solutions, and ISS ESG Physical Risk Data.

Explore ISS ESG solutions mentioned in this report:
Assess companies' adherence to international norms on human rights, labor standards, environmental protection and anti-corruption using ISS ESG Norm-Based Research.
Use ISS ESG Climate Solutions to help you gain a better understanding of your exposure to climate-related risks and use the insights to safeguard your investment portfolios.
Understand the F in ESGF using the ISS EVA solution.
---
Authored by:
Harshpreet Singh, Global Head of Climate Research, ISS ESG
Kenneth Irvin Garcia, Associate Vice President, ESG Newsroom, ISS ESG
Ayeela De Guia, Senior Associate, Norm-Based Research, ISS ESG
Angelica Louise Juanillas, Associate, ESG Newsroom, ISS ESG
Vrusha Deshpande, Climate Research Analyst, ISS ESG