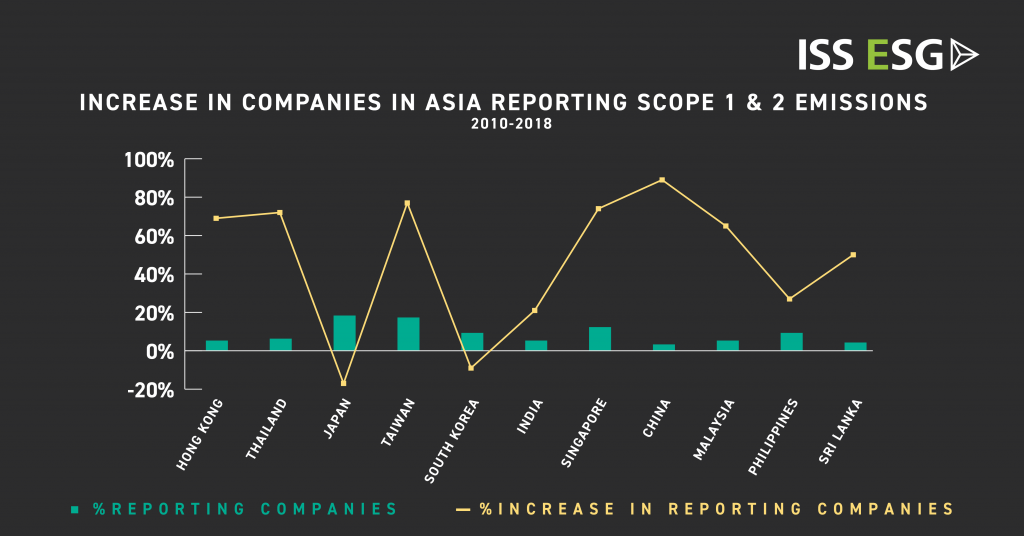 As ESG and climate topics continue to gain traction in Asia, the last decade has seen an increase in the number of companies taking the first step towards climate risk integration, by measuring and reporting scope 1 & 2 emissions. China, for example, has seen an increase of 85 percent in the number of companies reporting these numbers. The story is similar in Hong Kong, Malaysia, and Taiwan.
Even so, the number of companies that report emissions remains low. None of the countries assessed have a share of reporting companies higher than 20 percent, based on ISS ESG's coverage of 13,024 companies in these countries. Several of the non-reporting companies are in sectors with high exposure to climate risk, making the accuracy of estimations and coverage even more important.
If companies are not reporting emissions, they are unlikely to be assessing the impact that a transition to a low carbon economy may have on their business model. Encouraging measurement and reporting via engagement or proxy voting is likely to remain a key strategy for investors aiming to contribute to accelerating the low-carbon transition.
---
By Fredrik Fogde, Head of Climate Research, Climate Solutions