The United Nations-backed International Day of Peace has a history dating back almost 40 years, and has over time developed into a day when warring parties are explicitly encouraged to lay their arms down, at least temporarily, and explore peaceful solutions to their differences.
Concerns around conflict and weapons manufacture has traditionally been one of the key motivating factors for values-based responsible investors, but there are opportunities for this area of risk to be incorporated into a range of different responsible investment methodologies.
Country-Level Risk Assessments
Despite the best intentions behind the International Day of Peace, research from the ISS ESG Country Rating service shows that internal as well as cross-border conflicts remain an issue across all continents. There are only 17 out of 121 countries (14 percent) in the ISS ESG universe that are not involved in any conflicts, neither of violent nor of non-violent nature.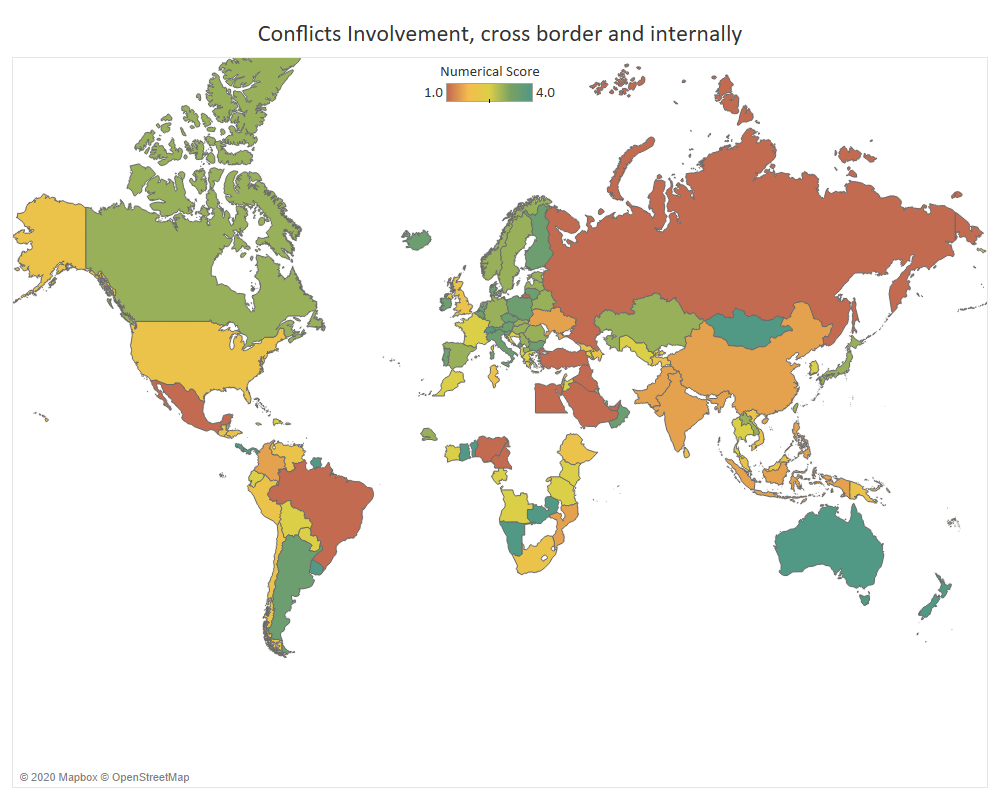 Roughly half of the covered countries (64/121) are involved in non-violent crises (grades 3.0-3.5), while one-third of the states (40/121) are involved in violent conflicts.
While there are some positive reports regarding conflict settlement, such as the peace treaty between the Colombian government and the FARC in 2016 and the resolution of the dispute between Greece and North Macedonia over the name of the latter in 2018, globally conflict numbers and intensities are on the rise.
Norm-Based Assessments
Data from ISS ESG Norm-Based Research shows that the aerospace and defense sector has the greatest exposure to controversies related to the UN-backed Sustainable Development Goal 16: Promote just, peaceful and inclusive societies. A number of companies in this sector face allegations of failing to mitigate the risk of military supplies being used in violation of human rights, through the supply of specific equipment or key military/security services to parties using it in violation of international human rights law or international humanitarian law.
Separately, several companies in the mining, oil and gas, and food products sectors, as well as banks, are involved in broader human rights or environmental controversies, where tensions between the company and stakeholders, or through involvement by security providers, have degenerated into violence.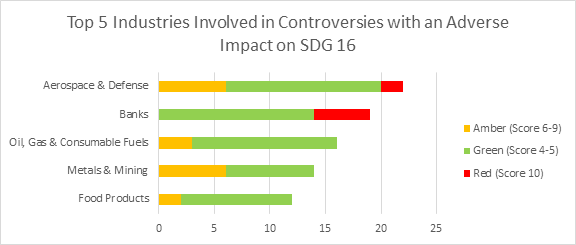 Sector-Based Screening
ISS ESG military research data shows the distribution of publicly listed companies involved in the production of 'combat equipment' across domiciles. 'Combat equipment' includes military weapons such as tanks, combat aircraft, missiles, and ammunition. This also includes certain sub-systems and components directly tied to the lethality of weapons, such as fire control systems and projectile bodies.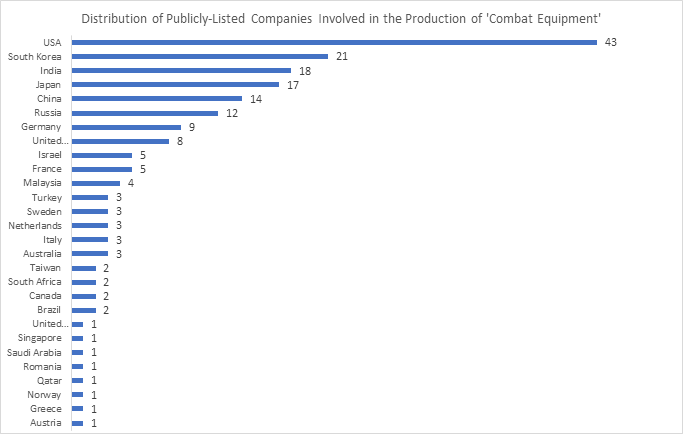 Conclusion
On the International Day of Peace, investors have an opportunity to consider their exposure to reputational and investment risks associated with global conflicts. As the COVID-19 pandemic drives home the importance of the 'S' aspect of the ESG spectrum, it is likely that there will be increased consumer and regulatory scrutiny on this topic. ISS ESG's product range provides responsible investors with the ability to incorporate concerns around conflict into various of their stewardship practices.
---
By:
Aaron Whelan, ISS ESG
Janina Magdanz, ISS ESG
Michele Prisco, ISS ESG