Companies in the meat processing industry have traditionally performed poorly with regard to labour conditions. This left them ill-prepared for protecting workers' health and safety during the pandemic.
International and national organizations have provided guidance to the industry at an early stage, acknowledging the high vulnerability of its workforce. However, a series of recent scandals shows that change in practices is delayed by structural shortcomings.
Globally, companies in the meat processing industry have been facing a high degree of scrutiny for failing to protect their workers amid the coronavirus disease 2019 (COVID-19) pandemic. In the United States, media reports have highlighted the over-proportional spread of the virus within the industry, with infections in counties with large processing plants increasing at twice the rate of the national average. A May 1 report released by the U.S. Centers for Disease Control and Prevention (CDC) noted that working conditions at many processing plants make it difficult to maintain effective physical distancing and to implement disinfection guidelines, and also referred to specific "sociocultural and economic challenges" to prevent the spread of the virus in meat processing facilities. Stakeholders have highlighted the high vulnerability of the workforce in the industry, which is typically comprised of high shares of immigrant and other minority groups, often undocumented and with limited English skills. The lack of paid leave provisions is reportedly enticing largely low-paid workers to continue to work despite the risk of exposure. Media have also reported claims that workers were not adequately informed about the spread of the virus within meat processing operations. Some company officials reportedly attempted to avoid closure of factories, while stakeholders maintain that politicians and industry representatives have shifted the responsibility for protection against the virus onto workers.
Health and safety concerns in the meat processing industry are not new. NGO reports from 2015, 2016, 2017 and 2019 pointed to an intimidating working environment at factories, and alleged that workers were at risk of severe, disabling and life-threatening injuries and illnesses, including chronic pain, sickness, stress and emotional strain.
ISS ESG's Corporate Rating data confirms these shortcomings. Although most of the companies report on reasonable provisions for employee safety, only a minority of the industry has its management systems certified by a third party to an international standard to ensure actual effectiveness, and for those companies that do, the certification only covers a minor share of employees.
In addition, almost half of the meat processing companies that disclose relevant data have been reporting increasing accident rates in recent years – a share higher than for the overall food and beverages industry. Moreover, less than one-fifth of reporting companies had no fatalities in their operations in recent years.
A similar picture crystallizes when evaluating data related to overall working conditions: Less than one-tenth of companies demonstrate acceptable performance when it comes to staff-related topics including health and safety but also workers' rights such as freedom of association, and payment practices. This is supported by the fact that only few companies make any statements on their use of non-regular employment practices, an issue that evidently is of high relevance to the industry.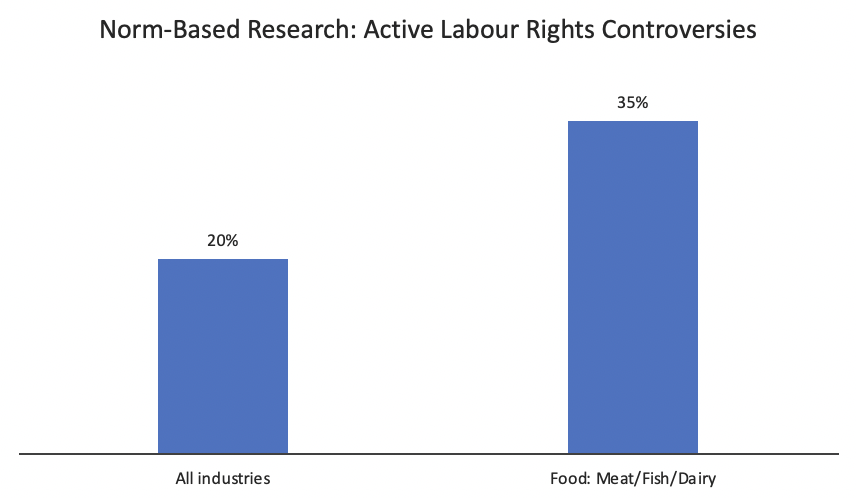 In April 2020, the World Health Organisation (WHO) and the U.S. Department of Labor's Occupational Safety & Health Administration (OSHA) together with CDC, issued interim guidance for employers on hygiene and protective measures, including some specifically designed for food businesses and the meatpacking and processing industries. The political response to the exposure of the industry has varied widely. At the end of April 2020, the U.S. President signed an executive order to keep meat processing facilities operating over meat supply concerns, sparking criticism from unions and labour rights activists. By contrast, in May 2020 the German government announced new regulation to improve employee health and safety in the meat industry, including fines of €30,000 for companies in breach of labour regulation and a ban on the use of subcontracted workforce.
ISS ESG's Norm-Based Research has identified health and safety controversies for companies in the meat processing industry in the U.S., Canada, Brazil and Germany. All assessed companies have initiated remediation measures such as providing personal protective equipment, implementing physical distancing measures or increasing sanitation efforts. However, the efficacy of the adopted measures to address the industry's widespread labour standards issues repeatedly raised by stakeholders remains unclear.
---
By:
Anja Kubeneck, Associate, ESG Ratings
Kira Kim Daubertshäuser, Associate, ESG Ratings
Georg Präauer, Associate, Controversies & Global Norms, ESG Research