In March 2020, as the Coronavirus pandemic started to spread across the U.S. and wreak volatility in the stock market, securities class action complaints started to follow. Not surprisingly, U.S.-based litigation often follows wild stock market fluctuations as investors look to recover lost assets.
The very first COVID-19 related class action was filed on March 12, 2020 in USDC Florida (Southern) against Norwegian Cruise Line Holdings. Shareholders alleged the Miami-based company with deceptive sales tactics and misleading updates to the investor community related to its business and operations.
Since the Norwegian complaint was filed, in the last 14 months, ISS Securities Class Action Services has tracked a total of 37 COVID-19 related cases. This includes a wide array of allegations against companies in many different industries… including (but not limited to) pharmaceutical, biotechnology, travel, financial, technology, real estate, energy, and food services.
A few other examples of the 37 COVID-19 related investor allegations include a failure to disclose the truth that vaccine clinical trials had suffered manufacturing errors (AstraZeneca); false and misleading information about a vaccine candidate as executive suspiciously timed stock trades (Vaxart); and failure to implement proper pandemic-related safety protocols for plant workers which led to misleading shareholders about lower production and revenue shortfalls (Tyson Foods).
The following key statistics include COVID-19 related investor class actions filed within the United States from March 12, 2020 – April 30, 2021:
During this time period, ISS Securities Class Action Services tracked 368 newly filed investor complaints in Federal court, 34 of which included allegations related to COVID-19; and 94 newly filed investor complaints in State court, three of which included allegations related to COVID-19.
Of the 37 complaints filed, 34 occurred in Federal court and three in state court. The most popular venues include USDC New York (Southern) with six cases and USDC California (Northern) with five cases. In terms of State court filings, all three cases are within the Delaware Court of Chancery.
To date, none of the 37 cases have settled (this is not unusual, as the average length of a case that continues to the settlement stage takes roughly 2.5-to-3.0 years or longer). However, seven of the cases have been dismissed (either tentatively, partially, or fully).
In terms of specific allegations type, investors allege 10b5 violations in 25 of the cases; Section 11 violations in four of the cases; both 10b5 and Section 11 violations in four of the cases; and the remaining four shareholder complaints allege other violations (e.g., insider trading or merger transactions).
Six of the 37 cases involve companies listed within the S&P 500 index. These companies are Carnival Corporation, Norwegian Cruise Line Holdings, Occidental Petroleum, Royal Caribbean Cruises, Tyson Foods, and Wells Fargo.
30 of the 37 cases comprise companies headquartered in the United States, while four are China-based companies, two are Canadian, and one company is headquartered in the United Kingdom. To confirm, all 37 class actions noted within this article are U.S.-based… the seven non-U.S. companies trade on U.S. stock exchanges as American Depository Receipts (ADRs).
In terms of market capitalization from the 37 class action cases, ranges include the following…

$10 Billion – $100 Billion = 5

$1 Billion – $10 Billion = 16

$100 Million – $1 Billion = 7
Based upon the above activity, it is clear shareholders are paying very close attention to the actions of publicly traded companies during the Coronavirus pandemic. ISS Securities Class Action Services will continue to monitor each of the remaining 30 active cases, along with any future investor complaints… and share all relevant details with its clients and the investment community. Only time will tell if the above noted COVID-19 allegations correlate to investor settlement recoveries.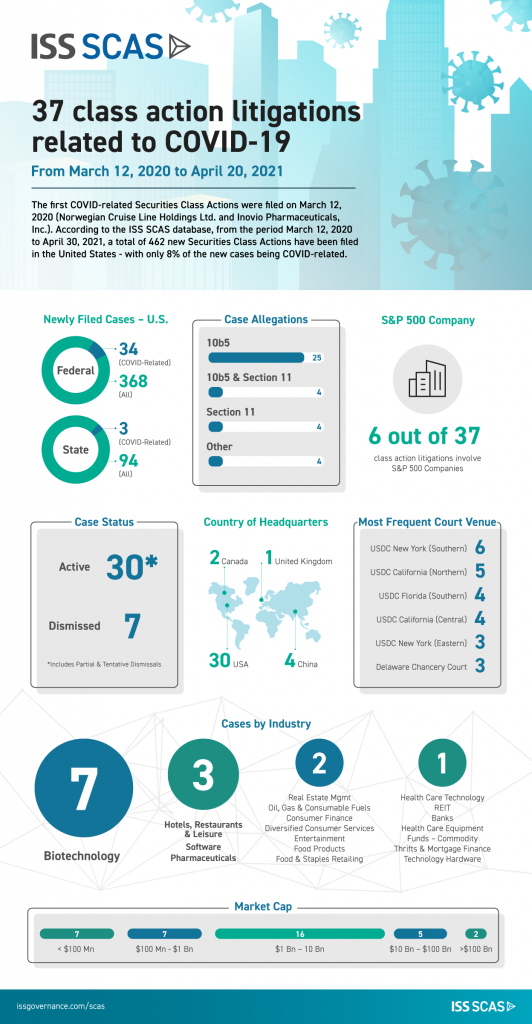 ---
By Jeff Lubitz, Executive Director, and Louis Angelo M. Panis, Analyst, ISS Securities Class Action Services