Below is an excerpt from ISS ESG's thought leadership paper: European Action Plan: Financing Sustainable Growth. The full paper is available for download from the Institutional Shareholder Services (ISS) online library.
The European Union (EU) has taken significant measures to align its financial system with the goals set by the Sustainable Development Goals (SDGs) and 2015 Paris Agreement. In December 2016, the European Commission established the High-Level Expert Group on Sustainable Finance (HLEG) to develop an EU-level roadmap on sustainable finance and compile a comprehensive set of recommendations on securing financial stability and reallocating capital flows through the integration of sustainability. In January 2018, the HLEG published its final Report that sets out a vision on how to build a sustainable financial system in Europe through a number of key recommendations and actions targeted at specific sectors in the financial system.
Figure 1: Timeline of Key Initiatives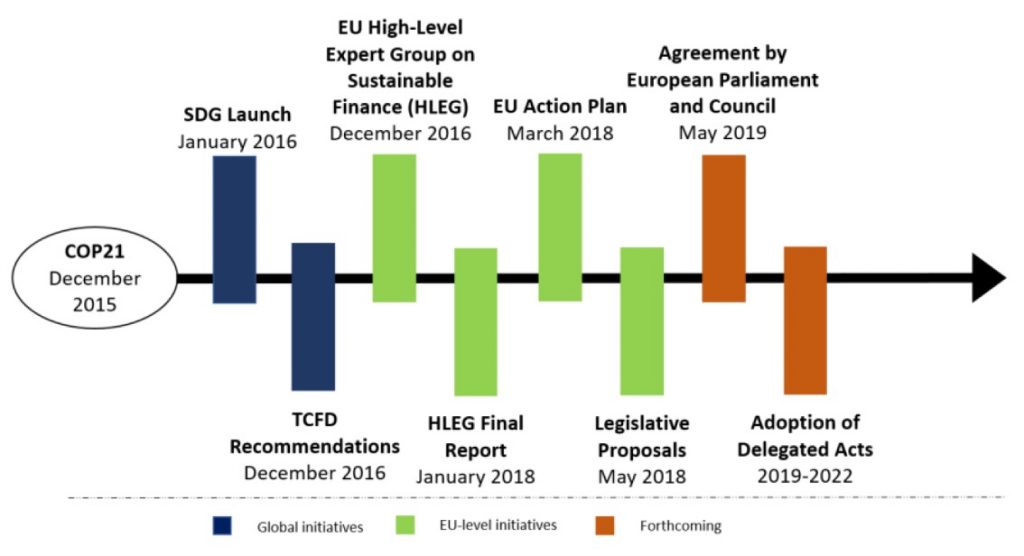 Explore ISS ESG solutions mentioned in this report:
Financial market participants across the world face increasing transparency and disclosure requirements regarding their investments and investment decision-making processes. Let the deep and long-standing expertise of the ISS ESG Regulatory Solutions team help you navigate the complexities of global ESG regulations.
Use ISS ESG Climate Solutions to help you gain a better understanding of your exposure to climate-related risks and use the insights to safeguard your investment portfolios.
---
By: Elena Bignami, ISS Custom Research, ISS ESG
Robert Rosenberg, ISS-Climate, ISS ESG