Below is an excerpt from ISS EVA's recently released paper "Evaluating ESG and Economic Value Added Momentum". The full paper is available for download from the Institutional Shareholder Services (ISS) online library.

KEY TAKEAWAYS
ESG Momentum is an important consideration when looking at potential outperformance, and can be a better measure of alpha than pure ESG Performance.
Firms with improving ESG Momentum that are nevertheless rated below 'Prime' offer room for further improvement.
Combining EVA Momentum and ESG Momentum can generate additional alpha, particularly for small caps.
Incremental Growth
An Environmental, Social, and Governance (ESG) Performance score can be likened to a financial quality indicator. Firms with the strongest ESG Performance often also have high levels of financial risk-adjusted profitability (Quality), as measured through the Economic Value Added (EVA) framework. EVA converts accounting profit into economic profit by reversing accounting distortions and measuring the dollar value profit after all costs, including the cost of giving shareholders a fair return on invested capital, have been considered. EVA is what ISS ESG uses to measure financial materiality.
When a market moves away from high-Quality firms, often the most expensive in terms of valuation, the highest-performing ESG firms can come under selling pressure. Companies have followed this pattern through 2022.
This paper examines incremental improvements in ISS ESG Performance Scores and EVA generation (EVA Momentum). The focus is on firms that are growing EVA, as more EVA is always better. The analysis will show if more ESG is better.
Figure: Global All Cap ESG Momentum Returns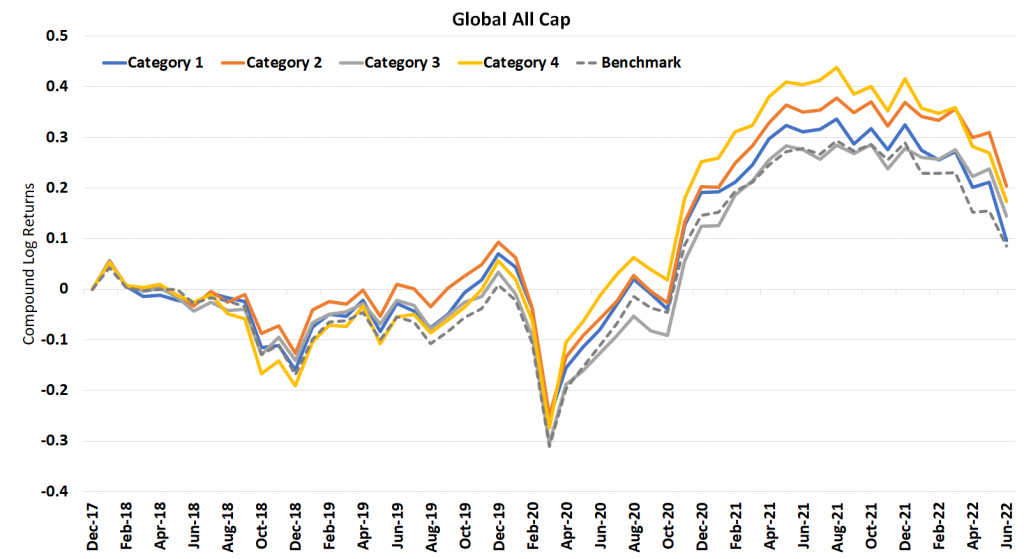 Source: ISS ESG & ISS EVA Data
Explore ISS ESG solutions mentioned in this report:
---
By: Gavin Thomson, Global Director of Fundamental Research, ISS ESG. Casey Lea, Global Director of Quantitative Research, ISS ESG.