In recent years companies have become more reluctant to place meaningful limitations on corporate boards' authority to accelerate the vesting of outstanding equity awards.
Equity plans define the scope of this acceleration, often through specific provisions with explicit language. Some equity plans contain provisions expressly prohibiting the board's discretion to advance the timing for vesting of equity grants beyond events of death and disability in non-Change in Control situations. However, many companies are reluctant to adopt such restrictive provisions and instead expressly allow board discretion to apply to retirement or other termination scenarios. However, with such broad authority, there is the potential for windfall equity payments outside of a Change in Control, such as upon the voluntary retirement of an executive officer, which may invite increased scrutiny of the company's compensation program.
According to data from ISS Corporate Solutions, the percentage of plans containing such a prohibition has declined in recent years from nearly 15% for plans on ballot for fiscal year 2017 to under 11% for 2021. The trend demonstrates that companies increasingly desire to maintain flexibility with their decisions around equity acceleration.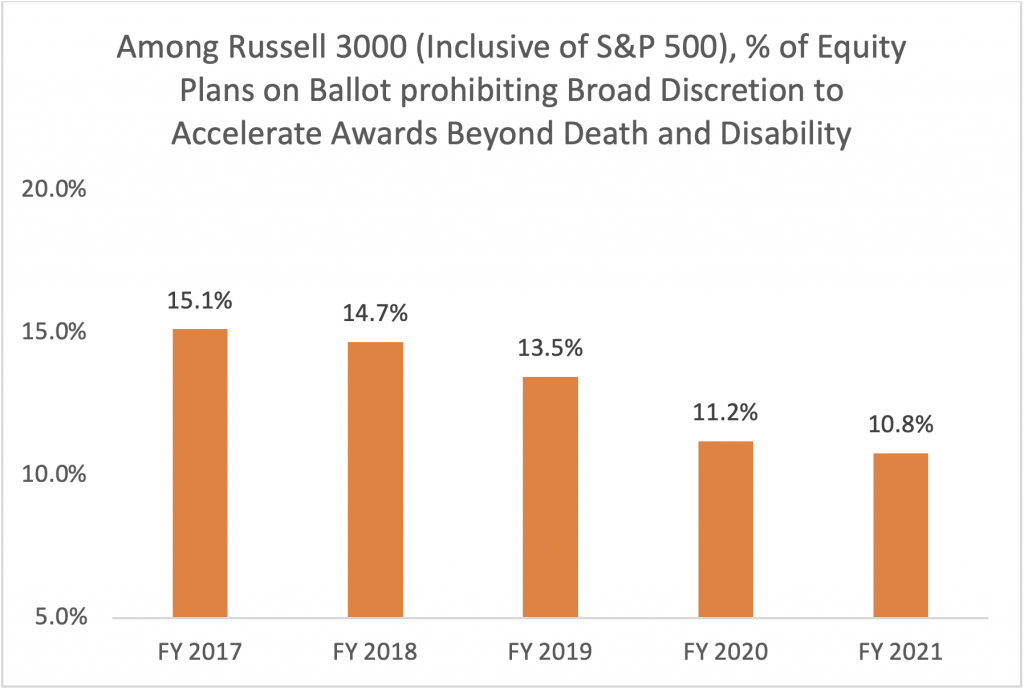 Source: ISS Corporate Solutions, Equity Plan Benchmarking
This trend is reinforced by the fact that more companies have moved to permit broad discretion to accelerate awards than the other way around. While some 61 companies began allowing advanced vesting of awards beyond death and disability within the past five years despite previously limiting it, only nearly half of this number, or 31 companies, moved to disallow it in the equity plan over the same timeframe, according to ICS data.
Small-cap companies are the most unwilling to abandon the power to accelerate awards, with only 11% of the Russell 3000 (Ex. S&P 1500) Index containing an adequate provision or language in the most recent equity plan. This compares to nearly 16% for both large-caps among the S&P500 and mid-caps in the S&P400, which may face more scrutiny from shareholders, while almost 14% of companies in the S&P600 contain the limitation.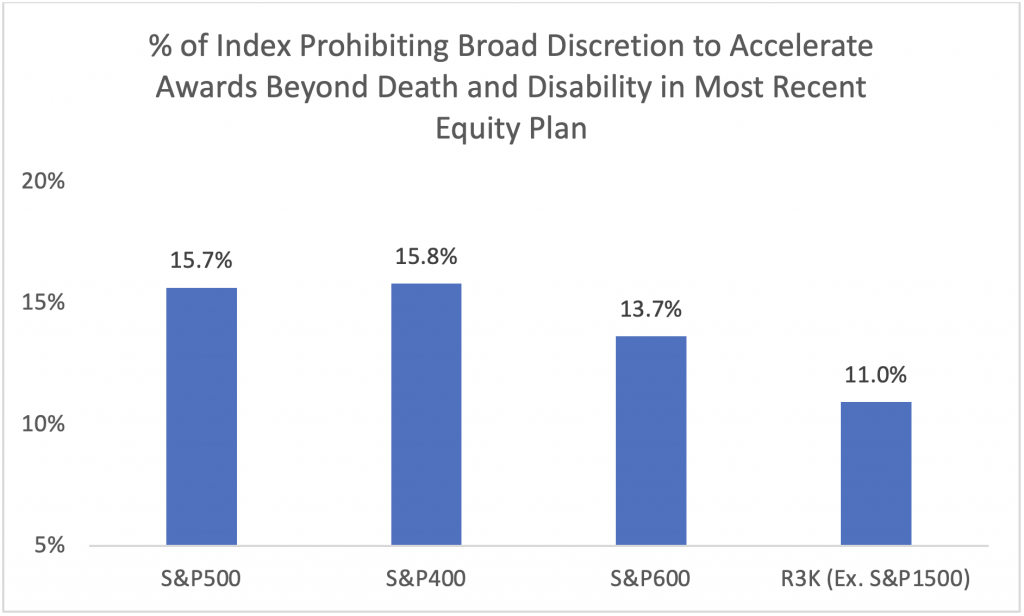 Source: ISS Corporate Solutions, Equity Plan Benchmarking
The ISS Equity Plan Scorecard (EPSC) framework evaluates whether an equity plan prohibits broad discretion to accelerate awards beyond death and disability, and companies that do garner additional credit. This factor has remained a part of the policy since its introduction, and its inclusion rewards companies that are willing to limit the ability of the board to provide windfall equity compensation in equity plan provisions. There is no exception for a carve out of awards under the EPSC framework, such as with a company's minimum vesting requirement, which may allow for 5% of awards not to include a minimum vesting of at least one year. However, this may be deemed too restrictive by many smaller companies, which often seek more flexibility in the plan administration to retain and incentivize leadership and thus may only seek to include this as a last resort when seeking to increase the share request.
Many companies seek to retain the board's discretion to accelerate awards due specifically to a Change-in-Control, as this may establish an important incentive for executives to take advantage of consequential opportunities to create shareholder value. Nevertheless, the EPSC framework evaluates the treatment of equity awards in Change-in-Control situations separately, considering whether disclosure clearly indicates whether and how acceleration will take place for both time-based and performance-based awards in the plan. Providing such disclosure informs shareholders of a company's intended policy and limits the board's discretion.
The many companies that maintain this authority, though, should consider employing it cautiously if at all. Acceleration of equity vesting for an outgoing executive upon an unqualified termination, including retirement, would be considered a problematic pay practice by institutional investors and proxy advisory firms alike and may result in a company's Say on Pay resolution not being supported. In fact, this action contributed to adverse vote recommendations from Institutional Shareholder Services for at least 15 companies so far in 2022 (as of Sept. 26) and was the primary and sole reason for adverse recommendations in at least six cases. With fewer firms limiting the board's power to accelerate, this may become an area of greater concern to shareholders depending on the nature of the events to which discretion is applied.
The discretionary acceleration authority evaluation features within the "Plan Features" pillar of the EPSC framework. If you would like to discuss possible ways to make equity compensation governance work for your organization, please contact your ICS Representative.
---
By: Liam Hardy, Senior Associate, ISS Corporate Solutions