Financial Adviser Inflows See Greatest Drop in Years in Q3
The global economic recovery from the Covid-19 pandemic was in full swing in the first half of the year. Investors had no problems finding funds that delivered positive returns in developed markets and in emerging markets alike. Ahead of schedule vaccination rollouts across the globe lead many to believe that the end of this pandemic was in sight, and this drove up global equity prices. Whereas strong market performances were limited to only a handful of sectors in 2020, the rally in the first half of 2021 was felt much more broadly. However, the third quarter of this year delivered considerably weaker returns for investors in developed markets. Supply chain issues and the growing inflation uncertainty dampened market sentiment for a lot of the quarter. Emerging markets funds didn't fare out much better. Most of them are highly exposed to Chinese equity, which performed poorly in Q3. In these changing market conditions, investors were more reluctant to invest their savings than in the previous two quarters.
Inflows via platforms fell from £34.7bn in the second quarter of 2021 to £30.6bn in Q3. This is the greatest quarterly decrease that we've seen, both in nominal and relative terms, for several years. Over this period, inflows through financial advisers dropped from £27.1bn to £24.3bn. Direct to platform inflows on the other hand, dropped by over 26% as sales dropped from £5.0bn to £3.7bn. Looking at net flows, we see that aggregate sales dropped from £5.5bn in Q2 to £4.4bn in Q3. Flows made directly to platforms fell into negative territory in Q3 as investors pulled an aggregate £26m from their holdings. Meanwhile, financial adviser aggregate sales through platforms fell from £4.5bn to £3.7bn.

*In Financial Clarity's M07 release, we improved the platform channel intermediary level fund flow data for 2021H1. This change means that platform inflows from Q1 onwards are expected to be higher.
IA UK All Companies Falls to Third Biggest Sector by Inflows
The third quarter of 2021 marked the fifth consecutive quarter that IA Global held the top spot as the sector with the highest inflows through financial advisers. The sector it displaced in 2020Q3, IA UK All Companies, held on to its position for the better part of the previous decade. The big story this quarter is that IA UK All Companies has seen its popularity drop once again as the sector brought in the third highest amount of inflows behind IA Global and IA Mixed Investment 40-85%. In our Q3 report last year, we hypothesised that investors were shying away from UK funds because of the uncertainty surrounding Brexit and the fast-approaching deadline for the EU-UK trade deal negotiations. Following the agreement of the Brexit trade deal in late December 2020, our expectation would have been that inflows to UK equity funds would bounce back. The data now suggests that retail investors are in no rush to pile back into UK equity funds and have instead opted for a more diversified investment approach.
The top 10 sectors saw their combined quarterly inflows drop by 10.7% from Q2 to Q3. The sector that saw the greatest nominal drop in inflows was IA North America. In the second quarter of the 2021, IA North America brought in £1.79bn, the most the sector has ever brought in. This figure dropped back down to £1.47bn in Q3. Though each of the top 10 sectors saw inflows drop from Q2 to Q3, the sector that saw the slightest nominal drop was IA Global. In the third quarter of 2021, the sector brought in £2.21bn in inflows, only £33m lower than its total in Q2.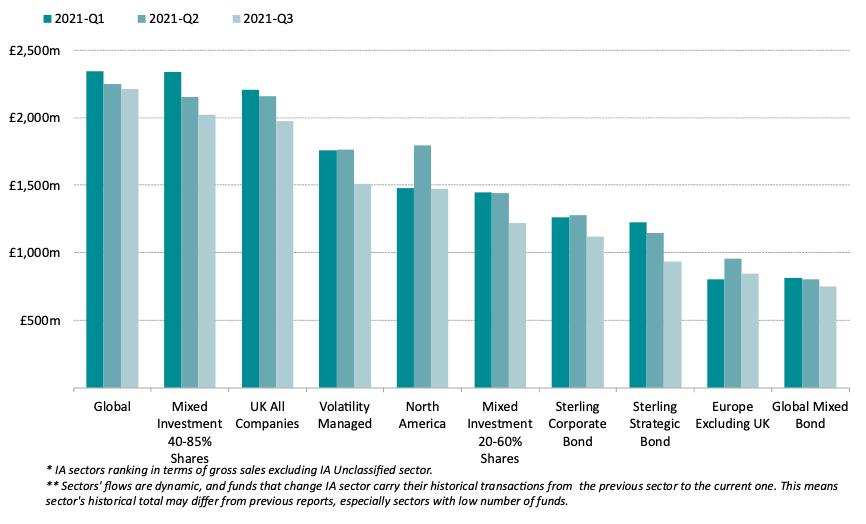 Inflows Drop Across the Board, South West Moves up to Second
Each region saw a quarterly drop in inflows in Q3 this year, but some regions saw greater drops than others. The order of the biggest regions by inflows remained largely the same as that of previous quarters, though Greater London dropped behind the South West. Inflows through financial advisers based in the capital dropped by £466m (-14%) from Q2 to Q3. Its share of the country's total financial adviser inflows dropped from 13.5% in the last quarter of 2020, to now just 12%. The region that saw the largest nominal decrease in inflows was the South East, inflows from this region dropped by £532m (-10.2%) relative to Q2's total. It was Yorkshire and The Humber that saw the greatest relative decrease though as its inflows fell by 15.2% (-£333m). Meanwhile, the South West and the North East are the two regions that saw the slightest decreases in inflows from Q2, these dropped by 5.5% (-£170m) and 5.2% (-£57m), respectively.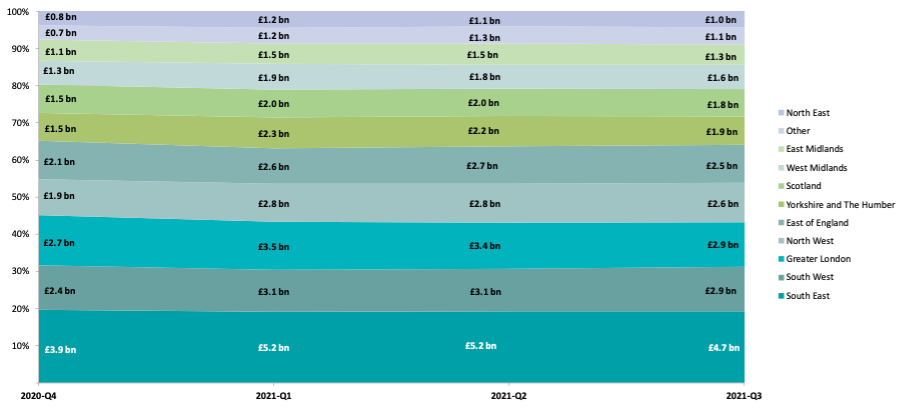 Report Scope
Financial Adviser Highlights data includes OEICs, SICAVs, ETFs & Unit Trusts', transactions via UK platforms.
L&P Product Types were excluded.
Some transactions were reported against firms' headquarters and may distort locations' authenticity. Ongoing enhancements to data collection & accuracy may result in slight changes in overall figures compared to previous reports.
---
By Kevin O'Neill, Financial Clarity, ISS MI