This week FC Market Insights looked at how emerging market #equity funds performed among UK investors in 2020:
The heightened speculation about the US Federal Reserve increasing its interest rates in recent weeks has caused emerging market stocks to tumble. When developed markets offer higher yields, the higher-risk EM sector assets have less appeal to investors. This comes after a period of record-high inflows to EM funds that is worth revisiting.
Annual inflows from UK retail investors to IA Global Emerging Markets funds in 2019 rose to £2.65bn. The high inflows to the sector looked set to continue in 2020 as investors moved over £750m into EM funds in the first quarter of the year. Net flows via platforms that quarter increased to their highest figure in recent memory (£145m) only to be topped by net flows in Q2 (£146m). China's markets performed well during this period, as their economy recovered rapidly from the coronavirus. This is significant because most EM funds are highly exposed to Chinese equities. Asian stocks account for over three quarters of the MSCI Emerging Market index, with nearly 40% of the index allocated to Chinese stocks.
Net flows in the third quarter of the year dropped into negative territory (-£106m) as outflows surged. However, the fortunes of emerging market funds changed after the announcement of an effective Covid-19 vaccine in November. This breakthrough created a lot of optimism over the global economy as it signalled that a post-Covid world was on the horizon. EM stocks, often seen as a proxy for global growth, performed well in the wake of the vaccine announcement. In the last quarter of the year, IA Global Emerging Markets saw inflows increase to £955m. This pushed the sector into the list of top 10 IA sectors by inflows, a list it hadn't featured on until now. Other sectors that have a lot of overlap with EMs also saw inflows increase in the fourth quarter. IA China/Greater China funds saw £179m in inflows in Q4, a 64% increase relative to Q3. Inflows to IA Asia Pacific Excluding Japan increased to £929m, a quarterly increase of over £250m. As we enter what is hopefully the last chapter of the pandemic, it will be interesting to see what 2021 brings to the world of EM fund investing.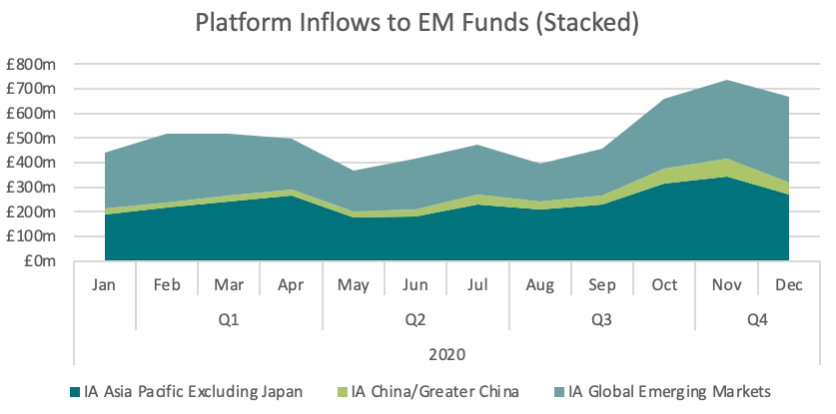 For More Information Contact: ISS MI Financial Clarity at sales@financial-clarity.com
---
By ISS MI Financial Clarity Team