As the COVID-19 pandemic wreaks havoc on incentive plans, ISS Corporate Solutions (ICS) took a closer look at existing relative total shareholder return (TSR) metrics at S&P 500 companies to review how companies' relative performance has been impacted over the last few months.
In general, relative TSR plans seem to have held up well with the severe stock price declines at the end of March. To state the obvious, most companies set payout targets for relative TSR metrics based on matching or exceeding the median performance of the peer group. 68 companies, or 46%, have a relative TSR performance that's equal to or greater than the median of their performance peer group.
We can extrapolate that 46% of companies would achieve target or above-target payouts for the relative TSR portion of their incentive award and based on results as of March 31, 2020.
However, when we took a closer look at those 68 companies, 83% – or 52 companies – had positive absolute 3-year TSRs. This outcome was encouraging as those companies were able to maintain a positive shareholder return despite the large stock price declines earlier this year. It also helps allay concerns that relative TSR metrics could create above-target payouts for executives while shareholders are left to deal with losses on their portfolio holdings.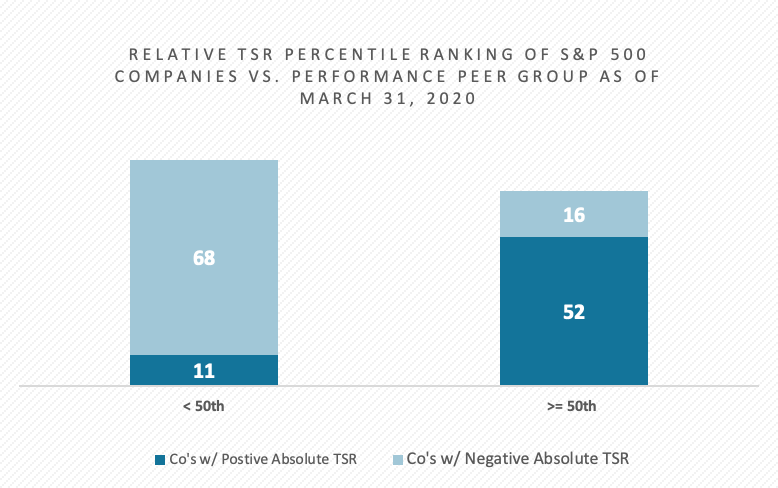 To continue reading, please download the full analysis here.
---
By Roy Saliba, Head of Product & Compensation Business, ISS Corporate Solutions