Shortly following the tragic crash of an Ethiopian Airlines 737 Max in March 2019, investors filed a 31-page complaint in an Illinois Federal court, alleging Boeing effectively placed profitability and growth ahead of airplane safety and honesty.
This accident – along with the Lion Air 737 Max crash less than five months earlier – caused 346 total deaths. Ultimately, it was determined that these two crashes were related to the same defective software and an intentional lack of pilot training from the Chicago-based airplane manufacturer. Specifically, the culprit was Boeing's Maneuvering Characteristics Augmentation System, or MCAS, a program designed to assist pilots in stabilizing the airplane.
With the Federal Aviation Administration – and regulators around the globe – grounding the 737 Max, Boeing's stock price (and not to mention, its reputation), declined significantly.
In addition to the shareholder related class action in Illinois, investors filed a derivative action against Boeing and its Board of Directors in Delaware's Court of Chancery. (A derivative action is a suit brought by a shareholder on behalf of the corporation – any monetary settlement is returned back to the company, not to investors.)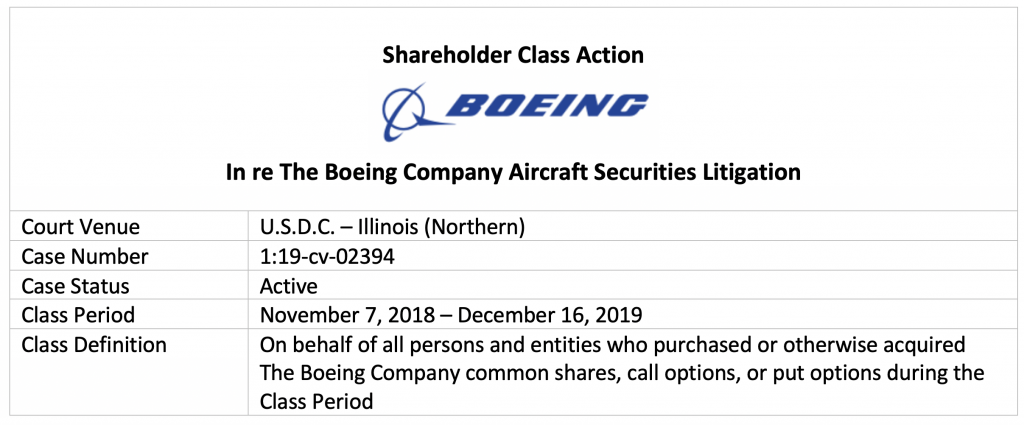 As the derivative case progressed, the court ruled the 737 Max crash was a "red flag" about safety – specifically the MCAS issues "that the board should have heeded but instead ignored." Ultimately, last month, a judge signed off on a previously announced November 2021 derivative settlement.
The defendants, a number of Boeing's former and current Board of Directors, agreed to a $237.5 million settlement, one of the largest derivative settlements on record. Boeing's directors were fully insured, as the 113-page settlement agreement specifically note­­­s the $237.5 million "shall be paid by the Insurers on behalf of Defendants to Boeing." In addition to funds being returned to the company, terms of the settlement included a number of critical governance enhancements, such as:
The election of an additional Board director with aviation/aerospace, engineering, or product safety oversight expertise
Needed reforms, such as a process for employees to raise safety concerns without fear of retribution
An amendment to the Company By-Laws requiring the separation of the CEO and Board Chair positions

The shareholder class action remains active and ongoing. Investors are being represented by lead counsel Bernstein Litowitz Berger & Grossmann and lead plaintiff Public Employees' Retirement System of Mississippi.
With the derivative action concluded, investors are now hopeful their class action will get further attention from Boeing as it relates to a negotiated settlement. The $237.5 million derivative payout gives investors optimism that a substantive recovery can occur for the thousands of Boeing shareholders who lost a significant portion of their investment following the two 737 Max crashes.
ISS Securities Class Action Services will continue to closely monitor this Boeing case and provide updates to its clients – and the investment community – as developments occur.
---
By Jeff Lubitz, Managing Director, ISS Securities Class Action Services