The Wells Fargo "fake accounts" scandal will soon be over… at least in terms of payouts to damaged shareholders.
This week the U.S. Securities & Exchange Commission issued its Proposed Plan of Distribution related to the $500 million "Fair Fund" settlement originally agreed to on February 21, 2020. The plan, available at https://www.sec.gov/litigation/fairfundlist.htm, details which individuals and entities that purchased Wells Fargo & Company common stock on the NYSE are eligible.
As reminder to the background, Wells Fargo executives were accused of providing pressure to its rank-and-file bank personnel to actively cross-sell products in an effort to boost sales and revenue (and meet new account quotas). It was widely reported at the time that more than 1.5 million checking & savings accounts, along with 500,000 credit card accounts, were opened without authorization.
News of this scandal, which came to light on September 8, 2016, caused a drop in Wells Fargo's stock price. Weeks later, John Stumpf was ousted as the company's Chairman & CEO.
This $500 million is a part of a larger $3 billion settlement with the Department of Justice and SEC. The SEC's Co-Director of the Division of Enforcement, Stephanie Avakian, stated earlier this year: "Wells Fargo repeatedly misled investors, including through a misleading performance metric, about what it claimed to be the cornerstone of its Community Bank business model and its ability to grow revenue and earnings. This settlement holds Wells Fargo responsible for its fraud and furthers the SEC's goal of returning funds to harmed investors."
In addition to the $500 million, investors previously settled its "fake accounts" class action with Wells Fargo for $480 million in late 2018. Investors were led by lead plaintiff Union Asset Management Holding AG. Federal judge Jon S. Tiger issued the final judgement approving this settlement on December 17, 2018.
Over the years Wells Fargo has faced a number of shareholder class actions – for a variety of allegations. A list of current and past actions are detailed below. ISS Securities Class Action Services will continue to keep its clients up-to-date on the $500 million Wells Fargo – SEC settlement, including the claim filing requirements and deadline once publicly announced.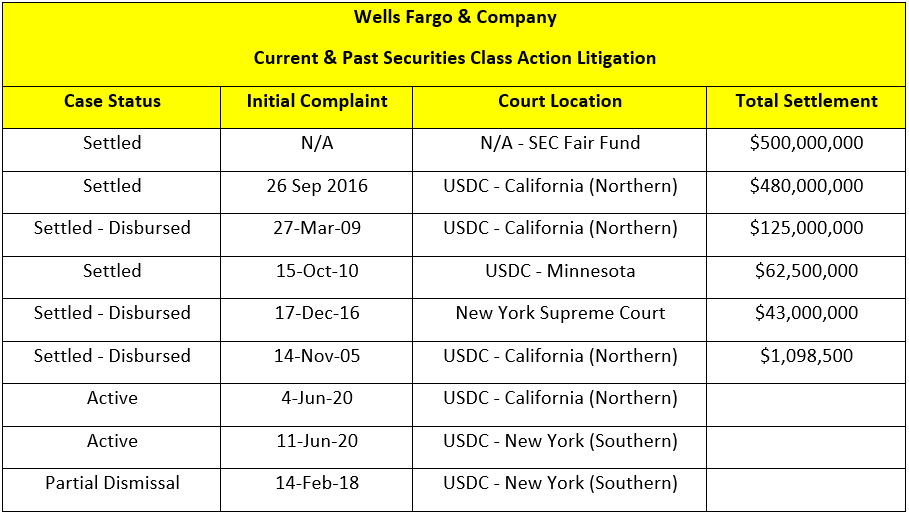 ---
By Jeff Lubitz, Executive Director, ISS Securities Class Action Services