While a growing number of investors became more accepting of allowing for better disclosure on environmental and social issues, shifts in voting behavior took several years to materialize, and voting strategies continue to evolve.
A significant portion of votes on environmental and social issues were cast as ABSTAIN until very recently, as some investors refrained from taking a position on issues that appeared to have no proven economic impact on investments. With the rise ESG investing – and as more institutions were held accountable to their adherence to the UN PRI – abstaining to vote on environmental and social issues was no longer a defendable strategy. The level of ABSTAIN votes began to drop after its peak in 2010 at 16 percent of votes cast, but only fell to below 10 percent of votes cast in the past two years, reaching its record-low level of 3 percent of votes cast in 2018. This level of abstains is beginning to approach the traditional level of ABSTAIN votes for governance proposals, which has averaged 1 percent since 2000, and reached an all-time low of 0.3 percent in 2018.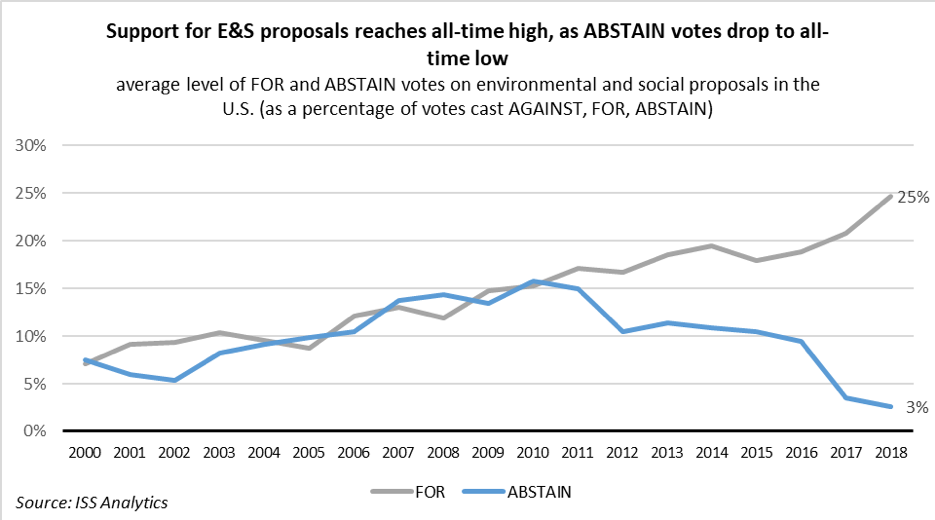 This significant decline in the level of ABSTAIN votes means that investors are now taking a position, and are more actively engaging with companies and proponents as they decide on whether to support specific initiatives. In fact, the discontinuation of ABSTAIN votes did not automatically translate to an increased number of FOR votes, as median support levels for environmental and social proposals remained flat from 2013 to 2016. However, recent developments have given an additional boost to environmental and social shareholder proposals.
In the middle part of this decade, support for environmental and social issues appeared to have plateaued, as shareholder proponents began pushing beyond disclosure and monitoring towards goals-setting and results-oriented risk management. This was particularly the case regarding carbon emissions and climate change-related proposals, where investors may have hesitated to weigh in on more aggressive targets that may appear to cross the line of interfering with the company's business activities. The December 2015 Paris Agreement within the United Nations Framework Convention on Climate Change altered this dynamic, as it made climate change risk management a top policy priority for governments, regulators, and financial institutions. Climate change mitigation now required concrete results in the form of carbon emission reductions and alignment with the goal of keeping global temperatures from exceeding 1.5 or 2 degrees Celsius compared to pre-industrial levels. By 2017, climate change proposals peaked in volume, with a large number receiving significant support, while high-profile proposals at Exxon Mobil and Occidental Petroleum received majority support.
In addition to climate change, several other issues gained prominence in recent years and became top stewardship priorities for investors, which affected vote support levels of relevant shareholder proposals. Diversity in the boardroom and in the workplace received significant attention, as several investors adopted proactive policies that required a minimum number of women on boards. Shareholder proposals related to board diversity or reporting on employment diversity saw their support levels rise. In 2018, high-profile social issues with significant implications for public health and safety, such as the opioid epidemic and gun violence, also appeared on annual meeting agendas, receiving majority support in several instances.