Persistent global uncertainty and heightened concerns about an oncoming recession have left many investors on the defensive, with certain lower-risk strategies experiencing record sales.
Equity funds have seen net redemptions of $68.8 billion during the first eight months of the year. Active funds have borne the brunt of the outflows, but increased caution among investors has been so severe that August represented the first time in over five years that passive funds experienced monthly net outflows. ETF investors have been quick to reallocate based on changing winds and were responsible for the month's passive outflows.
Fixed-income categories have understandably been the chief beneficiaries of a flight to safety among long-term funds, garnering net inflows of $320 billion in the year-to-date period. Large intermediate-term Taxable Bond strategies have experienced the highest inflows, building on their already substantial existing market share. Investors have also piled into short- and ultrashort-term funds as uncertainty looms over the path of future interest rates. However, other segments of the bond market have seen rapid growth in the hunt for yield. Tax-Free Bond funds have seen their highest inflows since 2009 at $70.4 billion, boosted in part by changes from 2017 tax reform. The tax law both increased demand by making tax-exempt interest more appealing in high tax states and decreased supply by eliminating tax exemption for advance refunding municipal bonds. These are bonds used to pay off existing, outstanding issuances and take advantage of lower borrowing costs.
Even the strong advantage bond funds have underestimated the extent of investors' defensive posturing. Many market participants are choosing to increase their cash holdings and wait on the sidelines for future potential buying opportunities. Money Market fund activity in August pushed year-to-date flows to $281 billion, outpacing flows from the whole long-term market at $225 billion. This has served as the highest level of net sales since 2008. They had seen higher flows than the rest of the mutual fund and ETF space across 2018 as well, but this was largely because of the abrupt year-end downturn. (Money Market funds had experienced net redemptions through the first three quarters of 2018.)
Defensive Non-Traditional Products
While multiple signs suggest investors are gearing up for the possibility of a recession, they have not shown a strong desire to return to liquid alternatives. Having already experienced multiple consecutive years of outflows, alternative mutual funds and ETFs saw outflows of $16.6 billion through 2019. This acted as the strongest withdrawals they have seen since alternative strategies debuted in the registered market after the 2008 financial crisis. Managed Futures in particular had served as a leading 'Alt' classification during the market's nascent period, but recent volatility has cut down on persistent trends and placed systematic and trend-following strategies in an unfavorable, unprofitable position.
Despite the aversion to alternatives, market participants are not sticking to only tried and true strategies. Those that want to stay invested in the equity markets but remain concerned about future upsets have flocked to certain smart beta strategies. Volatility-weighted and low volatility funds have led among smart beta funds in the year at $19.4 billion, compared to inflows of $13.1 billion from the rest of the fundamental index market. They additionally accomplished this with only 20% of smart beta assets.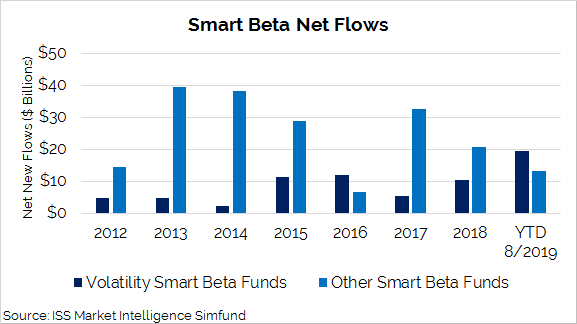 Extensive investment in Money Market funds suggest investors are cautious but are also poised to strike in the event of future investment opportunities. Current circumstances may however encourage them to persist in a long holding pattern. Commentators have pointed to factors like an inverted yield curve suggesting future recessions, yet recessions have not historically occurred until an average of 18 months afterwards. Absent a dispelling of uncertainty on the regulatory and macroeconomic fronts, investors may feel little need to move out of their defensive shells.