ISS ESG's recently launched EVA Leaders indexes are the first ESG indexes to integrate the two powerful concepts of ESG ratings and economic profitability (EVA). The combination of these two disparate datasets dispels any concern that the ESG filtering comes at the expense of the index's economic returns. Not only do the resulting EVA Leaders indexes perform strongly with regard to their ESG metrics, they also, on average, deliver twice the economic profit margin of their parent universe.
By way of background, the EVA framework translates accounting profit to economic profit by reversing accounting distortions and measuring profits after all costs, including the cost of capital. Investors using the EVA Leaders indexes would have enjoyed strong market performance since February 2017, outperforming by 250 bp p.a. in developed markets. This illustrates the compelling potential value proposition for investors that can be achieved through the combination of ESG and EVA*.
As visualized below, the new index methodology consists of the following steps:
Start with a large and mid-cap Developed Markets equity universe;
Apply ISS ESG filters excluding poor ESG performers (D-, D, D+), controversial weapons manufacturers, and companies in violation of global norms such as the U.N. Global Compact;
Exclude companies with negative Economic Valued Added (EVA) Margin; and finally
Securities with the highest EVA Margin by sector are progressively selected until reaching 65% of the capitalization of each sector.
With this approach the sector composition of the EVA Leaders indexes resembles that of their parent universe, the Solactive Global Benchmark Series, enhanced with superior ESG and EVA metrics. Indexes are capitalization-weighted and currently available for the US, Europe, and Developed Markets.
Developed Market ISS ESG EVA Leaders Methodology Steps

Source: ISS ESG. ISS ESG EVA Leaders index Guideline can be found here.
For the Developed Markets region the EVA Leaders index is made up of approximately 540 securities, compared with 1,640 for its parent index. Drilling into the profitability and ESG metrics of the regions, we can see for instance that whether measured by weighted average or median, the EVA Margin of these indices are about twice that of their benchmark. For instance, in the US the EVA Leaders index weighted average EVA Margin stands at 18.2% compared with 8.0% for its parent index. In Europe, it is 15.0% compared with 7.7%.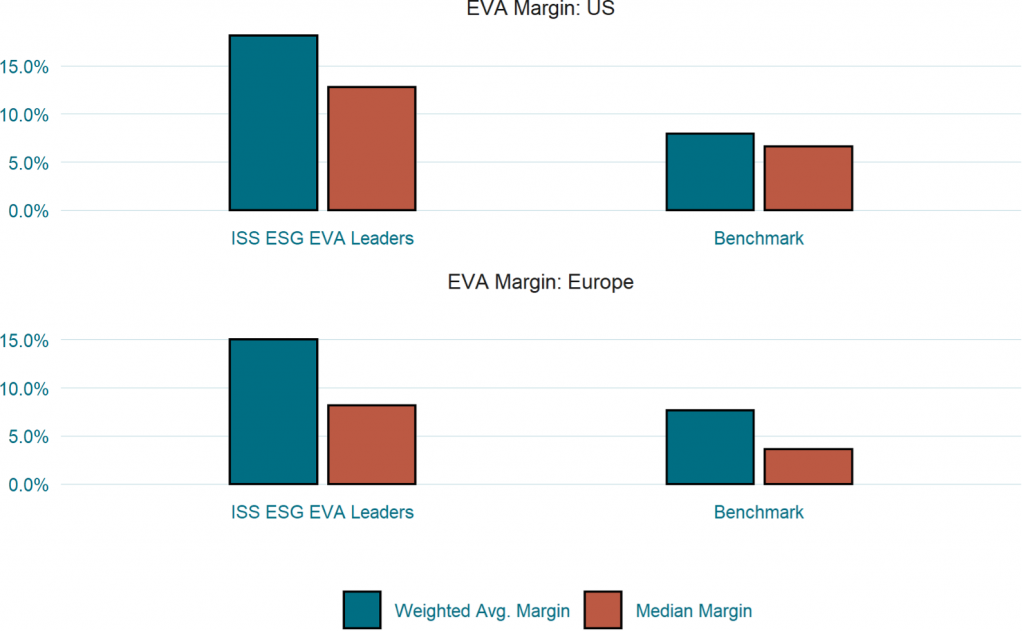 Source: ISS ESG.
The enhancement in ESG metrics as measured by the ISS ESG Performance Score is also notable. The ISS ESG Performance Score is measured on a 0-100 scale, with 50 denoting ISS ESG's best-in-class "Prime" threshold. Prime companies represent a highly select group of sustainability leaders in their industries, and have traditionally been associated with strong performance. In the US the EVA Leaders weighted average ESG Score rises to 46, compared with 39 for the parent benchmark. In Europe, which starts from a significantly higher score, the ESG Score increases to 51 from 49, bringing it above the Prime threshold.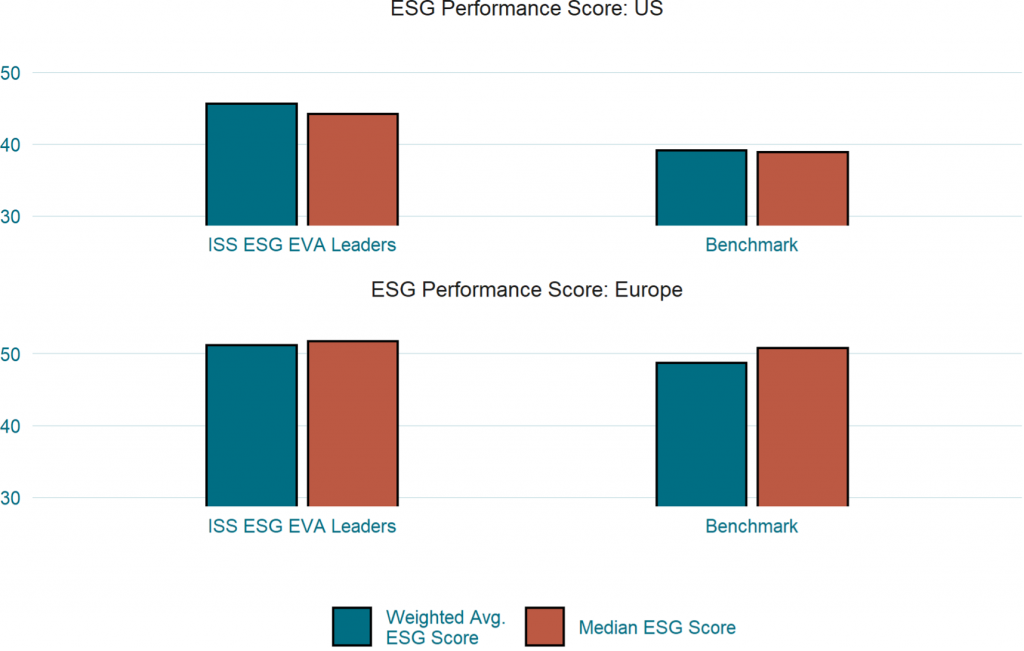 Source: ISS ESG.
Last but certainly not least, investment returns. The table and charts below illustrate the returns from the start of the indexes' history in February 2017. Please note that the indexes officially went live on October 9, 2021 – prior returns have been backtested. As shown, annualized total returns exceed those of their benchmarks by 2.5% in the US and Developed Markets and by 0.6% in Europe. At the same time volatility is quite similar to the parent indexes, resulting in higher risk-adjusted returns as measured by the Sharpe ratios.

Source: ISS ESG, Solactive. Feb 1, 2017 – Oct 18, 2021* ISS EVA Leaders Bloomberg identifiers: ISSEVADT, ISSEVAET, ISSEVAUT. Benchmarks: SDMLMCUT, SEULMCET, SUSLMCT.

Source: ISS ESG, Solactive. Feb 1, 2017 – Oct 18, 2021* ISS EVA Leaders identifiers: ISSEVADT, ISSEVAET, ISSEVAUT. Benchmarks: SDMLMCUT, SEULMCUT, SUSLMCT.
Publicly launched on October 20th, the ISS ESG EVA Leaders indices offer investors a unique index construction methodology integrating ESG criteria and economic profitability as measured by EVA Margin. The resulting indices exhibit both higher EVA margin and higher ESG ratings compared with their parent indices, while also excluding controversial weapons and norms violators. This combined sector-neutral ESG + EVA approach has delivered significant risk-adjusted outperformance to investors in our backtesting, and is likely to prove a compelling offering for ESG-conscious asset owners and managers around the globe.
*Past performance may not be indicative of future returns.
Explore ISS ESG solutions mentioned in this report:
---
By Hernando Cortina, Head of Index Strategy, ISS ESG Brian Kennedy, Index Strategy Associate, ISS ESG.