For the last decade, ISS ESG has helped investors around the world understand, measure, and act on climate-related risks and opportunities across all asset classes.
In honor of the 10th anniversary of our pioneering investment climate impact methodology, our team of climate experts analyzed how climate change disclosure has changed over the last 10 years.
The analysis, of more than 25,000 companies globally, shows that:
Only 3,700 companies report on the most basic of climate metrics, i.e., scope 1 & 2 emissions. ​
The largest increase in the number of reporting companies over the past 10 years has been in the real estate sector, next to the health care and financial sectors.
Despite an increase across sectors, the absolute number of companies reporting remains low.
Companies not reporting emissions are unlikely to be assessing the impact that a low-carbon economy transition may have on their business model. Encouraging measurement and reporting via e.g. proxy voting is likely to remain a key strategy for investors aiming to accelerate low-carbon transition.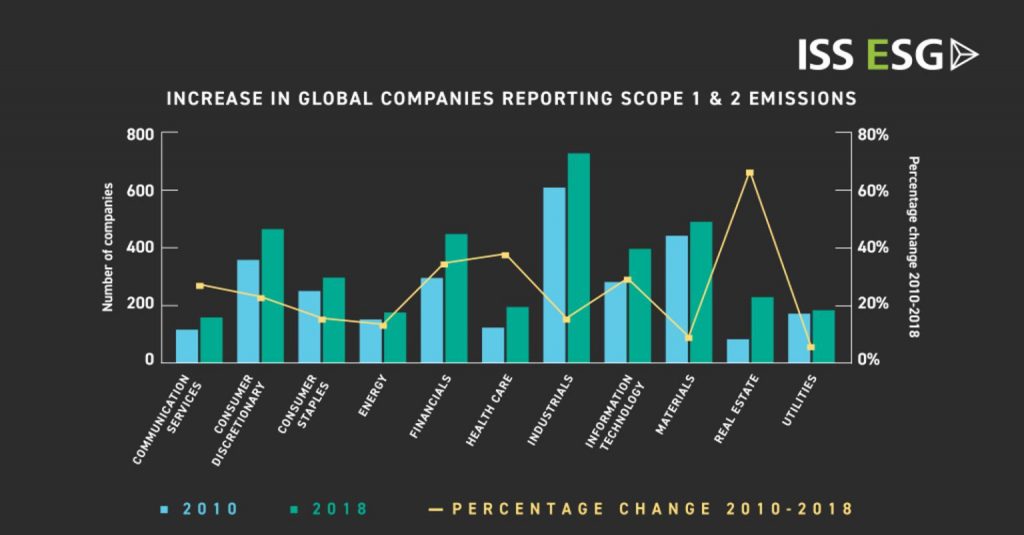 For more on ISS ESG climate solutions, please do visit us.
---
By Liv Truesdell, ISS Communications