Encircled by threats like intense fee competition, powerful gatekeepers and growing regulatory pressures, asset managers face unprecedented threats to their profitability. The Asset Manager Profitability Report puts these threats into context and provides competitive intelligence on profitability and other measures of financial success at publicly traded asset managers, enabling business leaders and fund boards to benchmark their firm's performance against other firms. This report, previously titled Money Management Financial Comparisons, has been renamed to highlight enhancements from a refreshed methodology and additional datasets.
We discuss these key trends and more in this year's report:
Publicly traded asset managers saw profitability decline in 2019, despite an extraordinary year for public markets and asset growth. The median asset manager in our 29-firm sample saw operating margins fall from 30.2% in 2018 to 27.9% in 2019.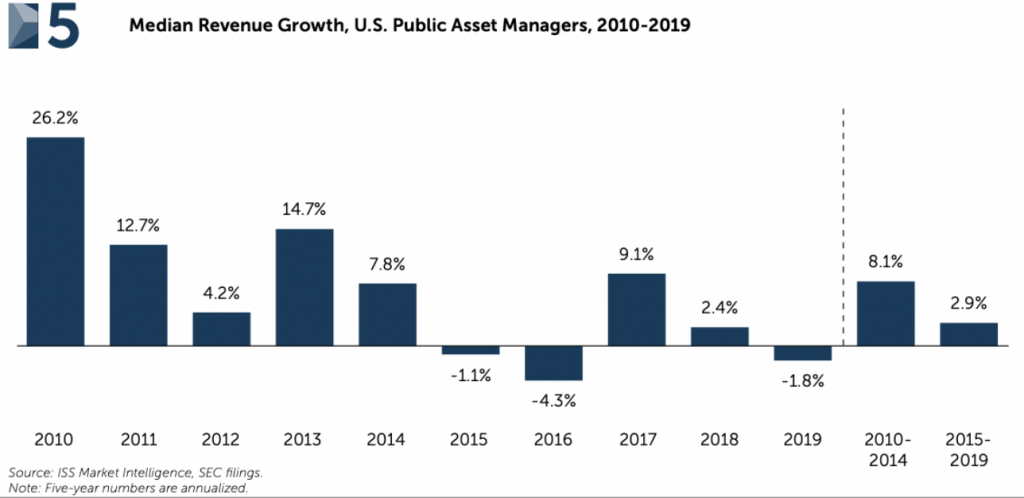 Long-term assets from public managers grew at a healthy clip in 2019, albeit at a slower pace than the industry in aggregate. The median public firm's long-term U.S. fund assets rose 21%, versus 23% for long-term assets overall.
In 2019, the median public asset manager saw revenues decline 1.8% from 2018 levels. On an annualized basis, revenues rose by 2.9% from 2015-2019, a rate well below 8.1% for the prior five-year period.
If you have questions or would like further information regarding this report, please contact our research team at research@issmarketintelligence.com.
---
By Liv Truesdell, ISS Communications