Paramount Global has agreed to pay $122.5 million to shareholders in order to resolve allegations that the CBS-Viacom merger of 2019 was unfair, per a recent filing with the SEC. The $30 billion "controlled transaction" created ViacomCBS, Inc. – the multibillion-dollar entertainment empire that owns well-known television brands such as Paramount, CBS, MTV, Nickelodeon, and Showtime– which was later renamed Paramount Global.
The lawsuit – filed on behalf of Viacom shareholders in the Delaware Court of Chancery – specifically asserts breach of fiduciary duty claims against Redstone-controlled media company National Amusements Inc. ("NAI") and the members of the special Viacom committee that approved the merger.
At the center of the allegations is media mogul Shari Redstone and her "unrelenting" desire to "re-unify" the two "family" businesses and rival the legacy of her late father, Sumner Redstone. For years, Sumner Redstone declared that he did not want Shari Redstone to control Viacom or CBS, as he did not think she was suitable for the job. As Mr. Redstone's health began to deteriorate, however, Ms. Redstone purportedly embarked on a three-year campaign to prove him wrong and become a "media magnate," culminating in the 2019 transaction.
During the sale process, Ms. Redstone allegedly insisted that the post-merger company be run by Viacom CEO Robert Bakish. To secure Redstone's governance priorities, the Viacom board allegedly agreed to accept a lower price than what it was worth – $1 billion less than it had bargained for a year earlier. The shareholder complaint specifically alleges the following:
NAI was the controlling stockholder of both Viacom and CBS, holding approximately 80% of the Class A voting shares.
For years after Sumner Redstone's health worsened in 2016, Shari Redstone removed the governance protections her father put in place, including by replacing subversive directors on the NAI, Viacom, and CBS boards with friends and family.
After two failed attempts to combine CBS and Viacom in 2016 and 2018 respectively, Redstone tried again – in the wake of Les Moonves' ouster for sexual harassment allegations – but this time, insisted that Bakish and much of his executive team lead the combined entity.
Taking advantage of Redstone's "unshakable insistence" that Bakish be in charge, CBS insisted that Viacom make significant price concessions in exchange for Redstone's governance priorities.
The Viacom special committee ultimately capitulated, ceding significant stockholder value to CBS, including value created by synergies.
In negotiating the transaction, the Viacom special committee also improperly relied on exchange ratios from public research analyst forecasts that undervalued Viacom and overvalued CBS.
As a result, Viacom accepted an implied valuation of $1 billion less than what it had rejected a year earlier before the company's operational turnaround.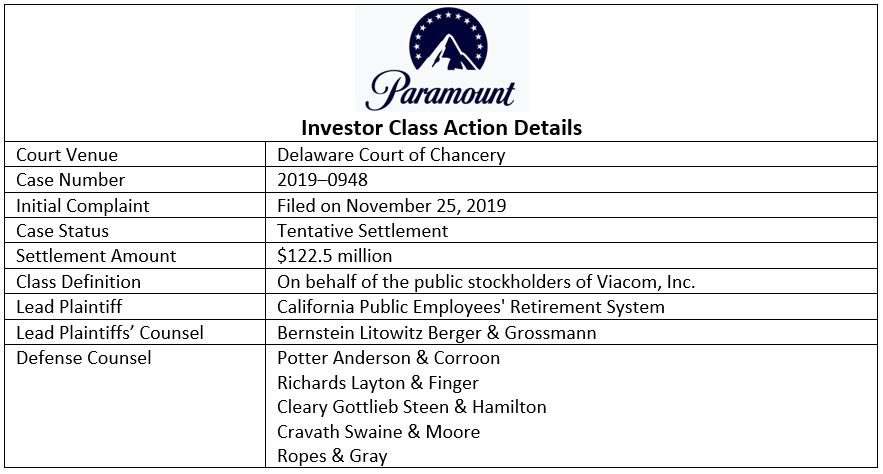 Beginning on November 25, 2019, four class action lawsuits against Viacom were filed and ultimately consolidated in January 2020. On February 7, 2020, Vice Chancellor Joseph R. Slights III appointed the California Public Employees' Retirement System to represent shareholders as lead plaintiff and Bernstein Litowitz Berger & Grossmann as lead counsel. In December 2020, the Delaware Court of Chancery dismissed Robert Bakish as a defendant from the case but kept in the claims against the other named defendants, including Ms. Redstone, ruling the stringent "entire fairness" standard of review was applicable under Delaware law.
The inside story of the CBS–Viacom merger, Shari Redstone's relationship to her father, and her vie for power also forms the basis of a new booked called: Unscripted: The Epic Battle for a Media Empire and the Redstone Family Legacy, by James B. Stewart and Rachel Abrams.
While the Viacom shareholder action has tentatively resolved, a separate stockholder and derivative action on behalf of CBS shareholders challenging the same transaction is still ongoing in Delaware Chancery. In a 159-page decision in January 2021, Vice Chancellor Slights also ruled CBS shareholders' claims survived defendants' motions to dismiss, but for one disclosure claim. Subsequently, defendants urged for a joint trial for both the CBS and Viacom shareholder actions, but the bid was rejected by Vice Chancellor Sam Glasscock III who found separate five-day trials would not impinge on litigants' economy.
The history of CBS and Viacom are no strangers to shareholder litigation – as the companies have faced a dozen complaints during the last two decades in federal or state courts. While a majority of these cases were ultimately dismissed, it highlights the often factious investor-company relationship with executives maintaining dual-class, super voting shares. One such case led to a $14.75 million settlement resolving #MeToo related allegations of CBS failing to disclose former CEO Les Moonves' behavior of sexual harassment.
Once legally resolved, this action will become the fourth largest direct shareholder settlement of all-time litigated in the Delaware Court of Chancery. The three larger settlements include Dell Technologies ($1 billion – scheduled for an April 19, 2023 settlement), Activision Blizzard ($275 million settled on May 20, 2015), and Digex ($165 million settled on April 6, 2001).
ISS Securities Class Action Services will continue to closely monitor this high-profile action as it progresses toward an official settlement and communicate updates to its clients and the investment community, as developments occur.
---
By: Jarett Sena, Esq., Director of Litigation Analysis, ISS Securities Class Action Services, and Jeff Lubitz, Managing Director, ISS Securities Class Action Services