The first half of 2020 provided a number of interesting trends for investors as it relates to securities class action litigation. In terms of newly filed cases, there were only 228 U.S. Federal & State actions… a significant drop from the 317 new cases filed during the first six months of 2019. The declines occurring in both statures were significant, as new cases in Federal court declined by 19% (196 cases in 2020 vs 243 cases in 2019), while new cases in State court declined by 57% (32 cases in 2020 vs 74 cases in 2019).
However, settlement dollars in the U.S. increased dramatically; for the January 1 – June 30 period, the totals were $3.8 billion in 2020 vs $1.7 billion in 2019. While the quantity of settlements for both years were similar, the primary differentiator was the closure of several large valued settlements in 2020. This includes Valeant Pharmaceuticals at $1.2 billion, American Realty Capital at $1.0 billion, and First Solar at $350 million. In 2019, the largest settlements from the first half of the year were Cobalt International at $389.6 million, NovaStar at $165 million, and WalMart at $160 million.
Much of the decline in newly filed cases may be attributable to the Coronavirus, as court complaints in May and June were significantly lower than the first four months of 2020. An additional review of the data reflects a large drop in merger-objection litigation, which can be directly tied to the pandemic since the quantity of public company merger/acquisitions were dramatically lower in the most recent months.
Outside of the U.S., there were a total of eight settlements in the first half of 2020… four each in Australia and Canada. The largest Australian settlement was with Bellamy's Australia Limited for AUD $49.7 million; the largest Canadian settlement was with The Stars Group for CDN $30 million. Newly filed cases outside the U.S. were focused mostly in Australia and Germany, with a few in the United Kingdom as well. Wirecard in Germany is gathering a significant amount of attention – the €2 billion missing from its balance sheet has led to a half-dozen different class actions (against both Wirecard and its auditor, Ernst & Young) plus an arrest of its former CEO.
ISS Securities Class Action Services will continue to monitor global litigation and provide periodic updates to all of ISS' clients and partners.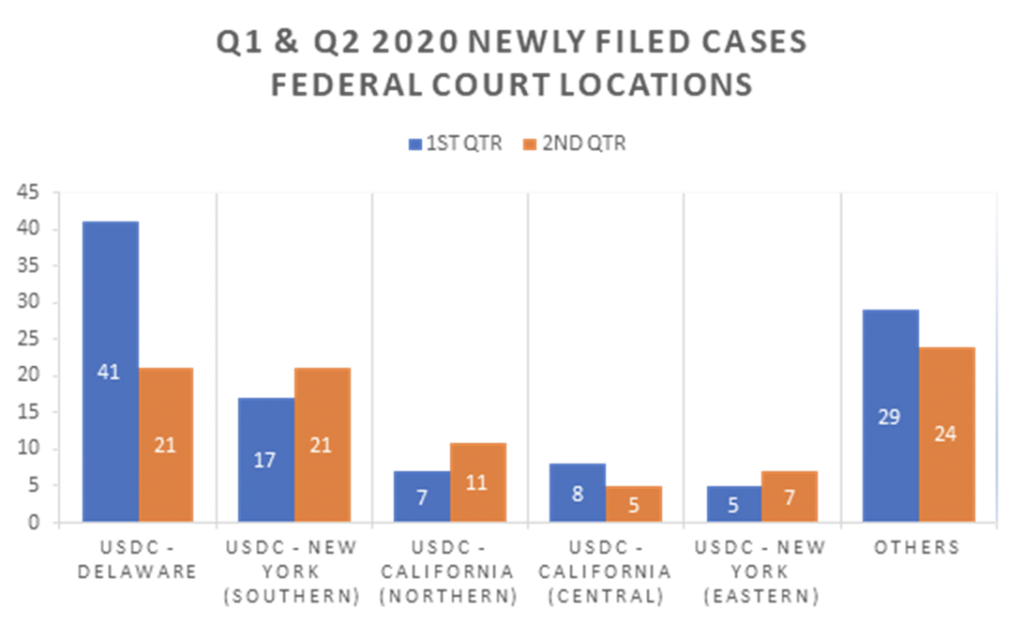 In the United States Federal Courts, Delaware District and New York Southern District received the most filing during the second quarter with 21 each.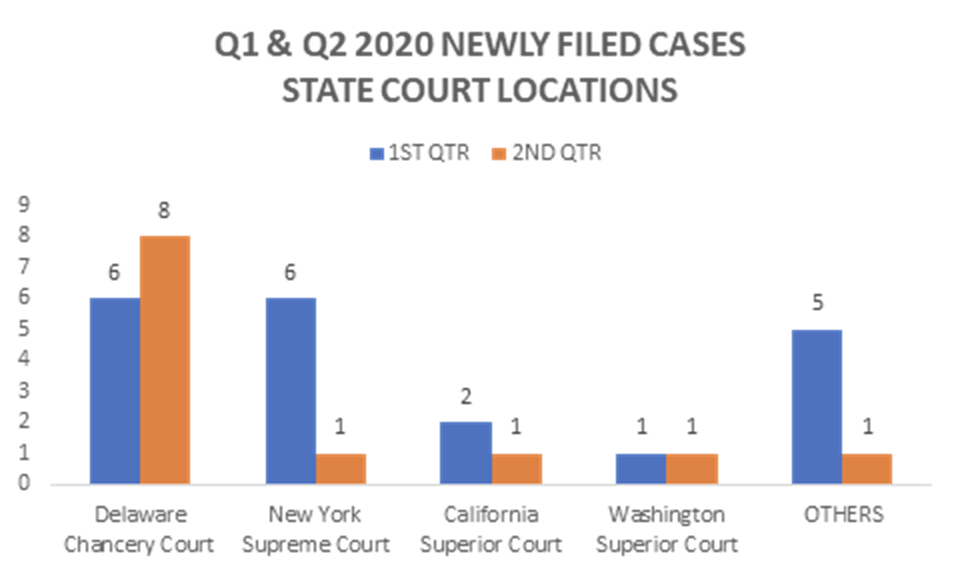 In the State Court system, eight cases during Q2 were filed in the Delaware Chancery Court; of the 12 newly filed cases during Q2, nine were related to corporate transactions, two were related to incentive plan approvals, and one related to a board revocation provisions in the company's proxy statements.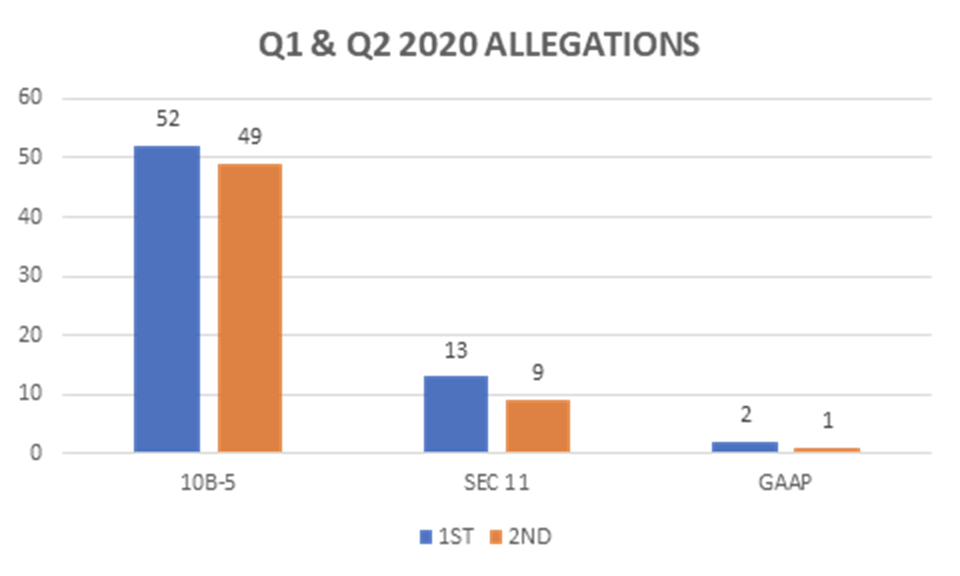 With the decrease of newly filed cases during the second quarter, Rule 10b-5 of the Securities and Exchange Act of 1934 (Employment of Manipulative and Deceptive Practices) were raised in 49 cases and followed by violations of the Securities Act of 1933 (SEC 11 – Civil Liabilities on Account of False Registration Statement) with 9 cases filed; in addition, only one case alleged with GAAP violations.
---
By Jeff Lubitz, Executive Director, and Lloyd Flores, Vice President, ISS Securities Class Action Services