In July 2020, senior leaders at video game giant Ubisoft, including the company's second-in-command and the global head of human resources, resigned amid allegations that the company permitted a toxic work culture and failed to prevent multiple instances of sexual harassment.
More recently, Australia's AMP Capital demoted their chief executive after it came to light that he had been made CEO despite being penalized for a sexual harassment complaint in 2017. Then followed an exodus of AMP leadership, including the chairman of the parent company AMP Limited, who resigned following pressure from shareholders alleging that the company had done too little, too late.
Only weeks after the AMP controversy, the Australian insurance group QBE took decisive action to let go their CEO after an internal review found he had breached the company's code of ethics and conduct.
The recent controversies reflect the critical need to repair the disconnect between 'zero tolerance' policies and a strong culture of mutual respect.
Leading the way
ISS ESG's Norm-Based Research currently identifies 39 companies with ongoing allegations of sexual harassment, of which the majority (77 percent) have yet to implement credible remediation measures.
Of the companies with controversies, over 40 percent involve allegations leveled at the board, CEO or senior executives, allegations of either perpetrating, permitting or mishandling sexual harassment.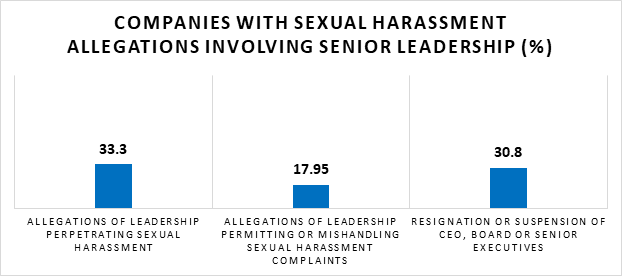 Policy on paper, not in practice
ISS ESG's Corporate Ratings data shows that over 50 percent of companies with sexual harassment-related allegations have a comprehensive policy on non-discrimination. One-third have implemented measures to promote equal opportunities and diversity, including action plans, training and grievance mechanisms.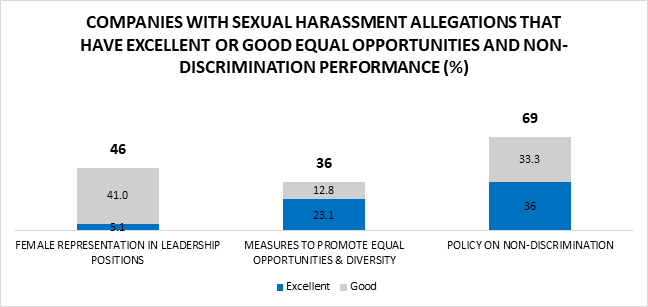 The resignation of leaders complicit in sexual harassment cases may constitute the bare minimum aimed at keeping shareholders happy. Evidence is mounting, however, that shareholders want fundamental change rather than reactive measures.
What would a more proactive approach to a culture of respect look like?
Aligning zero-tolerance anti-discrimination policies to values ingrained in day-to-day behavior. ISS ESG's Corporate Ratings data shows that 72 percent of companies with sexual harassment controversies have a statement prohibiting harassment and abusive behavior. Over 40 percent provide concrete examples of the types of behavior that are not tolerated, setting a clear cultural intention. However, the persistence of complaints highlights the need for companies to establish visible and tangible accountability for leadership to uphold these statements. Assessing and reflecting a leader's influence on culture in remuneration, as is done with capability and performance, communicates to shareholders and staff that the root causes of harassment and discrimination are being earnestly addressed.
Changing corporate culture from solely returns-driven to one that measures and respects employees' experience. QBE is beginning its journey by commissioning an external review of their corporate culture and is committed to implementing measures for staff to safely make complaints. ISS ESG's Corporate Ratings data shows that 74 percent of companies with sexual harassment controversies provide little, if any, information on procedures to protect whistleblowers' employment status and ensure employees are not harassed for raising concerns. These measures are critical in avoiding a culture that silences and intimidates employees.
Rethinking how discrimination incidents and diversity representation are reported. Male Champions of Change, a group of 30 CEOs, board directors, government department, university and military leaders, suggests including discrimination and sexual harassment incidents in annual reports as a health and safety issue. Considering sexual harassment beyond a reputational risk or a metric in Corporate Social Responsibility reporting demonstrates accountability and communicates to shareholders a recognition that cultural risks are considered material, and could genuinely impact earnings.
Leaders will be the linchpin in the effectiveness of these measures – they must be charged with setting and exemplifying a strong culture. As Australia's Sex Discrimination Commissioner recently commented:
"Leaders have the unique power to ensure their workplaces are safe, respectful and inclusive. Their employees and the community expect no less from them."
---
By
Clare Bartram, Norm-Based Research Associate, ISS ESG
Kate Lawrence, Norm-Based Research Associate, ISS ESG