The Current State of IPO Securities Class Action Litigation Post-Cyan
Following the March 2018 Supreme Court decision in Cyan v. Beaver County Employees Retirement Fund, players in the financial markets immediately began speculating that the door had effectively opened for plaintiffs to seek friendly jurisdictions, to avoid federal procedural regulations, and to exploit the ease of filing in state courts to file meritless cases.
In a widely circulated law firm memo just months after the decision, a trio of attorneys (Michael S. Flynn, Paul S. Mishkin, and Edmund Polubinski III) contended "Cyan undoubtedly will be a catalyst for class action litigation lawyers to search for the most plaintiff-friendly jurisdiction and thus introduce all the well-recognized perils associated with forum shopping and inconsistent, unpredictable standards across multiple jurisdictions."
Post PSLRA, plaintiffs increasingly began to file securities class actions under state law to avoid the stringent requirements and procedural reforms imposed on federal court actions. However, Congress enacted the Securities Litigation Uniform Standards Act (SLUSA) in 1998, citing its purpose as legislation to "prevent plaintiffs from seeking to evade the protections that Federal law provides against abusive litigation."
Years later, the Supreme Court granted certiorari and heard Cyan to settle the matter of interpretation of jurisdiction allowed under SLUSA for the federal and state courts. On March 20, 2018, the Court held, in a 9-0 decision, SLUSA did not remove jurisdiction from state courts and that state and federal courts still had concurrent jurisdiction over actions brought under the Securities Act of 1933.
The ruling surprised many. Critics insisted that plaintiffs may continue to "forum shop," filing in states that have securities laws more agreeable to plaintiffs. These assertions appeared prescient as in the year leading up to the decision, IPO class actions predominantly occurred in California… however after the decision, New York became another prime jurisdiction for IPO cases with almost an equal number being filed in both states in 2019. While California and New York are major state jurisdictions, the number of filings in other states also increased. In 2017, five different states saw IPO cases filed; by 2019, this number rose to eleven, giving credence to the idea of increased filing in plaintiff-friendly courts.
Cyan's critics also expressed concerns over continued efforts to circumvent federal regulations and to file cases without merit. As Chubb Insurance explained in a recent report, "Because the costs associated with surviving a motion to dismiss are not high, [plaintiffs' bar] firms are incentivized to continue filing these suits with the hope of higher payouts if they can survive an early-stage dismissal." From the plaintiff perspective, Jeremy Lieberman, Managing Partner of Pomerantz, LLP, articulates "Filing a Section 11 claim in state court is wholly consistent with the Securities Act's mandate that both federal and state courts have concurrent jurisdiction over these claims." Lieberman further argues state courts are a more appropriate forum if the plaintiff is only litigating Section 11 claims and that plaintiffs' law firms file in these courts to act in the best interests of the shareholders and to avoid unnecessary regulations that will impede the legal process from obtaining remuneration for injured stockholders.
As shared in the below table, the number of IPOs filed in state courts versus federal courts rose in 2018 and case filings for IPOs were equal in both state and federal jurisdictions in 2019 (2020 data is inconclusive as newly filed class action cases have declined amid the coronavirus pandemic).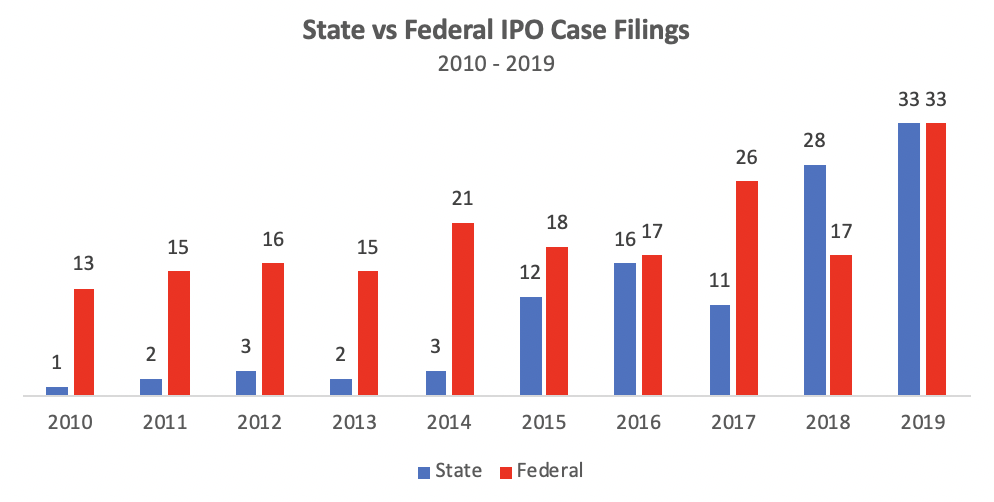 Since 2018, securities class action filings in state courts accounted for 20% of total filings. However, 53% of those cases were tied to IPO-related allegations. By contrast, less than half of cases filed in federal courts had ties to an IPO. This comparison unequivocally shows a higher percentage of cases filed in state jurisdictions under the Securities Act of 1933. This also conveys forum-shopping's presumable occurrence or deliberately-avoid procedural regulations, since so many plaintiff firms are choosing to file IPO cases chiefly in state courts.
Although plaintiffs' firms seek the best remedy for shareholders, critics' concerns may hold weight when looking at the data pertaining to IPO dismissals. ISS SCAS data indicates the percentage of state court filing dismissals outweighed the percentage of federal court filing dismissals in most years leading up to Cyan's ruling. A primary reason the court dismisses cases is lack of merit.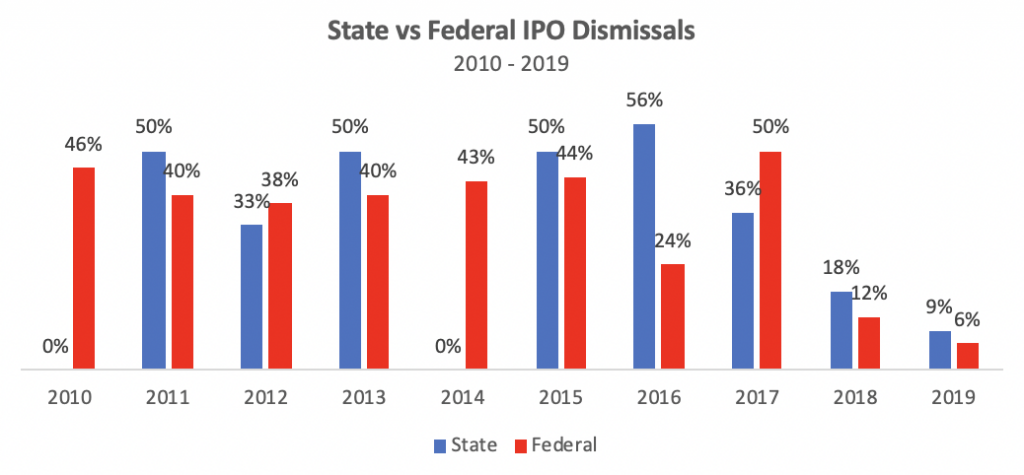 In addition, while cases may be successful, IPO settlement funds are often low because of the low recognition of damages, with plaintiff attorneys failing to gather overwhelming evidence of damages. A vast majority of IPO-related state court settlements are modest sums. Ironically, even the Cyan case settled for a relatively small amount, only $15 million. One other example: EverQuote settled in 2020 for only $4.75 million, and this was before the Court even heard the motion to dismiss filed by the Defendants. The parties entered mediation before a ruling or hearing on the Motion to Dismiss. As critics suggest, defendants must weigh between settling even meritless cases to avoid exorbitant litigation costs or possibly expending even larger outlays to defend the company.
Although meritless cases are a source of great concern and a drain on resources and investors' recoveries, other complications arise by allowing concurrent jurisdiction in federal and state courts for suits brought under the Securities Act of 1933. There is a requirement to consolidate securities class actions based on similar underlying facts in the federal arena, but no such condition exists in state courts. Ultimately, corporate defendants will face a risk of defending simultaneous IPO cases in multiple forums, with the possibility of defending an action based on a similar set of facts in the headquarter state, the state of incorporation, the federal courts in both states, and even the plaintiff's home state.
As securities-related actions generally can take anywhere from two-to-five years to be fully litigated – the data remains limited post Cyan. However, looking at newly filed cases since March 2018, it does appear to support some of the critic's speculations and predictions. ISS SCAS will continue to examine the trends of IPO cases filed, as well as dismissals, in state courts versus federal to see if the trends hold up over the years. If so, perhaps congressional action will need to be taken to curb the alleged damages left Cyan's wake.
---
By Elisa Mendoza, Esq – Vice President, ISS Securities Class Action Services
For More Information Contact: scasresearch@issgovernance.com