Below is an excerpt from ISS ESG's thought leadership paper "The ISS ESG Prime Rating: Outperforming Since 2006". The full paper is available for download from the Institutional Shareholder Services (ISS) online library.
ISS ESG releases the latest in a multi-year series of analyses demonstrating the financial materiality of the Prime rating for portfolio returns.
What is the long-term track record of ISS ESG's best-in-class ESG Corporate Rating compared with a standard equity benchmark?
Since 2012, ISS ESG has partnered with leading German investment research house Deutsche Performancemessungs-Gesellschaft für Wertpapierportfolios mbH (DPG) to answer this question. Based on a full ratings history dating back to 2006, DPG independently calculates the monthly investment returns of large cap companies that receive the ISS ESG Prime Rating. The latest annual update through year-end 2021 is presented below. In 2021, the Prime Rated universe returned 33.72%, 215 basis points (bps) ahead of its benchmark's 31.57% return, marking a 15-year track record of outperformance (all performance data is presented in Euros (€)). Furthermore, the Solactive ISS Developed Markets Prime Rated ESG Index, a passive investable benchmark integrating the Prime Rating and available for financial product creation, slightly exceeded the DPG result, returning 33.80%. Since May 2006, the Prime Portfolio has outperformed by 106 bps per year, with very similar volatility to the benchmark.
Please note that past performance may not be an indication of future results.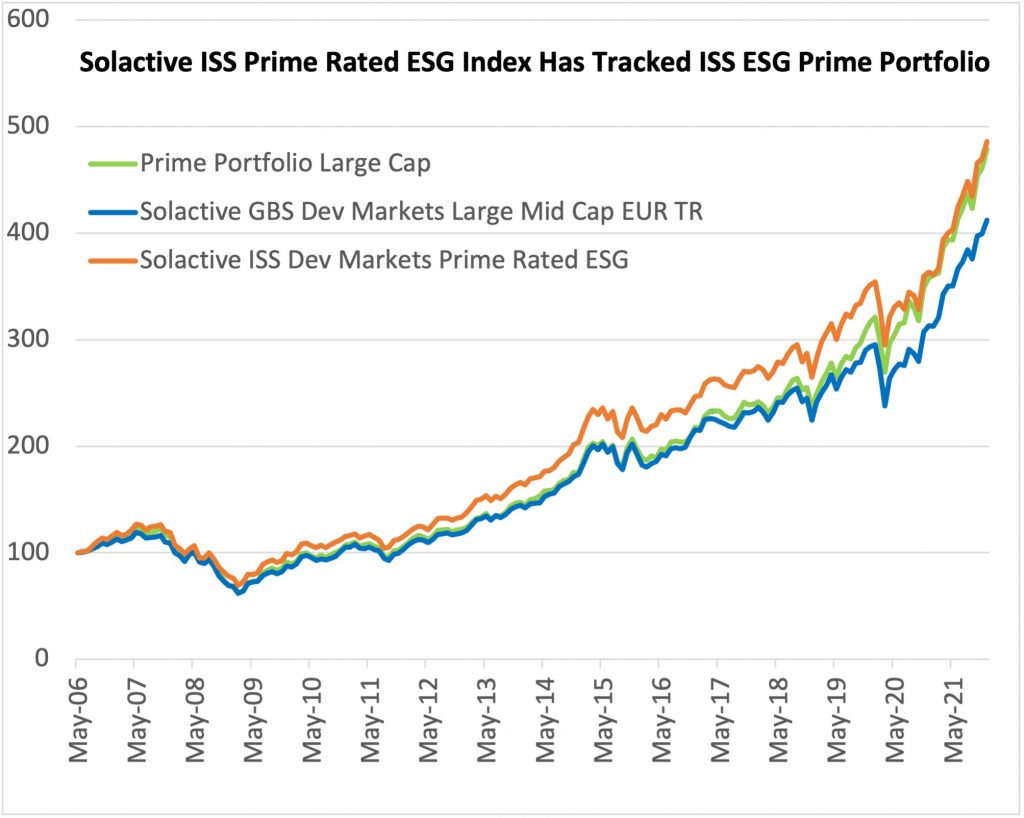 Source: Deutsche Performancemessungs-Gesellschaft (DPG) and ISS ESG. May 31, 2006-Dec 31, 2021
Explore ISS ESG solutions mentioned in this report:
---
By Hernando Cortina, Head of Index Strategy, ISS ESG. Brian Kennedy, Index Strategy Associate, ISS ESG.