Appearances can be very deceiving. Case in point: The high-level summary numbers of voting results over the last nineteen years seem to indicate that little has changed regarding proxy voting behavior among investors owning U.S. companies.
Excerpts from article published on January 28, 2019.
Access the full report ›
A simple analysis of median vote support levels for management and shareholder proposals seems to reveal stasis – support levels remain at approximately the same levels they were back in the early to middle 2000s.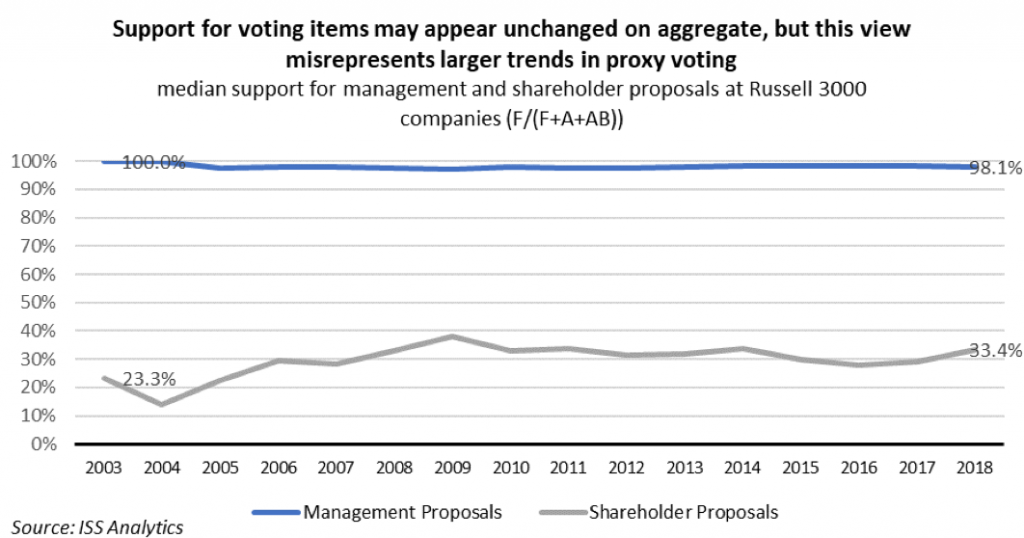 But the reality is that investor voting behavior among owners of U.S. companies has changed significantly – perhaps almost revolutionarily – over the past two decades. Corporate governance has risen in prominence as a result of, among other factors, increased regulatory and quasi-regulatory attention, a procession of major corporate scandals, and an increased proactive focus by engaged investors. This rise of investor stewardship and engagement have amplified proxy voting as an important part of the dialogue between companies and their shareholders; for the overwhelming majority of share capital represented in the U.S., voting is certainly no longer a compliance exercise. Proxy voting policies are becoming more complex, as investors continue to add to the list of factors they consider in their review and analysis of governance practices, including board independence, board accountability, diversity, myriads of executive compensation factors, shareholder rights, and environmental and social factors.
Based on our analysis, the most significant change in investors' voting behavior pertains to environmental and social issues, as these proposals are earning record levels of support in recent years. While support levels for management proposals have not changed significantly, the criteria for evaluating key management proposals evolve continuously, as company practices change. In this first part of our review of long-term trends in U.S. proxy voting, we focus on environmental and social shareholder proposals since the early part of the previous decade. The main drivers for changes in voting patterns on environmental and social issues are:
Pressure on the financial industry to apply sustainable investment practices in the aftermath of the financial crisis and major industrial disasters;
Increased momentum of UN PRI and other global policy initiatives focusing on ESG integration in finance;
Transition of debate on environmental and social issues from a values-based argument to long-term economic value and risk management; and
Urgency for action to tackle climate change, which was universally recognized as a significant risk and policy priority through the 2015 Paris Agreement.
As a result of these pressures, the data indicates a number of changes in proponent filings and proxy voting behavior on shareholder proposals:
Fewer investors sitting on the sidelines on environmental & social shareholder proposals, as evidenced by the sharp decrease in recorded "abstain" votes;
Shifting environmental and social proposal focus towards disclosure, risk assessment, and oversight, rather than requesting specific actions or policies;
More shareholders voting in support of environmental & social proposals, witnessed by the rapidly growing proportion of shareholder proposals receiving at least 30-percent support; and
Increased willingness of companies and proponents to work together to forge a solution, supported by a record proportion of environmental and social proposals being withdrawn prior to the vote.