ISS Market Intelligence has released its latest issue in the Windows into Defined Contribution series. The Q2 2022 edition explores activity within the advisor-sold defined contribution (DC) market and includes a recurring quantitative focus on the lifecycle market.
While the DC channel may be slower to respond to the newest changes across the investment landscape, it too is subject to the challenges of the broader market, such as fee pressure, increasing performance standards, and the need to be flexible across structures. Drastic market downturns have occurred alongside persistent demographic pressure caused by increasing retirements. Amid this tumult, ISS MI'S BrightScope NEXUS consortium captures a market that has recorded positive quarterly net flows through Q1 2022. The consortium collects gross sales and redemptions from over 40 asset managers, focusing on retirement plan advisors that cover the small-to-mid-sized plan market.
Even as the DC market relies on a different assortment of vehicles, asset managers face a similar pressure to be flexible. The mutual fund's legacy in retirement savings plans means it has a dominant market share and remains an outsized recipient of gross inflows while also being more vulnerable to redemptions from aging shareholders. On a net flow basis, the sales gap between mutual funds and collective investment trusts was much narrower, allowing CITs to outpace fund flows over multiple quarters.
Target-date funds remain a core holding and leading source of net sales across vehicles in the DC landscape. Still, mutual funds are employed across a larger variety of asset classes, demonstrating their wider use as tactical investments. Additionally, the extremes in both gross inflows and redemptions among these asset classes point to intense competition and continued sales opportunities for managers outside the concentrated life cycle space.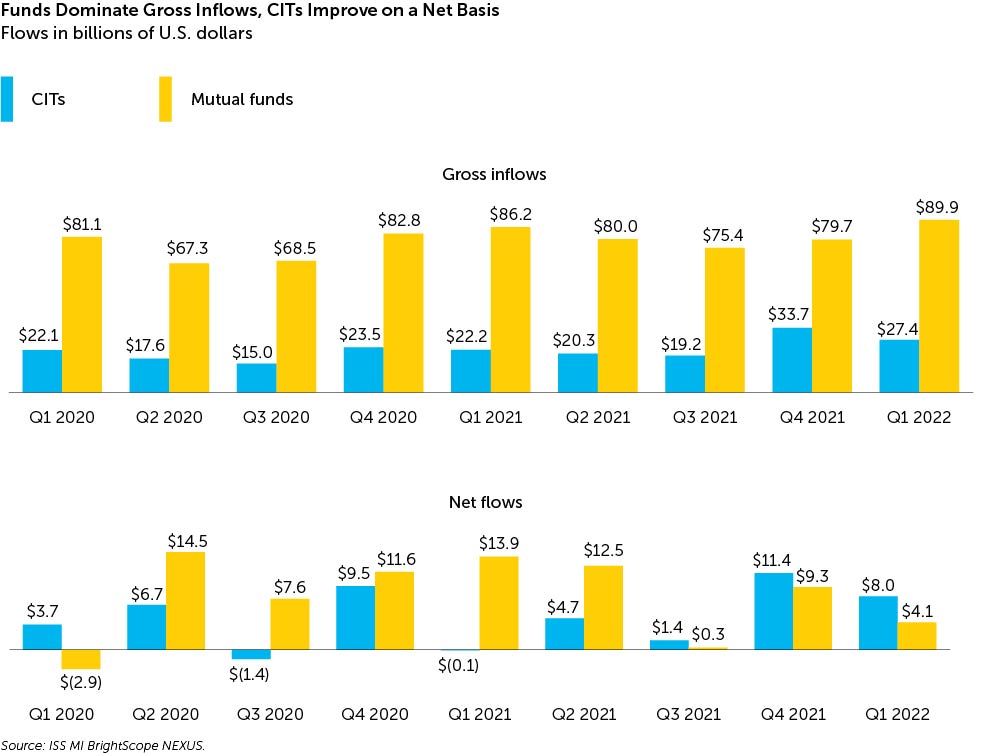 Within the broader mutual fund landscape, life cycle funds suffered under the pressure of both significant market downturns and net withdrawals across the second quarter of 2022. Quarterly assets fell to $1.7 trillion, the lowest since September 2020. Net flows remained negative at $6.2 billion, even as this was far from the record-setting redemptions recorded in Q1 ($15.3 billion).
The full report is available to Simfund Enterprise subscribers for access on the Simfund research portal. For more information about this report, or any of ISS MI's research offerings, please contact us.
---
By: Alan Hess, Associate Vice President, U.S. Fund Research, ISS Market Intelligence