ISS Market Intelligence has released the latest edition in the Windows into Defined Contribution series. The Q3 2022 edition discusses the falling share of proprietary product held at leading recordkeepers as well as a recurring quantitative focus on the lifecycle market.
Consolidation has been a fact of life in recent years for both distributors and managers in the asset management industry, potentially limiting the number of paths through which investment managers can interact with end investors. Data from ISS MI BrightScope's Defined Contribution Plan database does offer a silver lining in the retirement realm. While there has been significant consolidation among defined contribution (DC) recordkeepers, these larger firms do not necessarily have captive audiences. The share of proprietary products (i.e., funds managed by the same company as the recordkeeper) has dropped substantially, opening up space on these platforms for competing defined contribution investment only managers.
Proprietary products have acted as a double-edged sword for many managers. Owning the platforms on which funds are distributed allows them to sell their intellectual property to a wider audience that is more likely default to autoenrollment than get into the details of their investments. That set up has however been sharply scrutinized within defined contribution plans. Litigation in the retirement space can often focus on funds managed by the platform owner and how well they do or do not compare to alternative options.
Concerns over lawsuits and consolidation have created significant downward pressure on the share of proprietary products in DC plans. For the 14 recordkeepers that also have asset management divisions, the median proprietary share has fallen by nearly half over the last decade ending in 2020, as seen in the table below. This group of firms includes seven of the largest recordkeepers by 401(k) assets, according to the PlanSponsor 2022 Recordkeeping Survey. The acquisition of other firms' retirement business has helped plan assets soar for these companies, but they have less ability to promote their products when taking over existing business than they do at the initial plan design stages.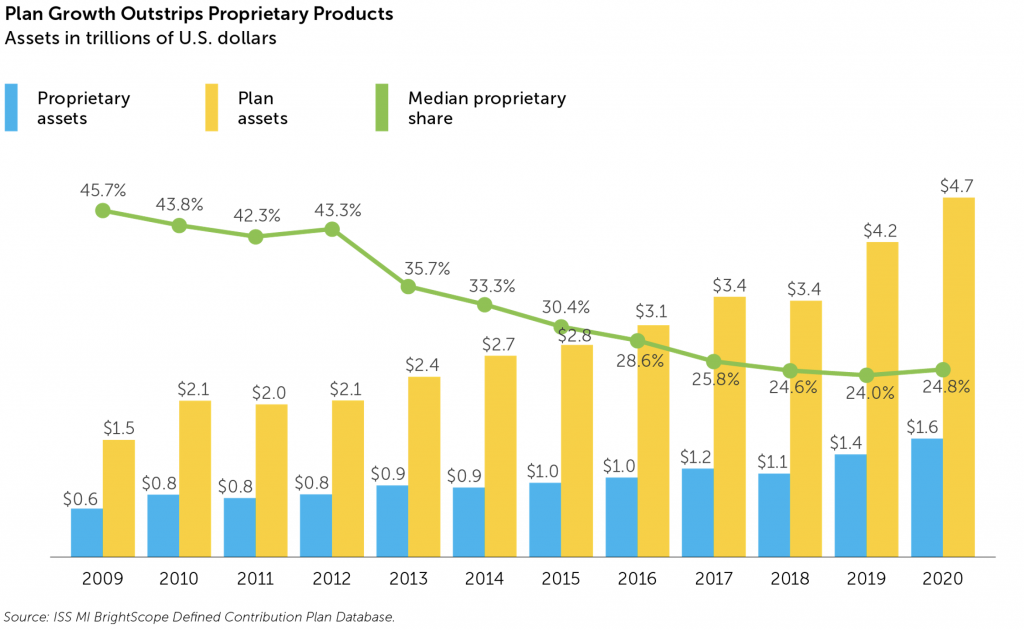 Meanwhile, 2022's market downturn has continued to weigh on life cycle funds, bringing assets down to $1.6 trillion, the lowest level since June 2020. Net flows rebounded slightly to $2.1 billion across Q3, compared to net redemptions of $6.2 billion for the second quarter, but remained strongly divided between target date inflows ($6.5 billion) and risk based outflows ($4.4 billion).
The full report is available to Simfund Enterprise subscribers for access on the Simfund research portal. For more information about this report, or any of ISS MI's research offerings, please contact us.
---
By: Alan Hess, Associate Vice President, U.S. Fund Research, ISS Market Intelligence