Since 1995, US presidents have issued a series of annual proclamations designating March as Women's History Month to celebrate the contributions women have made to the US and recognize the specific achievements women have made over the course of American history in a variety of fields. In the fourth of a series of short insights looking at the role of women in corporate America, we focus on the growth in the number of women on boards across different industries since 2019.
Key Takeaways:
There has been consistent growth in the proportion of female directors across every industry since 2019.
Utilities, Consumer Staples and Consumer Discretionary have the highest proportion of female directors.
Consistent growth in the proportion of female directors can be seen uniformly across all industries in the chart below. The proportion grew by more than six percentage points in Energy, Information Technology, Real Estate and Health Care. Growth was slower, at less than four percentage points, in Utilities and Consumer Discretionary. However, these two industries already had some of the highest proportions of female directors. Utilities is the first industry to crack the 30% ceiling, with women directors comprising 30.3% of boards. Consumer Discretionary and Consumer Staples are close behind, with 29.1% and 29.5% respectively. The sector with the lowest proportion of female directors is Energy, at only just over a fifth.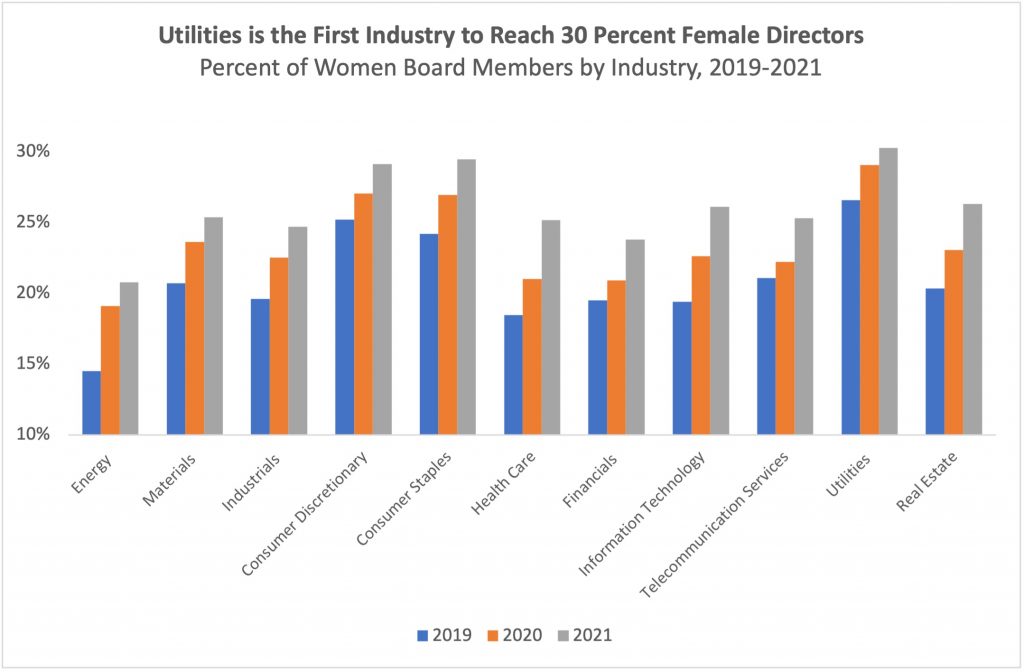 Source: ISS Corporate Solutions Data Analytics, December 31, 2021
---
By Paul Hodgson, Senior Editor, ISS Corporate Solutions