Black History Month is a time of reflection, and a time to look to the future. In this 2-part series, ISS ESG sets out some of our recent work in this area, and highlights the opportunities investors have to use the influence of their financial muscle to promote a truly inclusive society.
In February the nation acknowledges the accomplishments and contribution of Black Americans, and takes stock of our progress towards a truly inclusive society.
As the world's largest Governance advisory firm and a leading provider of Environmental, Social and Governance (ESG) research services, this year ISS has moved beyond simple acknowledgement, and has taken the practical step of ensuring that our core product offering aligns with the objectives of this occasion.
In 2020, ISS ESG announced the release of enhancements to its suite of data solutions to include assessed racial and ethnic characteristics of senior leaders at more than 6,000 U.S. corporations. On an individual basis, data coverage includes more than 33,000 directors and 6,800 named executive officers (NEOs).
Where available, racial and ethnic characteristics are identified and sourced directly from corporate filings, as well as direct feedback in response to ISS' outreach to U.S. companies. Where definitive information is not disclosed, ISS classifies directors—largely along standards put forth by the U.S. Office of Management and Budget's Directive 15—by carefully assessing race and ethnicity through a variety of publicly available information sources. These include company investor relations websites, LinkedIn profiles, press releases, leading news sites, as well as through identifying affiliations between individuals and relevant associations and organizations focused on race and/or ethnicity, such as the Latino Corporate Directors Association.
In ground-breaking research, our ESG Corporate Ratings team have now joined with our Economic Value Added (EVA) team and our Governance Voting and Research unit in a collaboration that is demonstrating the practical links between inclusion policies at a senior corporate level and good financial performance.
This work is timely – at the moment boards rarely reflect the ethnic compositions of their stakeholders. The majority of Russell 3000 boards are composed of two or fewer different ethnicities, and one-third of Russell 3000 boards are composed of only one ethnicity.
Figure 1: Distinct Ethnicities on Russell 3000 Boards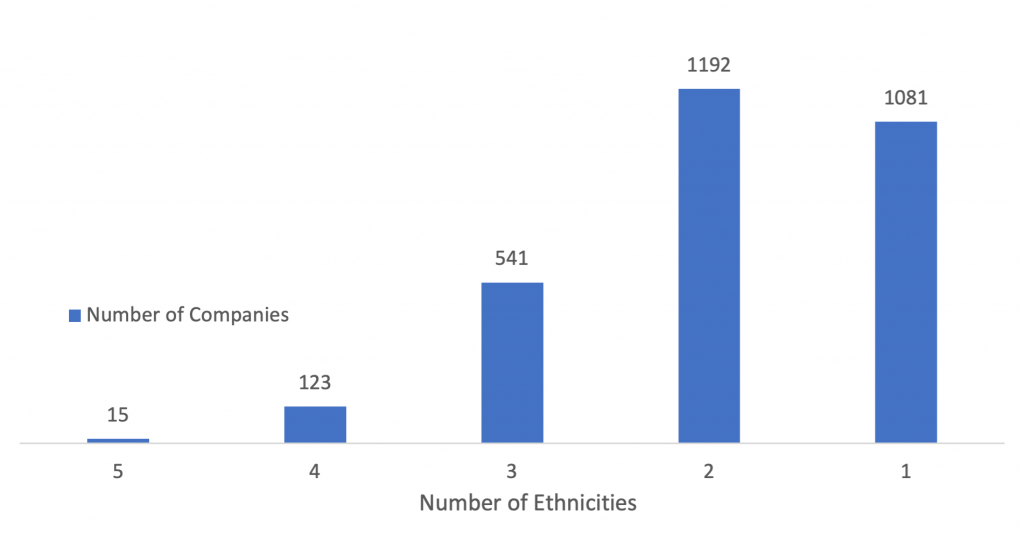 Working to enhance inclusion at a corporate board level is not just a feel-good exercise – evidence demonstrates that it makes good financial sense as well. Board compositions with ethnically diverse directors (defined as three or more directors that belong to a minority ethnicity) outperformed boards without such individuals. Over four- and five-year holding periods, the less diverse boards underperformed the Russell 3000 by about 0.25%.
Most dramatically, investors with holdings concentrated in companies without ethnic diversity would have lost out on 1.27% average additional returns annually over a four-year period, compared to investing in a basket of companies with strong ethnic diversity board signals.
Figure 2: Average Annual Active Return – Ethnicity (Russell 3000)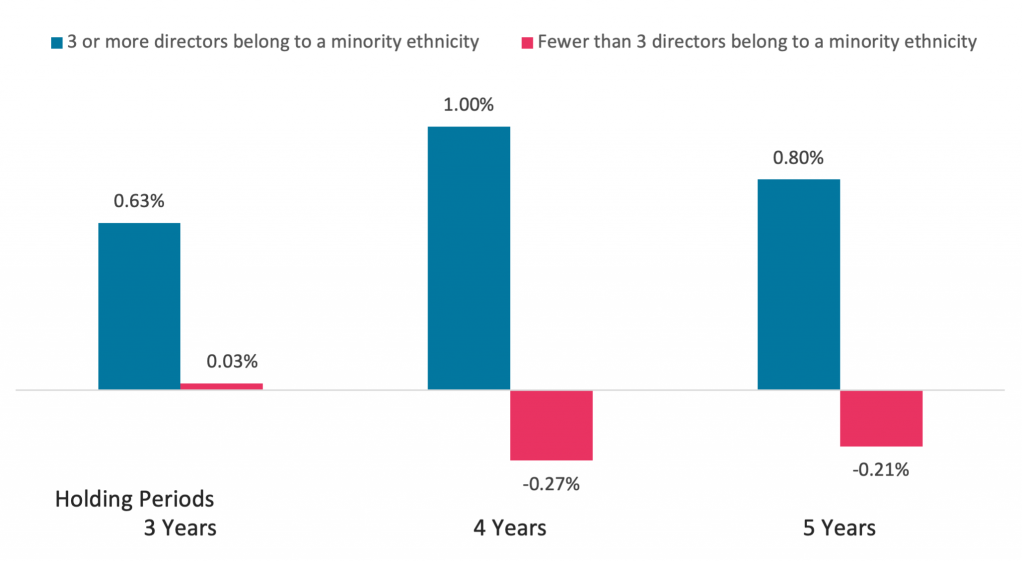 Black History Month 2021 doesn't just have to be a time of reflection – empowered with these findings from ISS ESG research, investors have an opportunity to truly look forward – promoting ethnic diversity and inclusion at a board level, and enhancing portfolio returns in the process!