BrightScope and the Investment Company Institute (ICI) released its latest study on defined contribution 401(k) plans, The BrightScope/ICI Defined Contribution Plan Profile: A Close Look at 401(k) Plans, 2018. The study uses data from the Department of Labor (DOL) Form 5500 and the BrightScope Defined Contribution Plan Database. 
The report found that in 2018, 87% of large 401(k) plans – defined as those with at least 100 participants – had employer contributions, covering more than nine out of 10 401(k) participants. Employers choose the formula and amount to contribute to their employees' 401(k) plan accounts; they can either match contributions made by employees or make contributions regardless of employee contributions. In more than half of large 401(k) plans with employer contributions, employers matched up to a fixed percentage of salary.
Plans varied in the percentage of employee contributions and salary to match, resulting in a variety of match combinations. The most common formula used by large 401(k) plans with employer contributions was matching 50% of contributions up to 6% of employee salary. The graph below shows the prevalence of different employer match combinations.
Employers with Simple Matches Use a Variety of Matching Formulas to Encourage Saving
Percentage of plans among large 401(k) plans with a simple match, 2018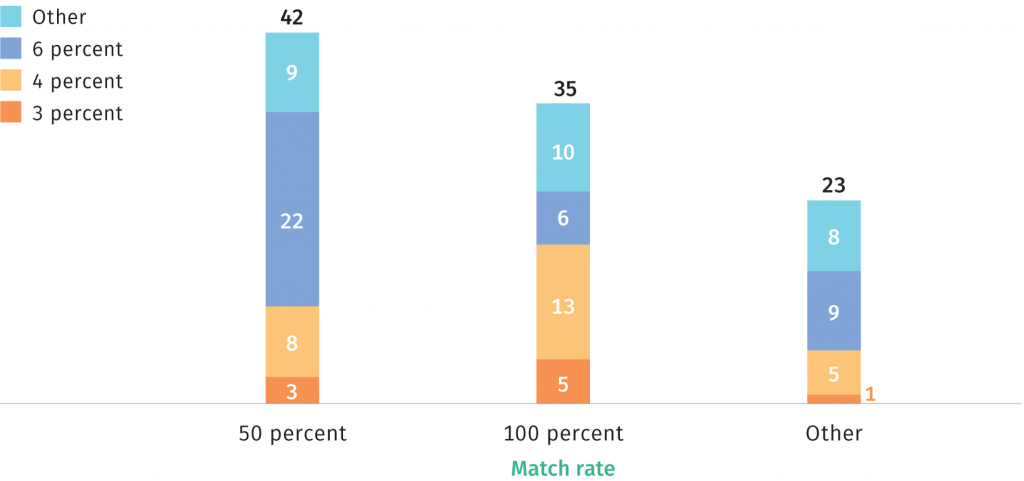 Note: Plans with no employer contribution, maximum dollar contributions, tiered match formulas, or only a nonmatching contribution were excluded. The sample is the 50.6 percent of large 401(k) plans with employer contributions that had simple match formulas (see Exhibit 1.7). Form 5500 audited 401(k) filings generally include plans with 100 participants or more.
Source: Investment Company Institute tabulations of US Department of Labor 2018 Form 5500 audited reports
The report also found that 401(k) plan fees continued to trend downward, and fees tended to be lower in larger plans. Plans offer participants a wide variety of investment options, with the average plan offering 28 options. Savers have increasingly used target date funds, with a quarter of 401(k) plan assets invested in target date funds in 2018, compared with just 3% in 2006.
Download the full report here.
---