Prior to the first-half of 2019, both Uber Technologies, Inc. and Lyft, Inc. were high-growth private companies that sought to revolutionize the transportation industry and had Wall Street anxiously awaiting their Initial Public Offerings. The offerings they conducted were massive – generating $8.1 billion and $2.34 billion in proceeds for Uber and Lyft, respectively.
Fast forward to nearly four years later, both high-profile ride-share companies have seen their stock prices decline precipitously since their IPOs, bringing significant losses to many of their initial investors. As of mid-January 2023, Uber's market capitalization of $58 billion is roughly 18% lower than its IPO valuation, while Lyft's $5.2 billion market cap is only one-fourth of its IPO valuation.
Interestingly, both companies have faced a number of shareholder class actions, including allegations that they misled investors in the lead-up to their respective IPOs.[1] The Lyft action alleging a false registration statement has settled for $25 million and awaits a June 22, 2023 final hearing date. Whereas the Uber action remains active – having survived a motion to dismiss and having received class certification by a federal judge on July 26, 2022.
The misstatements and omissions made by Uber and Lyft in registration statements filed in connection with the IPOs were numerous, according to investors. These false and misleading statements were allegedly made in violation of Section 11 of the Securities Act of 1933, which unlike Section 10(b) claims, essentially imposes strict liability on the issuer.
In the Lyft action, investors alleged among other things, a failure to disclose reputational and legal risks associated with sexual assaults committed by Lyft drivers, as well as safety issues concerning its bikeshare program. According to the complaint, the ride-sharing company – in attempt to set itself apart from its rival, Uber – cultivated an image built on trust, safety and social responsibility – particularly in relation to women. After the IPO, however, an "avalanche" of negative press and lawsuits allegedly revealed a pervasive problem with sexual assaults dating back years prior. In October 2021, Lyft ultimately released its first-ever safety report which disclosed it received 4,158 reports of sexual assault on its platform from 2017 to 2019.
As for Uber, the company allegedly omitted in its offering documents material facts about the legality (or lack thereof) of Uber's business model, its passenger safety record, and its financial condition. Unlike Lyft, Uber had disclosed in its registration statement past issues with sexual assault by passengers and employees. However, according to the federal judge, Uber affirmatively represented to investors it had "turned over a new leaf," when in fact, there may have been significant remnants of the "old days." For example, Uber's customer service team was alleged to still be forbidden from involving law enforcement when passengers reported sexual harassment. In addition, Uber allegedly continued to operate in markets where Uber was known to be illegal, and to pay fines or bribes as a cost of doing business. As the truth was revealed to the market, Uber's stock price dropped from $45 per share at the time of its May 2019 IPO to under $26 per share in November 2019.
The Uber complaint has survived defendants' motion to dismiss in its entirety, and the class was certified in July 2022. Given that it has reached this stage, Uber may result in a significant recovery opportunity for investors, although there are certainly no guarantees. The Lyft action, on the other hand, partially survived a motion to dismiss and received class certification before it settled for $25 million. The settlement was reached while lead plaintiff's motion – requesting permission to add allegations that Lyft misled investors about its market share in the lead-up to the IPO – was pending.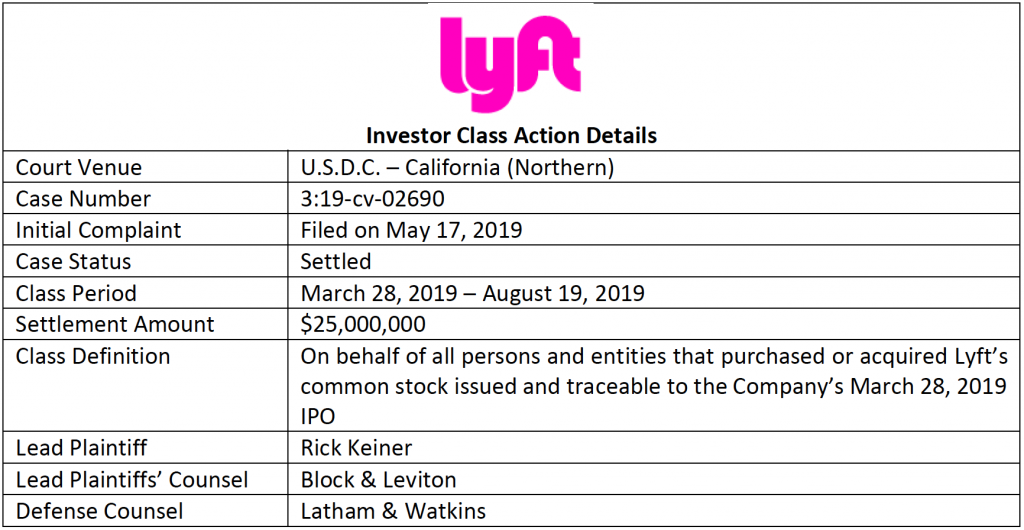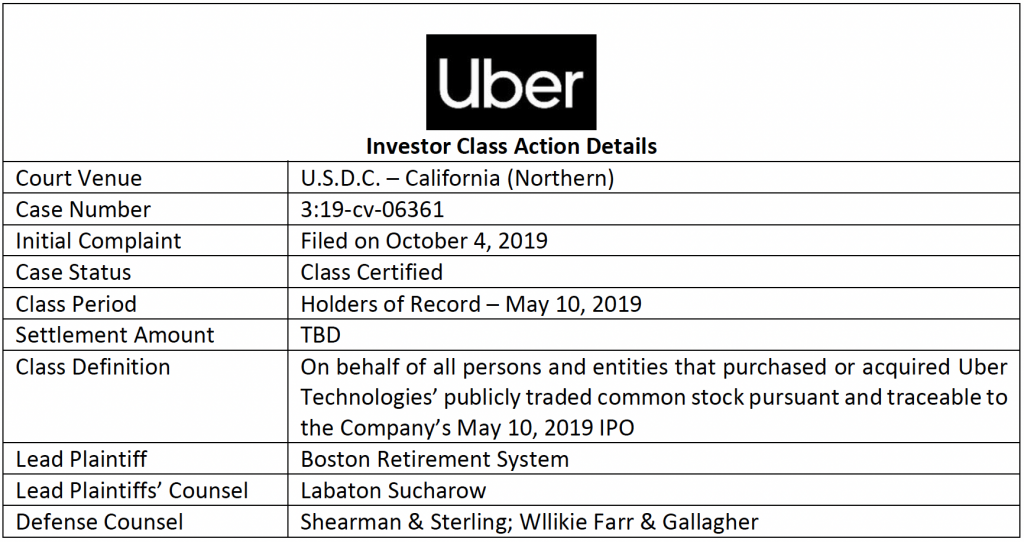 Another ride-sharing company – Didi Global, Chinese's largest vehicle for hire company – also faces shareholder litigation related to allegations of misleading investors at the time of its (ill-fated) IPO. The action against Didi Global is being litigated in the Southern District of New York and defendants' motion to dismiss remains pending. The allegations stem from the company moving forward with an IPO in June 2021, while concealing the Cyberspace Administration of China's directive that the IPO be delayed until Didi completed a cybersecurity review. Didi was ultimately delisted from the New York Stock Exchange and fined $1.1 billion, and its apps were removed from Chinese app stores.
ISS Securities Class Action Services will continue to closely monitor these actions against Didi Global, Uber, and Lyft – including the court's review of Lyft's settlement and likely settlement negotiations with Uber – and communicate updates to its clients and the investment community, as developments occur.
Notes:
[1] Since both companies went public, Uber has faced four distinct investor actions, while two investor complaints have been filed against Lyft.
---
By: Jeff Lubitz, Managing Director, ISS Securities Class Action Services, and Jarett Sena, Director of Litigation Analysis, ISS Securities Class Action Services