Investors reached a $173 million settlement with Exelon Corporation and its subsidiary Commonwealth Edison, a day after former ComEd CEO Anne Pramaggiore was convicted of bribery. The case arises out of an eight-year scheme to influence Illinois lawmakers to enact favorable legislation, resulting in hundreds of millions of dollars in additional revenue for Exelon – one of the largest electric companies in the US.
As ComEd has now admitted through a Deferred Prosecution Agreement with the DOJ, senior executives made payments and gave "do nothing" jobs and vendor contracts to the political associates of former Illinois House Speaker Michael Madigan from 2011 to 2019. In exchange, ComEd received "massive" subsidies and more than $150 million in the form of rate hikes that buoyed Exelon's stock price. According to the class lawsuit, Exelon concealed the bribery scheme and attributed the legislative victories to legitimate lobbying activities, but the legislative successes were illusory. When the bribery scheme was eventually uncovered in 2019 to 2020, Exelon's stock price dropped, causing significant investor losses. In July 2020, Exelon and ComEd ultimately resolved the investigation by admitting the scheme and agreeing to pay a $200 million criminal penalty under the DPA with the U.S. Attorney's Office for the Northern District of Illinois.
Four months later, prosecutors launched a criminal case against the "ComEd Four" – former CEO Pramaggiore and three ex lobbyists, which concluded in May 2023 with each found guilty of conspiracy, bribery, and falsifying records. The six-week criminal trial was the result of a wide-ranging federal corruption probe that "rocked" Illinois politics and ultimately unseated Madigan, previously the longest-serving legislative leader in the nation. The former Democratic speaker faces related criminal racketeering charges set for next April.
The class action specifically alleges the following:
Exelon operates in a highly regulated industry and depends on the passage of favorable legislation including from the Illinois legislature, which passes legislation that impacts the rates the company can charge and whether its nuclear plants receive subsidies.
Former Illinois speaker Madigan was initially an opponent of Exelon, "torpedoing a rate hike" in the early 2000s.
From 2011 to 2019, however, Madigan was turned from opponent to supporter after Exelon illicitly arranged jobs, offered vendor subcontracts, a lucrative board seat, hundreds of hours of legal work and guaranteed internships to his "political allies."
In exchange, ComEd received the passage of favorable legislation, including rate hikes providing the company in excess of $150 million, and up to $2.35 billion in government-authorized subsidies for its financially troubled nuclear power plants.
Throughout this period, Exelon concealed the bribery scheme, touting that it is committed to conducting business with government officials "with the highest ethical standards" and has never made a payment to improperly influence a decision.
The truth was revealed when Exelon disclosed two grand jury subpoenas in the summer and fall of 2019, and entered into a Deferred Prosecution Agreement ("DPA") with the Department of Justice on in July 2020.
The securities class action – initially filed in December 2019 – proceeded under an agreement placing certain restrictions on some of the communications plaintiffs could receive from the federal government during document discovery. Exelon sought to strike the allegations by arguing it had no obligation to disclose the alleged bribery scheme. In April 2021, however, Judge Virginia Kendall refused to let defendants out of the suit, finding the SEC filings that executives signed failed to disclose significant factors that may have made the Exelon investment risky, such as criminal penalties and the prospect that the favorable legislation could be compromised.
Once legally resolved, this shareholder class action will become the sixth largest securities-related settlement of all-time in the Northern District of Illinois, as well as in the Seventh Circuit.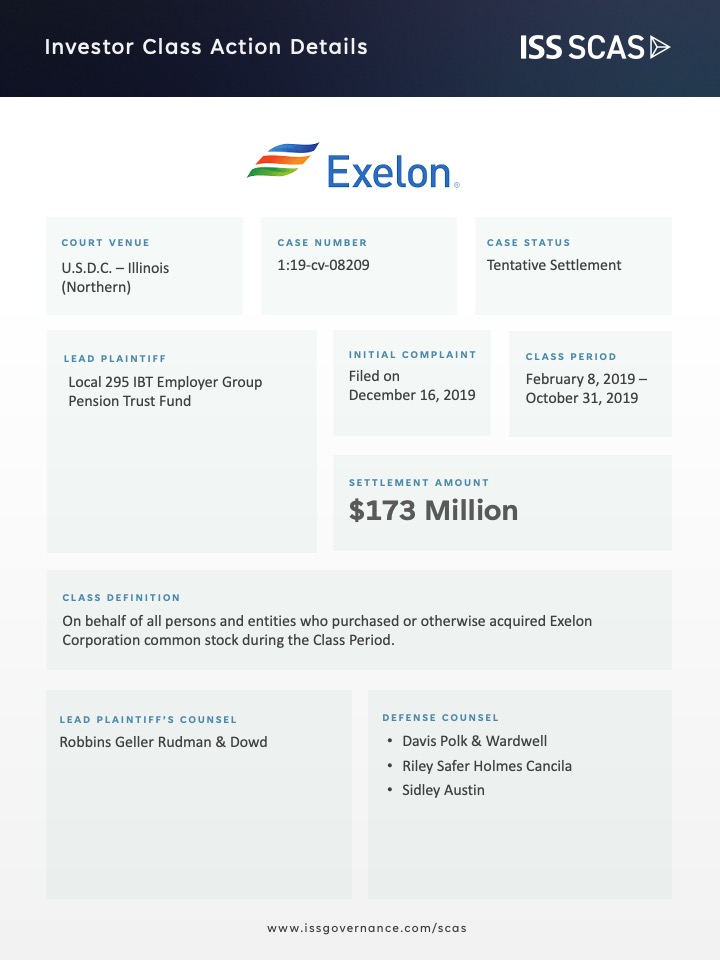 While Exelon and ComEd resolved this action, they still face a number of other open allegations, including an SEC investigation launched in October 2019 and lawsuits alleging director breaches of fiduciary duties. The Illinois Commerce Commission and Federal Energy Regulatory Commission also recently ordered ComEd to pay a refund of $38 million to ComEd customers for bribery conduct.
The governance failure by ComEd and Exelon is one of a number of ESG-related class actions where companies have been accused of bribing government or other officials. A few of these high-profile "governance" cases from the last five years include:
Petrobras – $3 billion settlement in July 2018
Cobalt International Energy – $389.6 million settlement in February 2019
WalMart – $160 million settlement in April 2019
Grupo Televisa – $95 million in November 2022
FirstEnergy – an active case alleging bribery of Ohio lawmakers that is currently pending in the Southern District of Ohio
ISS Securities Class Action Services will continue to monitor and file claims for this high-profile action and others, if and when, they progress toward an official settlement.
---
By: Jarett Sena, Esq., Director of Litigation Analysis, ISS Securities Class Action Services