Financial Adviser Inflows Rose Marginally Since Previous Quarter
The fourth and final quarter of 2021 marked the end of a year defined by a variety of significant developments. The economy gradually reopened with consumers starting to spend more of the savings accumulated during lockdowns, leading to a surge in demand. Increasing port congestion and manufacturing delays, on the other hand, resulted in product scarcity and a lack of supply. It was just a matter of time before consumer prices began to rise. This, coupled with soaring energy prices, led to a spike in inflation. All the above, as well as the uncertainty surrounding Covid-19, had a substantial impact on investors' decisions. Despite vaccination campaigns making significant progress in the first half of 2021, new Covid-19 variants and the subsequent rise in cases in the second half of the year, made investors increasingly hesitant to put additional money into funds.
In the first half of 2021, inflows via platforms totalled £73.7bn, indicating that investors tended to be more optimistic about the markets' trajectory. However, this figure dropped to £65bn in the second half of the year. Of the £65bn, 76% came through financial advisers and 12% came directly from platforms. Gross sales in Q4 amounted to £33bn, with £25.1bn of them representing sales through financial advisers. Inflows coming straight from platforms totalled £4.1bn compared to £3.7bn in the previous quarter. Despite the 10% increase, net flows coming directly from platforms dropped to -£235m, falling into negative territory for the first time in the year. Net sales through financial advisers, on the other hand, increased from £3.4bn in Q3 to £4bn in Q4.

*In Financial Clarity's M07 release, we improved the platform channel intermediary level fund flow data for 2021H1. This change means that platform inflows from Q1 onwards are expected to be higher.
IA UK All Companies' Sales Rebounded in Q4
In the last quarter of 2021, IA Global sector reached £2.33bn in gross sales through financial advisers, maintaining its position as the most popular sector among investors throughout the year. IA Mixed Investment 40-85% Shares also had a strong year as it attracted the second highest inflows in the third quarter and edged out the IA UK All Companies sector. This trend, however, did not continue in Q4 as IA Mixed Investment 40-85% Shares inflows fell from £2.03bn to £1.97bn. On the other hand, IA UK All Companies' sales rebounded, recording an increase of 4% (£79m). Despite the challenges posed by emerging Covid-19 variants and ongoing lockdowns, the UK appears to have fared well. Following the recent announcement that the UK economy has grown at its fastest rate since 1940, with GDP rising by 7.5% in 2021, could this be an indication that retail investors' faith in UK funds has been restored and they are now willing to invest large sums into IA UK All Companies?
IA Global Emerging Markets was the sector that broke into the top ten and saw the greatest percentage increase in financial adviser platform inflows in Q4. Its sales rose from £672m to £813m, up 21% from Q3, displacing IA Global Mixed Bond, which had a relatively weaker quarter. Interestingly, emerging market stocks did not perform well in the last quarter of the year and many lost value. Retail investors tend to move money into the sectors that performed strongly in recent times, but this increased appetite for emerging market funds seems to be an example of investors looking for low-priced funds to invest in. Another sector that performed well was IA Sterling Strategic Bond, with its sales through financial advisers climbing by 13.6%, from £944m in Q3 to £1.07bn in Q4.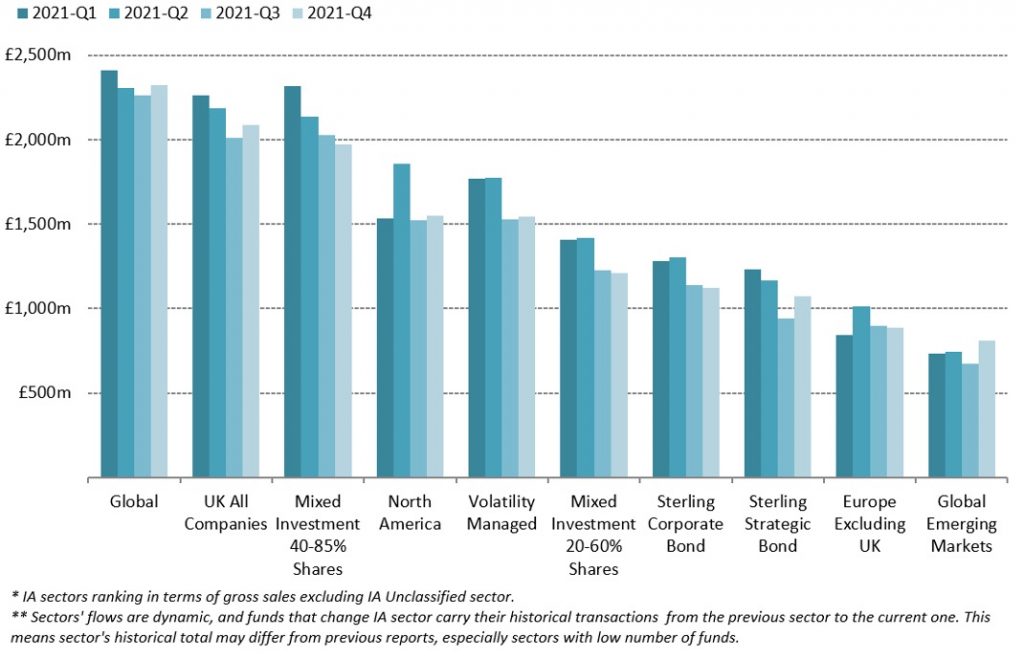 Scotland Saw the Greatest Percentage Drop in Sales
During 2021, the South East, Greater London and South West remained the top three regions in terms of gross sales through financial advisers. In the fourth quarter, however, they were the ones that experienced a decline in inflows of -£7m, -£76m and -£89m, respectively. The region of Greater London did not end the year on a high note, as its gross sales plummeted by almost 20% since the beginning of 2021. Scotland was the region that saw the greatest percentage decrease in quarterly sales of roughly 4.6%, from £1.78bn in Q3 down to £1.70bn in Q4. On the other hand, the North West, North East and Yorkshire and The Humber regions had a very strong quarter with their gross sales rising to £2.74bn, £1.21bn and £2.05bn, respectively.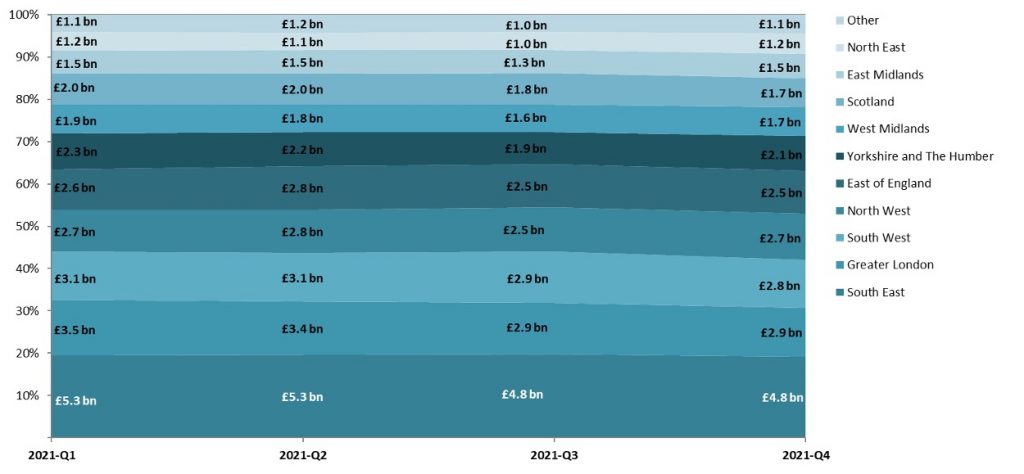 ---
By Fenia Tsikrika, Financial Clarity, ISS MI