The prominence of shareholder activism has increased in Israel following the recommendations of the 2007 Committee on Institutional Shareholders' Involvement in the Israeli Capital Markets. Shareholder activism is particularly buoyed by the Israeli Companies Law, allowing shareholders who own at least 1 percent of voting rights to file shareholder proposals at AGMs and shareholders with more than 5 percent of issued share capital to call special shareholder meetings. Furthermore, the Israeli Securities Authority deems anti-takeover mechanisms illegal, as they can limit the powers of shareholders vis-à-vis the management.
Despite the favorable legal environment, the level of shareholder activism in the Israeli market had traditionally remained low. This is, among various reasons, because the vast majority of Israeli public companies are controlled entities, often organized in concentrated pyramidical structures. However, newly introduced regulations gradually banned pyramidical structures above two tiers and separated financial corporations from non-financial companies, leading to the sale of significant holdings to the public. A research report published by ISA (Israel Securities Authority) in 2019 revealed that the share of non-controlled companies registered on TASE (Tel Aviv Stock Exchange) had increased from 11% in 2010 to 20% in 2018. As a result, the Israeli market offers increasing opportunities for non-controlling shareholders to become active and impact company policies. Further, shareholder activism also takes place in NASDAQ-listed Israel-based companies which constitute one of the largest foreign issuer groups on NASDAQ, with 79 registered companies (as of August 2021) and a combined market capitalization of approximately $88 billion.
Shareholder activism is increasingly manifested in interventions such as legal actions, position papers, and controller-shareholder negotiations that often lead to changes in management proposals. Early indications of this include a recent year-on-year increase in shareholder proposals in ISS-covered Israeli companies by nearly 80%, as well as an increase in successful shareholder proposals by approximately 33%.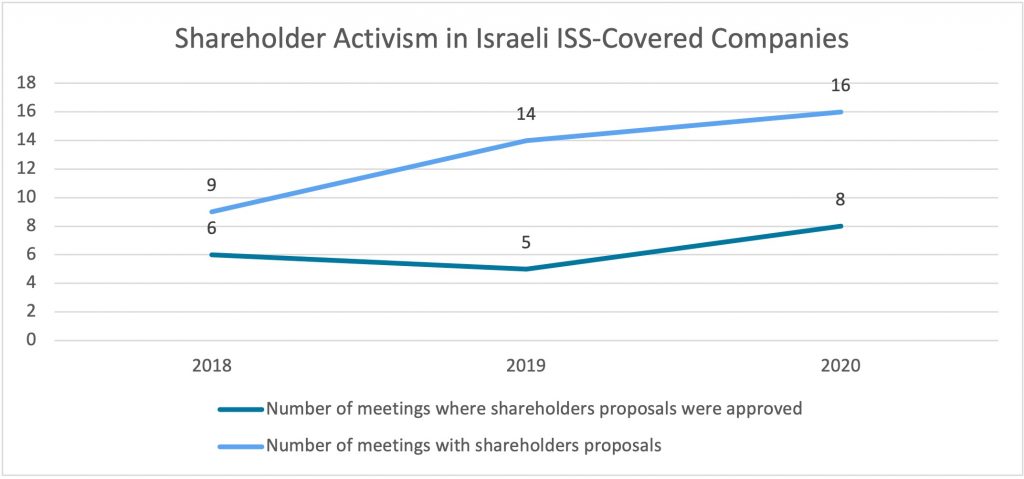 Source: ISS Governance Research & Voting
Over the last three years, within ISS-covered meetings in the Israeli market, activist shareholders have tackled a multitude of issues. Among others, these included: the elimination of problematic related-party transactions; hostile takeovers through the termination of incumbent directors; appointment of shareholder nominees, restructuring companies to be sold as corporate shells; and corporate structure amendments aiming to change the articles of association. An analysis of general meetings covered by ISS shows that shareholder proposals have predominantly focused on the election and termination of directors, with a significant amount of proposals concerning amending the company's articles. Conversely, other proposals such as those related to capital structures and mergers were very rare.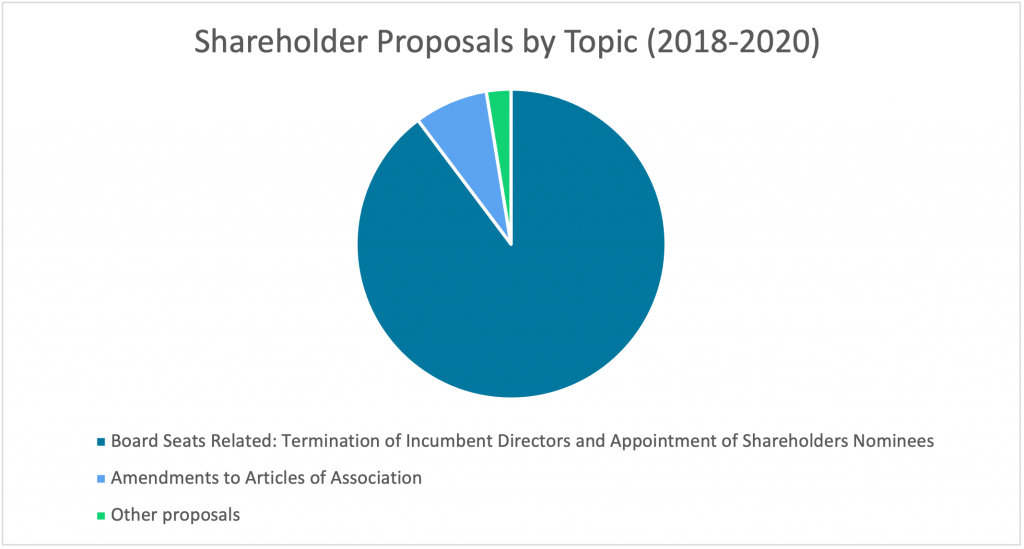 Source: ISS Governance Research & Voting
As investors continue to exercise their extensive rights and propose changes in their portfolio companies, shareholder activism is expected to retain its importance in the Israeli market — especially if the number of non-controlled companies listed on the TASE continues to increase.
---
By Ofir Raz , Dvir Aviam Ezra, Elie Zenou