This week #FCMarketInsights looked at the increase in inflows to Chinese equity funds among UK retail investors and the events that affected this growth in 2020.
For many funds focused on Chinese equity, 2020 was a good year both in terms of returns and fund inflows. The CSI 300, an index of the top 300 companies listed in Shanghai and Shenzhen, hit multiyear highs and closed the year 27% higher than at the beginning of 2020. Over the same period, the S&P 500 grew by 16% and the FTSE 100 dropped by 14%. The main driver behind the Chinese stock market's outperformance last year was the country's rapid economic recovery from the coronavirus.
As news broke of a deadly virus in Wuhan in early 2020, many British savers wound down their exposure to Chinese capital markets. Throughout the first three months of the year, UK investors took out £25.5m in net flows via platforms from funds in IA China/Greater China. Once the epicentre of the virus moved westward to Europe and China's economy started to show signs of recovery, money moved back into these funds. Net flows in April increased to £13m, the highest figure since 2018. In September, net flows through platforms grew to £19.8m and then to £36.2m in October.
Though China's capital markets performed well in 2020, this is not to say that it hasn't been a rocky year for the world's second-biggest economy. The trade war that Washington has waged with Beijing throughout Trump's presidency has continued. China's handling of the virus at the beginning of the year heightened tensions, as did the developments in Hong Kong and Xinjiang. These issues, coupled with the disputes over 5G networks and TikTok, have caused some to fear that new trade sanctions will be imposed. These are the concerns that have kept many UK investors from investing new money into China-centric funds in recent years. It will be interesting to see how the new U.S. president will approach the Sino-American trade relationship.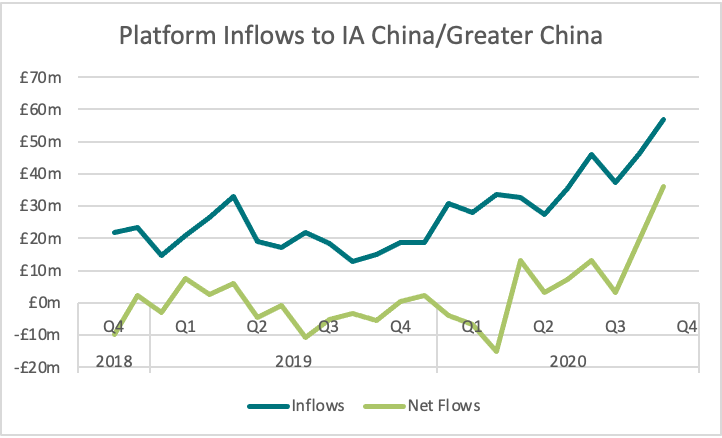 For More Information Contact: ISS MI Financial Clarity at sales@financial-clarity.com
---
By ISS MI Financial Clarity Team