This week FC Market Insights looked at the rise in inflows to Japanese equity funds among UK investors:
Much like the North American Smaller Companies IA Sector discussed in our last Market Insights post, IA Japan has historically been an underappreciated fund sector among UK investors. In 2019, actively-managed funds within the sector saw £260m leave in net flows via platforms. Despite the sector's passive funds seeing positive net flows during that year, it wasn't enough to offset the large negative net flows incurred by the active funds.
In 2020 however, interest in Japanese equity funds picked up considerably. Annual inflows through platforms to IA Japan funds increased by 10% from the previous year and annual net flows increased by over £210m. Despite the coronavirus pandemic and the postponement of the Summer Olympics that Tokyo was set to host, the country's stock market has had a good year. The Nikkei 225, Japan's main stock index, outperformed the S&P 500 in the months following March's market sell-off. The index has continued to rise in 2021 and last month the Nikkei 225 reached 30,000, a figure the index hasn't reached since 1990. The Japanese government's commendable handling of the pandemic is a big driver behind the stock market's strong performance. Some of the newly-elected prime minister's main aims will be to guide Japan out of the pandemic and to make the country a more attractive destination for foreign investors. We'll need to wait and see if 2021 is the year that UK savers choose to revisit how they see investing in Japanese equity.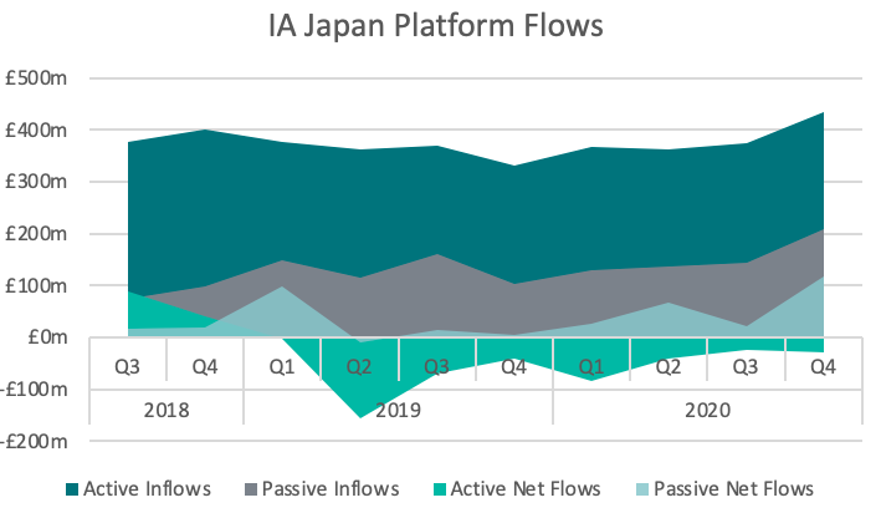 For More Information Contact: ISS MI Financial Clarity at sales@financial-clarity.com
---
By ISS MI Financial Clarity Team