Equities Drive Asset Growth (but also Outflows) in Q4 2021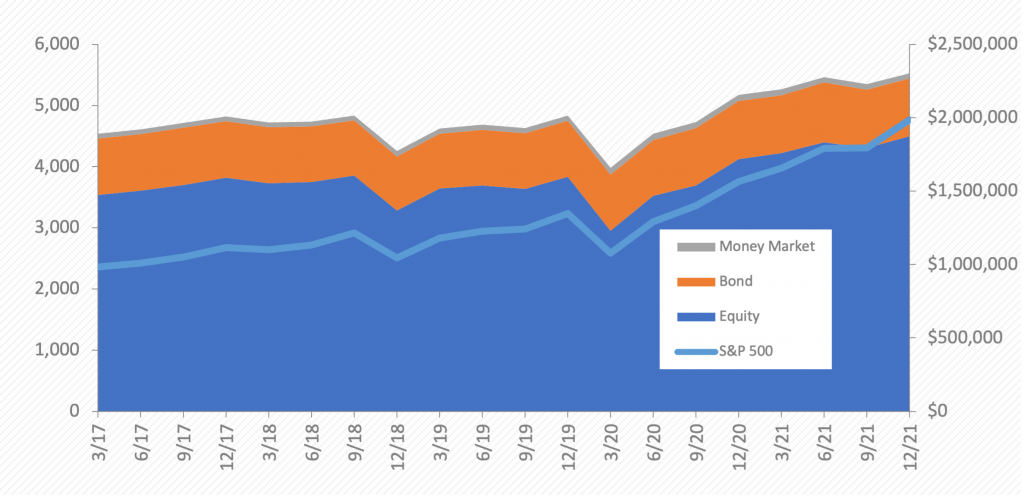 Variable account assets closed Q4'21 at $2.3 trillion, up 3.4%, compared to the third quarter. Both equity and total variable account assets reached record highs in October, rebounding from a September slump that ended five straight quarters of growth. An expanding list of concerns, headlined by rising COVID cases and the new Omicron variant weighed down markets and asset growth in November. Despite headwinds including ongoing supply chain disruptions, consumer inflation crossing 6% for the first time since 1990, and a more hawkish Fed stance, markets shrugged off these concerns. Buoyed by strong earnings and high consumer savings, as well as pent-up demand for goods and services, the S&P 500 ended the quarter up 11%. So too, equity assets rebounded, closing the fourth quarter up 4.5%. Both total variable account and equity asset growth mirrored the positive, broader market growth for the year, gaining 6.9% and 9%, respectively.
With strong equity growth, fixed-income assets retreated for the second straight quarter. Bond assets decreased by 0.76%, while money market assets decreased by 3.43%. Year to date, bond assets are marginally lower by 0.5% while money markets assets have decreased sharply by over 14.1%.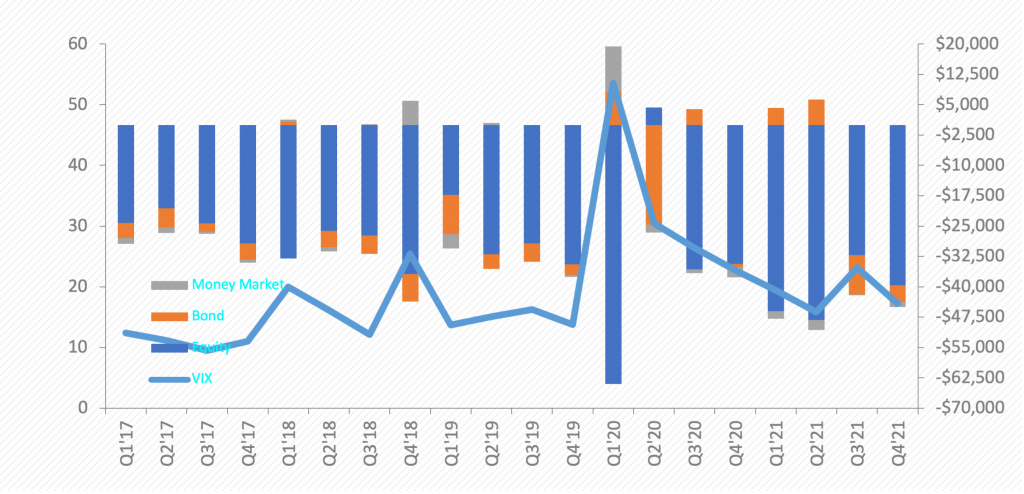 Equity outflows increased by over 23% compared to the third quarter closing Q4 with $39.6 billion in net outflows. With volatility triggering a mid-quarter shift in asset allocations, outflows in bond categories decreased by 57% but failed to turn positive, with $4.2 billion in net outflows. Money Market outflows increased fivefold during the fourth quarter closing with $1.23 billion in negative flows. Industrywide outflows increased by 6.9% during the fourth quarter.
A spike in volatility that ended the third quarter carried over into the beginning of the fourth before stabilizing as political and earnings concerns waned. Despite reaching a high-water mark for 2021 with the emergence of the Omicron variant, the VIX closed 4Q'21 at 17.22, down 26% for the quarter.
The full presentation is available to AnnuityInsight.com subscribers. For more information about this report, or any of ISS MI's research offerings, please contact us.
---
By Jeff Hutton, Associate Vice President, ISS Market Intelligence AnnuityInsight.com